If you're considering a trip to Orlando this holiday season, I've found one of the best family-friendly experiences in the area, and it has nothing to do with a crowded theme park. It's also technically in Kissimmee, but what's a 30-minutes-away suburb for serious roadtrippers?
It's called Christmas at Gaylord Palms. This annual yuletide extravaganza includes activities for all ages. Plus you'll come away with some of the season's best Christmas photos. Here's what's on tap for this holiday season, through Jan. 3, 2021.
I Love Christmas Movies
The resort typically offers a walk-through ice sculpture themed for the holidays, but that wasn't possibly this year due to COVID-19, so they got creative.
I Love Christmas Movies is billed as an immersive, 17,000-square-foot experience featuring scenes from five holiday films: The Polar Express, A Christmas Story, Elf, National Lampoon's Christmas Vacation, and The Year Without a Santa Claus.
I thought it might just be movie sets you could snap photos of, but it really is immersive. You have a host who leads you through the movies, the sets are multisensory with light, sound, and movement, and there are more than a few surprises in store.
Have your camera ready. You might get to see one of your family members taking part in a movie scene, and you'll want to save that footage for later.
Snow Factory
There's not usually snow in Florida, so consider this an exception.
While the Snow Factory at the Gaylord Palms isn't exactly a winter wonderland, you do get to interact with real snow. At the Snowball Build and Blast station, you can make your own snowballs and throw them — not at each other — at targets that keep score for how many you hit. This is a lot harder than you would think, but shaping your own snowballs is so much fun.
Our favorite thing the whole day, though, was snow-tubing (or ice-tubing, as they call it). Snow Flow Mountain has a small and large version. Little kids enjoy the smaller slide while the big slide is for true thrill-seekers. Teens and adults will love this.
Cirque Dreams Unwrapped and Other Shows
Finish your day with a live show. Cirque Dreams Unwrapped is incredible: feats of strength and dexterity combined with music, costuming, comedy, and more. From synchronized jump-roping to aerial dancing, we were amazed.
Though we didn't see it, there's also a show called The Greatest Story that tells the biblical Christmas story. Both shows happen on the St. Augustine Stage in the main atrium.
They also have a couple shows especially for kids, such as the Journey of Los Tres Reyes Magos. The show is a musical about the three kings (of "We Three Kings" carol fame) and the related celebrations in Spain and Latin America, including Las Posadas and el Día de los Reyes.
There's a sound-and-light show as well, and it's a stunner. More on that below.
Christmas Decorations
On the ground floor as you enter, you'll notice the Gaylord Palms atrium decked for Christmas. There's a giant Christmas tree, wreaths, ornaments, bows, garlands, and gators.
Of course, the alligators aren't actually Christmas decorations, but they are pretty cool to see in the water or sunning themselves on the rocks. You can also spot a replica of St. Augustine's Castillo de San Marcos, a ship, pirate treasure, and more.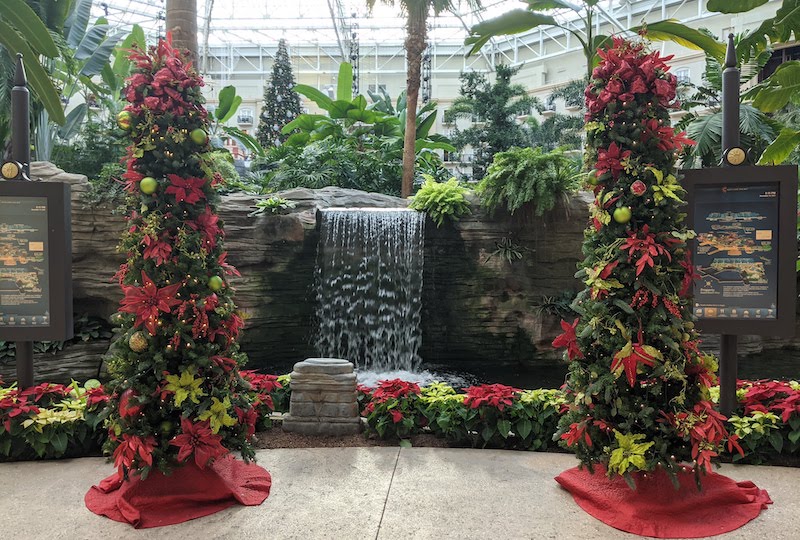 I recommend visiting by day and at night. During the day, the atrium is filled with sunlight while nighttime lets the thousands of twinkling lights put on a show. They put on a literal show when the Christmas tree and surrounding lights are synchronized to music in a spectacular display that lasts several minutes. We caught this just before the Cirque Dreams Unwrapped show, so we could enjoy it from our seats.
In my opinion, it's worth making a day-trip here for the decorations and light show alone. And that part is completely free. You just pay for parking.
Other Activities and Overnight Stays
There's plenty more. Enjoy breakfast with the Grinch (take that, Santa!), gingerbread decorating, a scavenger hunt, storytimes and singalongs with Mrs. Claus, an Elf Training Academy, and more. You can even sign up for socially distanced photos with St. Nick himself.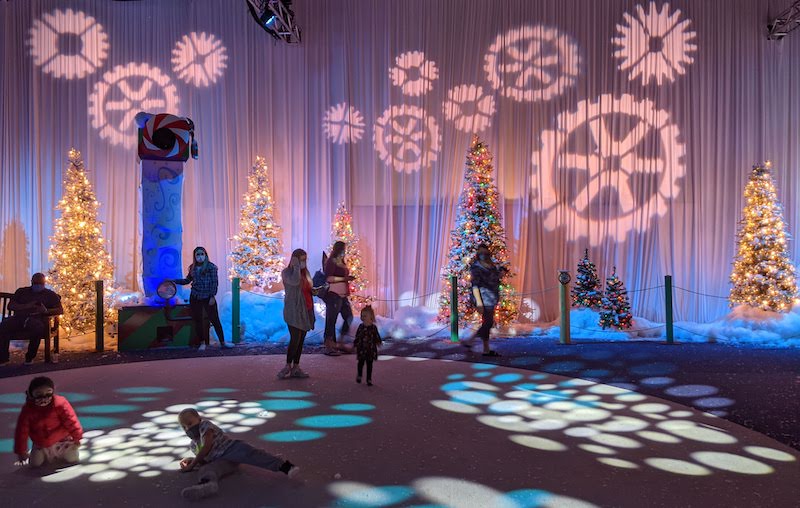 As you can see that's a lot to do. If you're a family who likes to do it all, I'd suggest staying longer than one day. They have stay-and-play packages that include your room and tickets for the attractions so you can spread it out over a long weekend.
After all, Christmas comes but once a year, and this year, we need it more than ever.
About the Author
Cheryl Rodewig is storyteller, marketer, and award-winning feature writer specializing in travel. Her Venn diagram includes minimalism, waterfalls, French, and the em dash. Find her at cherylrodewig.com or on Twitter at @cherylrodewig.