Just over 20 minutes north of Sarasota and 50 minutes south of Tampa, Bradenton is a city you could accidentally miss on a busy road trip — but you would have skipped one of the best cities on the Gulf Coast.
Fortunately, you have this guide to help. If you're road tripping Florida's west coast, here are six reasons you should add Bradenton to your must-stop-and-see list.
1. You can swing through the trees.
Not always with the greatest of ease, mind you, but that's part of the fun at TreeUmph! Adventure Course. This aerial course features bridges, zip lines, and obstacles like tunnels, nets, and log swings. They have courses for different levels.
Ape-Up Course:

Easier challenges for kids 7-8

Climb-On, Scramble, Ascend:

For ages 9-11 but also good for families with challenges that are a bit tougher (like the "Leap of Faith")

Lead and Summit:

With a lot of swinging obstacles and no shame if you stick to the level 4 course like we did
This is one of the best adventure courses we've ever done, and the sense of accomplishment at the end is incredible. It's great for family team-building. And if someone doesn't want to climb, they're welcome to watch.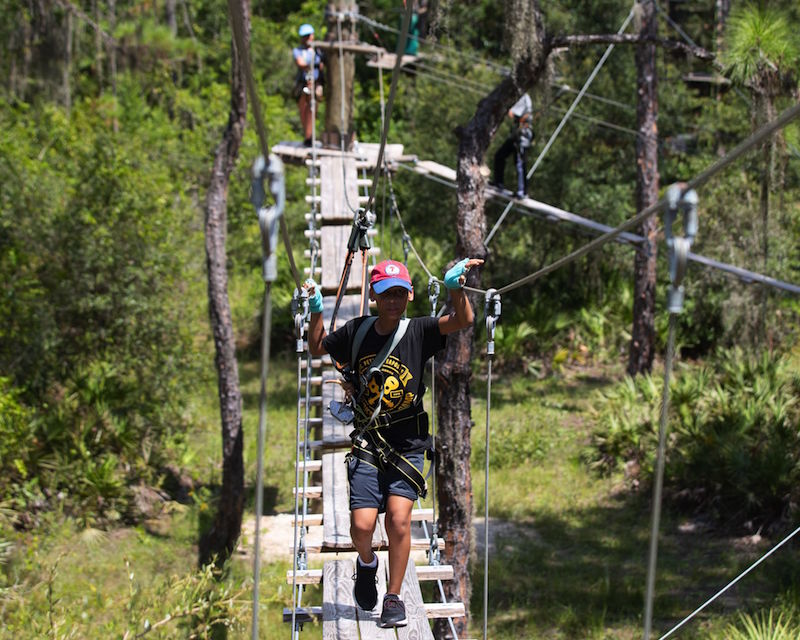 I recommend upgrading to get the gloves and unlimited water pass so you protect your hands and stay hydrated, but you can bring workout gloves and a flask to clip to your belt if you have them.
COVID-19 Safety: TreeUmph really cares about safety. Besides the usual safety briefing, during the pandemic, they're reducing capacity, enforcing social distancing, doing temperature checks, and stepping up their gear cleaning. We felt completely safe throughout our visit.
2) It has the best breakfast in Florida.
That we've tried so far. But we've road tripped across the state pretty extensively, so we have some experience with eating the most important meal of the day here in the Sunshine State.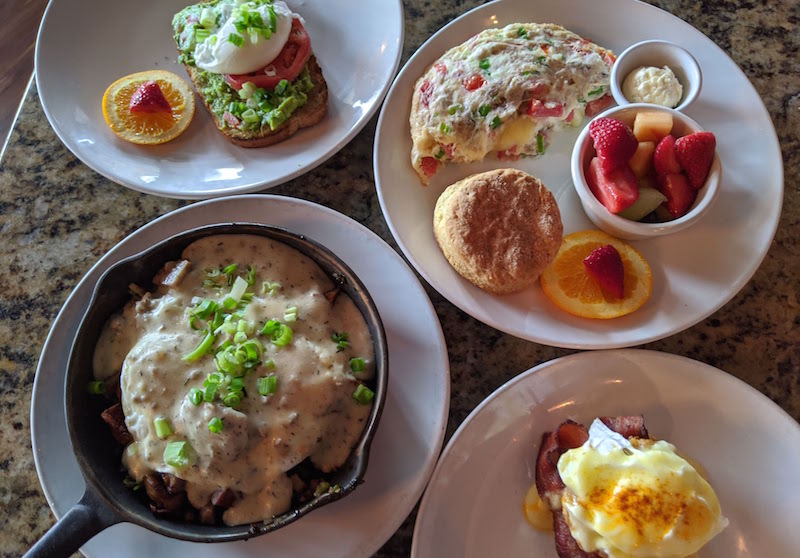 Where do you go for this legendary breakfast? Sage Biscuit Café in downtown Bradenton. The vibe is cheerful, and the service is excellent, and boy, does the food deliver. There are kid-friendly and diet-friendly options. Here are some of the best:
Sage Biscuits and Gravy:

When there's a menu item with the restaurant's name in it, you order it. That's a rule. These giant herbed biscuits were fluffy but not too buttery, and the sausage gravy was the perfect complement.

California Hipster:

It's avocado toast of the best kind, with multigrain bread and poached eggs.

Southwestern Quinoa Scramble:

ISomething about the seasonings elevate this beyond the usual vegan and gluten-free dish so you're not skimping on flavor.

Strawberry Stuffed French Toast:

Thick sourdough topped with fresh strawberries and cream. Other versions include brioche or even gluten-free toast.

Jalapeno-Bacon & Fried Green Tomato:

Get it on a sage biscuit and be amazed. This was our favorite dish, and we don't even like benedicts.
We had a hearty breakfast at Sage Biscuit Cafe right before visiting TreeUmph, and it kept us full through the climb. Yet we never felt bad like you do when you have a meal out that's not good for you. I'm guessing that's because it's all homemade and they're using fresh ingredients. We talk about this restaurant still today and plan to go back when we're next in town.
3) There's a planetarium, aquarium, children's museum, and science exhibits, all in one place.
We love educational attractions and The Bishop Museum of Science and Nature is a one-stop shop.
In two floors of exhibits, you can explore Florida's past, from fossils to Native American cultures. There's a whole exhibit on ships and maritime history, and they have rotating exhibits, too.
If you're traveling with really young kids, visit the new Mosaic Backyard Universe. Little ones can climb a tree house, dig for fossils, and play while learning about science and the world around them. The backyard is accessible, too, so anyone can join in the fun.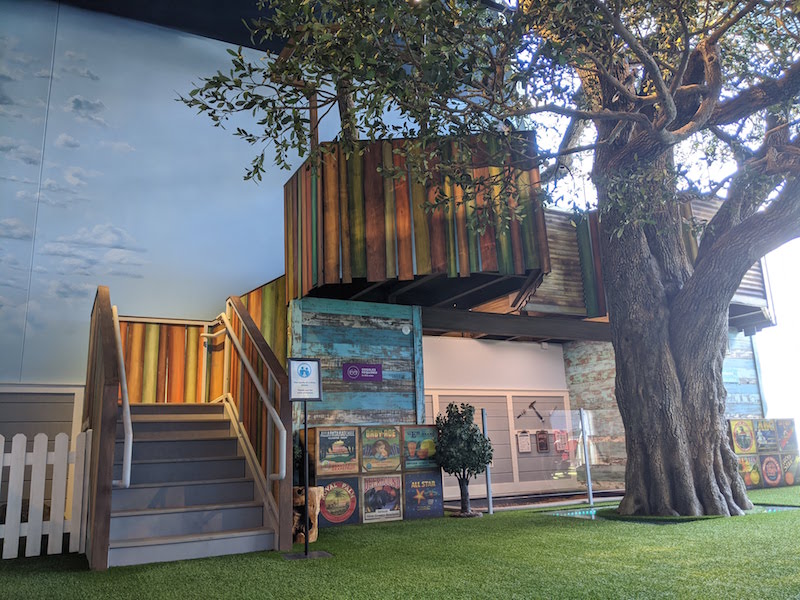 Admission to the high-tech digital planetarium is included with your entrance ticket. We enjoyed seeing outer space, but the highlight of our visit was the manatees. In this rehabilitation habitat, manatees prepare to return to the wild while visitors learn all about them. Try to catch them having lunch. They eat their greens!
4) The art is quirky and colorful.
I'm talking about the Village of the Arts. You can walk around and admire the colorful cottages, many with murals and sculptures outside or step inside a studio to pick up a souvenir. They also offer a monthly artwalk.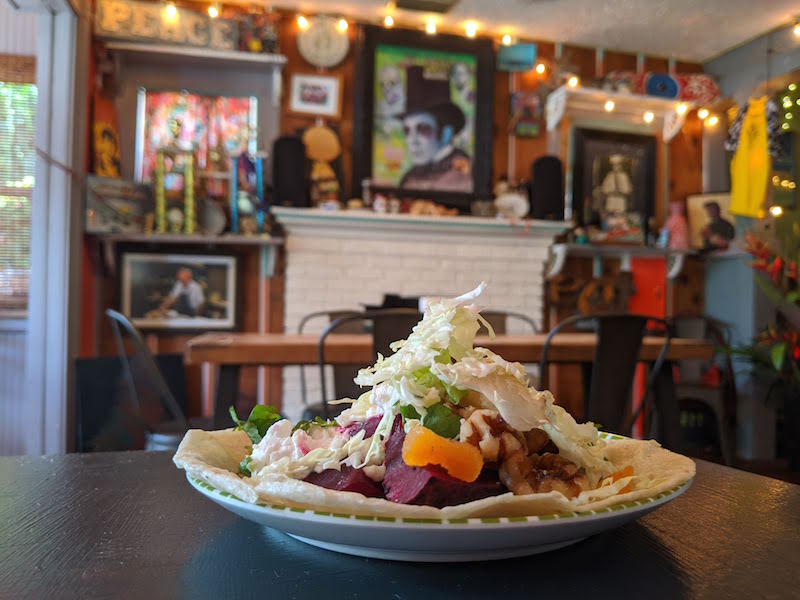 The village has a few restaurants if you get hungry, but don't expect the art to stop when you eat. At Birdrock Taco Shack, for example, the owner, Chef David Shiplett, is an artist and curator who has gathered several of his own art pieces and others into an eclectic gallery.
Gawk at the art while you dine on tacos that are out of this world. Let the kids choose creative fillings, like:
Pork carnitas

Edamame with pineapple

Crab and avocado

Barbecue chicken
They source the tortillas locally so they're super fresh, and you can taste the difference. If you're ravenous, order a giant burrito (we loved the Korean short rib version).
The patio, also covered with art, is a great place to relax for a while. Be sure to bring your camera!
5) Bradenton is truly international.
Florida is a multicultural destination, and Bradenton is no exception. While we're not visiting other countries due to travel restrictions, it's nice to get a little international flavor with dinner.
When it comes to food, Bradenton has everything from Czech to Thai. But our most unexpected find was a German restaurant at the Bradenton Commons called Lucky Frog. While lots of European restaurants are too fancy for kids, this one is family-friendly.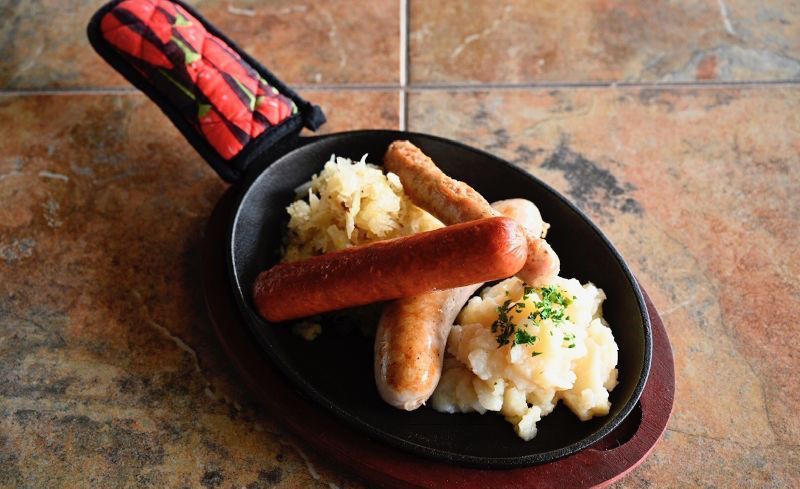 Opened six years ago, Lucky Frog Restaurant is named for the frog of the German fairytale. Don't know the story? You can read it together on the menu while you wait for your food to arrive. Most of the menu items are named for fairytale features, so you can order Dark Forest or Queen's Heart or Magic Sword. We loved the spaetzle (tell the kids it's like mac and cheese, but better) and the Grimms Fairy Tale, a bratwurst on a German sourdough roll with sauerkraut on top. Another kid favorite is their schnitzel.
If you can, go during one of their events. On special occasions, they'll have German folk songs and sometimes games and dancing. It's an immersive experience for all ages!
COVID-19 safety: They offer to-go and outdoor dining and are at reduced capacity during the pandemic.
6. You can walk with the birds.
Burn off those calories at Myakka River State Park. It's one of the largest state parks in Florida and one of the only ones in the country featuring a canopy walkway. Climb a tower and walk among the trees. Then climb even higher on the second tower for views well above the treetops.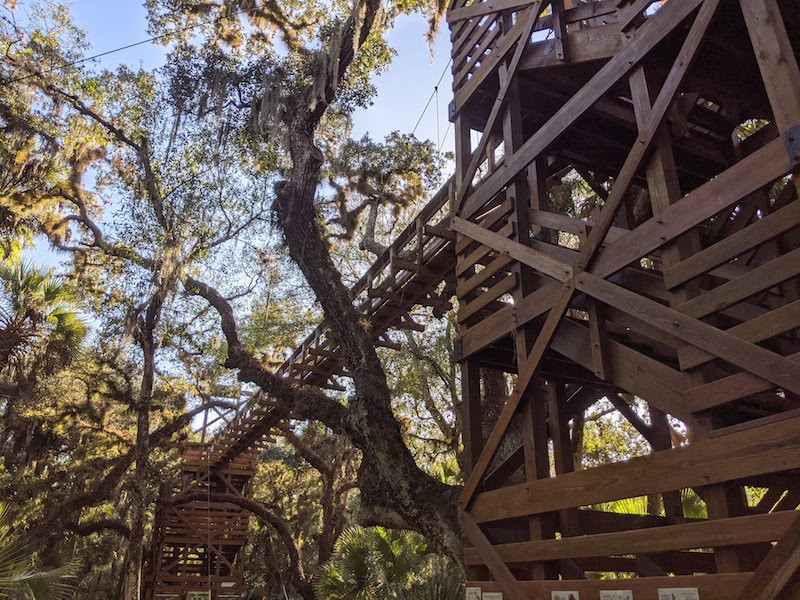 And don't miss the "birdwalk," This boardwalk on the lake will give you up-close glimpses of all kinds of fowl like herons, egrets, and ibises. We were lucky to get there just before dusk to hear the calls of the sandhill cranes, a classic Florida experience.
Myakka River State Park is technically in Sarasota, but it's a bit more inland and easy to access off I-75. The park is open at sunset so you can make a day of it here if you have the time. You'll likely see alligators, too!
Where to Stay
Find family-friendly accommodations in Bradenton, Florida, from traditional hotels to private Air B&B homes through Stay22.com:
About the Author
Cheryl Rodewig is storyteller, marketer, and award-winning feature writer specializing in travel. Her Venn diagram includes minimalism, waterfalls, French, and the em dash. Find her at cherylrodewig.com or on Twitter at @cherylrodewig.