The state capital, Salem is the second-largest metro area in the state of Oregon. Located about halfway between Portland and Eugene, it's an easy day trip from either city. We visited last weekend and tried to squeeze in as many possible family-friendly activities in the span of two days. This includes lodging and some fantastic dining venues. Note that the weather was a bit damp and rainy, so this list favors the indoors.
What TO DO in Salem, Oregon
Gilbert House Children's Museum
Website: https://acgilbert.org/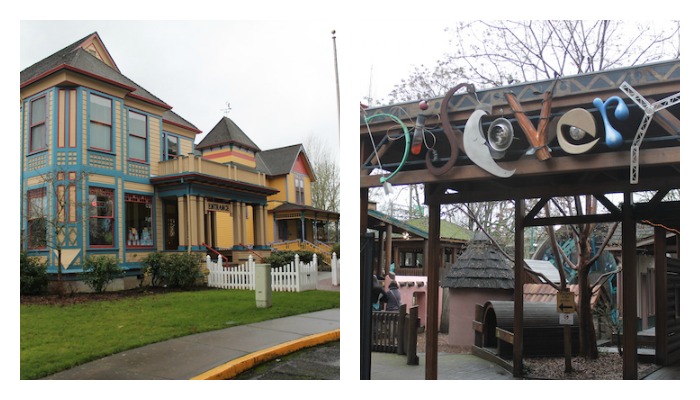 The Gilbert House Children's Museum is housed inside the A.C. Discovery Village located in Salem's Riverfront Park that runs along the Eastern bank of the Willamette River. The hands-on museum and park are a short walk from downtown, but you can also park in one of the nearby parking lots. Like most Children's museums, the activities and exhibits are geared towards children age twelve and under. Exhibits flow between several restored buildings on the property, with the bulk of the options inside the two-story Gilbert House. A highlight for us was the 20,000 square food Outdoor Discovery Center, home to the world's largest erector set tower, a two-story slide, a rope spiderweb, giant animal cell, mammoth dig and other wooden climbing structures themed around Salem and the Pacific Northwest. My older kids really enjoyed the Outdoor Discovery Center and I would gladly pay for them to come back and play here again.
Where to Stay
Find family-friendly accommodations in Salem, Oregon from traditional hotels to private vacation rentals through Stay22.com:
Riverfront Carousel
Website: http://salemcarousel.wix.com/salemcarousel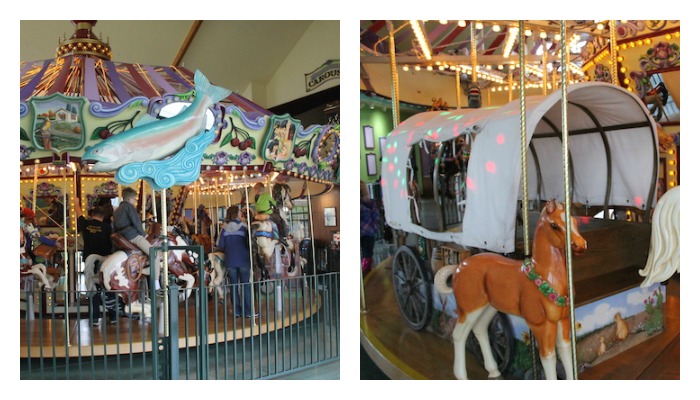 As the name implies, the Riverfront Carousel is also located on the Willamette River. If you're at the Gilbert House Children's Museum, you can either mover your car to the parking lot at the south end of the park, or take a leisurely stroll on the network of paths connecting the two locations. The carousel building consists of a gift shop and an authentic Old-World style carousel hand-carved by local volunteers in the late 1990s. Rides cost $1.50 per person, but punch pass discounts are available. Most of the animals move up and down; my favorite seat is the covered wagon. Before you leave, make sure and visit the nearby Riverfront Park Playground.
Bush Barn Art Center
Website: http://salemart.org/programs/bush-barn-art-center/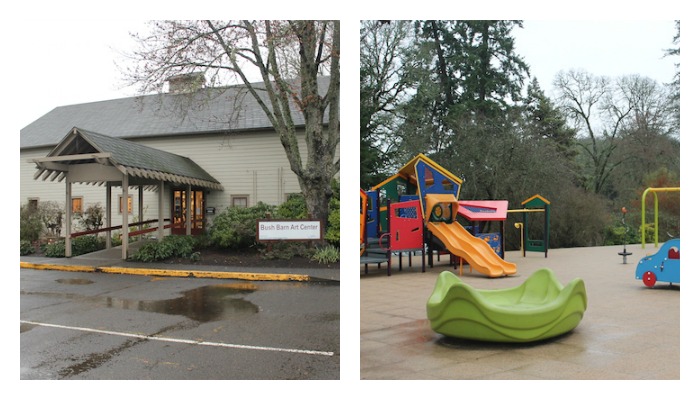 On the subject of playgrounds, we found a wonderful and whimsical option in the space adjacent to the Bush Barn Art Center, both within Bush's Pasture Park. The Bush Barn Art Center is a free, two-story art center. Visitors take a self-guided stroll through three different exhibits and a gift shop and the work is 20th and 21st century fine arts and crafts. The kids weren't as "into" this experience as me, but we did complete the Yuji Hiratsuka scavenger hunt and sit at the coloring area before heading out to the playground. A word of caution, if you visit when owls are nesting and/or protecting their territory, please read this legitimate news story.
The Salvation Army Kroc Center
Website: http://www.salem.kroccenter.org/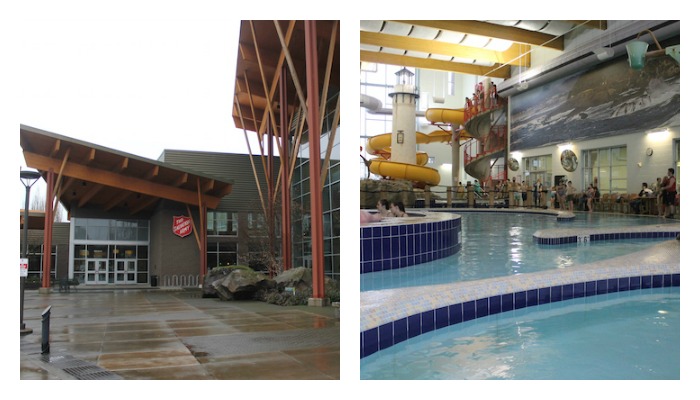 When you are planning your grand adventure in Salem, make sure and pack a gym bag with bathing suit, towel, and gym clothes as you'll need all of these items at The Salvation Army Kroc Center. Recipient of the "pest pool" in Salem for five years running, kids will enjoy a lazy river, water slide, and splash zone in addition to a traditional lap pool with diving boards and basketball hoop. Visitors purchase a day pass at the front desk (show your hotel key for a $2 per person discount), which gives them access to both pool areas, a rock climbing wall, gymnasium, fitness center, and art and game room. Depending on when you visit, there's also a small cafe.
The "Big Toy" Playground at Keizer Rapids Park
Website: http://www.keizerbigtoy.org/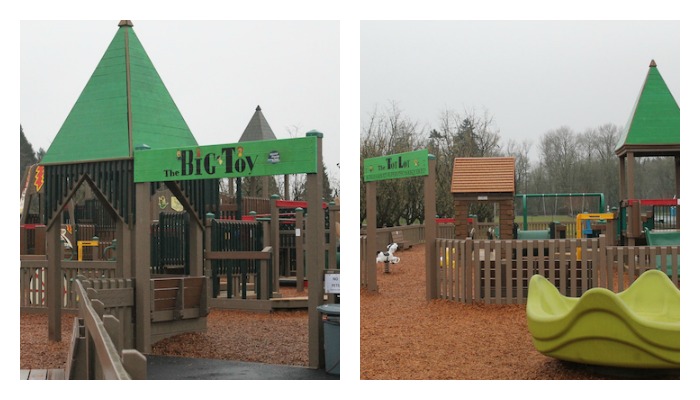 Located fifteen minutes north of downtown Salem is one of the area's newest and most celebrated attractions: The "Big Toy Playground" at Keizer Rapids Park. Built by the community after years of fundraising and strategic planning, the enclosed play area features options for big and little kids. We played a convoluted game of "swamp monster" hopping between different platforms and play structures like a firetruck, climbing wall, sternwheeler, and swing set.
The Book Bin
Website: http://bookbin.com/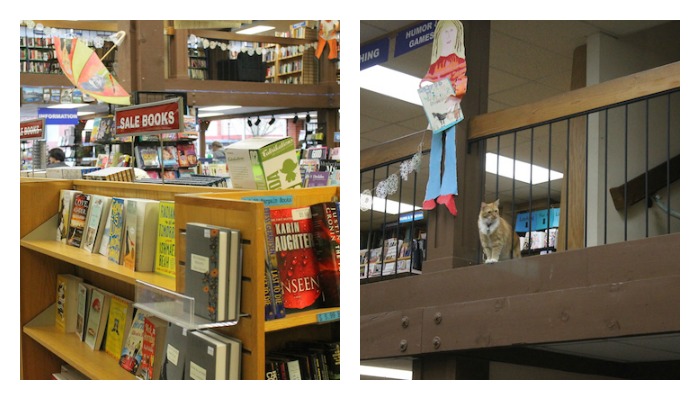 Downtown Salem is a vibrant place with shops, restaurants, and options for recreation and theatre. We happened upon The Book Bin, a large, family-owned bookstore offing new and used choices spread between two stories. While The Book Bin hosts schedules events for visiting authors for signings, readings, and poetry nights, our visit was more of a meandering. If you go, look for Rose the cat.
Ricky's Bubbles & Sweets & Sugar.Sugar.
Website: http://www.sugarsugarboo.com/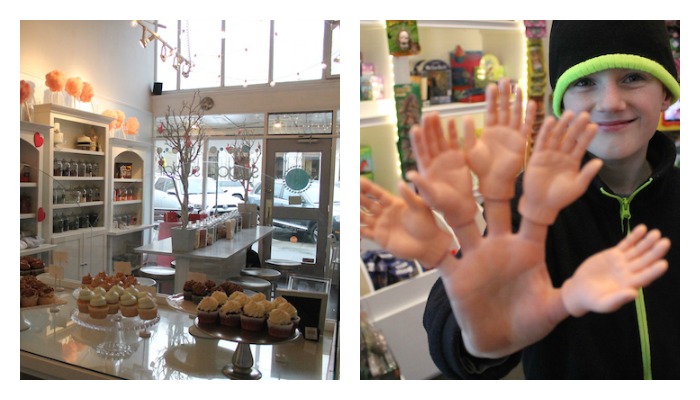 While downtown, kids will enjoy two complimentary businesses designed with candy and whimsy as key business models. The first is Sugar.Sugar. a cupcake and candy shop on State Street. Homemade cupcakes are $3 each with 7-10 flavors to choose from. Candy jars line shelves and the center island and can be mixed-and-matched to your kids' fancy (Note you will pay $2.90 per quarter pound, please pay better attention to the sign than I did.). Ricky's Bubbles & Sweets, a candy and toy store, is just around the corner on Liberty Street. We love all the gag gifts and retro candy (here my son is giving me a "High 25!").
Other Ideas
While the venues above kept us busy for two solid days, you may want a few other options during a visit to Salem, Oregon. If you visit during the week, make sure and tour the State Capitol Building; look for a Capitol Sculpture Tour pamphlet to keep your kids engaged in an art-themed scavenger hunt. If your visit coincides during the Oregon State Fair, by all means GO! We snagged some discount admission coupons to last year's fair at our local public library and ended up spending the entire day eating giant pickles and admiring livestock.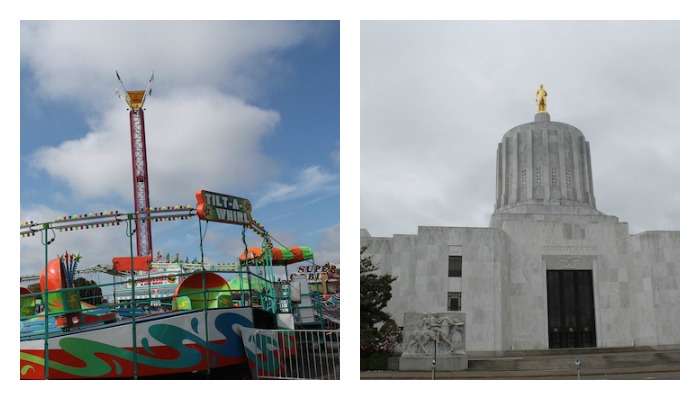 You may also want to consider:
Willamette Queen Sternwheel Cruise: http://www.willamettequeen.com/
R/C Plus Hobbies Indoor Race Track: http://www.rcplus.com/
Lazer Tag and Indoor Glow Golf at Pietros Pizza: http://www.pietrosrestaurants.com/laser-tag-mini-golf/
Best Little Roadhouse Outdoor Mini Golf: http://bestlittleroadhouse.com/golf/
Bowling Alleys: AMF Firebird Lanes, Northgate Bowl, and Town & Country Lanes
And, by all means, don't forget the Enchanted Forest Theme Park. You can read our adventures in this storybook-themed attraction BY CLICKING HERE. 
Where TO EAT in Salem, Oregon
Obviously, when you spend a few days in a new place, you end up going out to eat at least two or three times per day. Like many other places in Oregon, Salem did not disappoint. We always try and find options for healthy, sustainable, and unique options on the kids' menu.
Gilgamesh Brewing
Website: http://www.gilgameshbrewing.com/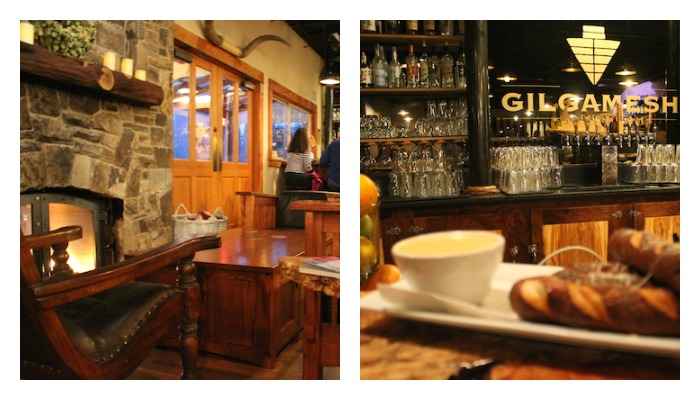 The Gilgamesh Brewing campus on Madrona Avenue features a full-scale brewery and restaurant handcrafted in the style of a rustic cabin situated in the heart of an urban revitalization. We enjoyed watching football on the big screen television above the hearth; the kids enjoyed hot cocoa while I sampled DJ Jazzy Hef, a light-bodied, American-style hefeweizen with a late jasmine addition. Kid's menu options range between $3 (grilled cheese) and $5 (cheeseburger served with dry cheddar cheese). We arrived during happy hour and enjoyed discounts from the appetizer menu, including the to-die-for fried pretzles dipped in a hot and creamy three-cheese sauce.
The RAM Restaurant & Brewery
Website: http://www.theram.com/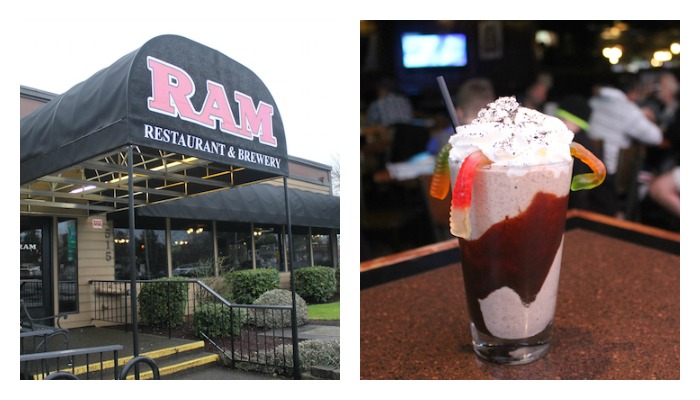 Located on the edge of the Willamette College campus, the team-member owned RAM Restaurant and Brewery is a nice option for sports enthusiasts and tourists. Kids menu entrees are $6.95 and include battered fish fillets, pasta, quesadillas, chef salad, flat bread pizza, and gluten free chicken fingers in addition to the standard burger and mini corn dogs. The true highlight of our meal was the dirt cup shake dessert made with chocolate, malt, whip creme, and gummy worms ($2.99 and worth every penny).
Venti's Cafe + Basement Bar
Website: http://ventiscafe.com/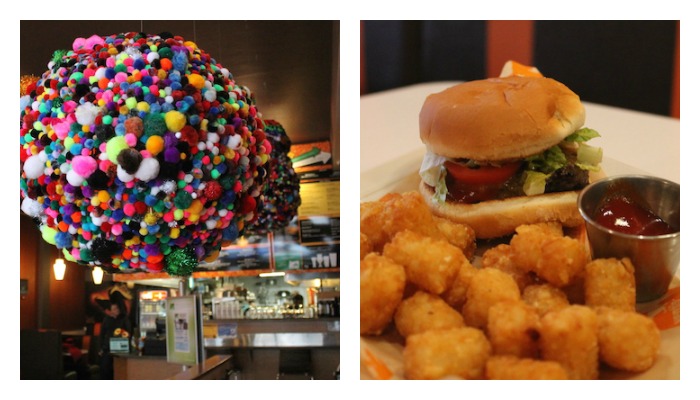 Venti's Cafe is a popular family dining venue in the downtown business district. The website touts good, clean food and this is what you can expect with items on both the adult and kid's menu. While my kids enjoyed house breaded chicken tenders, PB&J, and a burger, other options for kids include teriyaki chicken, garlic-sesame tofu, and veggies and black beans. Kids meals are served with apple sauce, string cheese, apple wedges, or carrots (tots, fries, and sweet potato fries are an additional $1 or $1.50) Truly, Venti's may have created the most authentic and original kids menu I've seen in quite some time.
Where TO STAY in Salem, Oregon
Like any city supporting over 150,000 people (and double that number for the metro area), you can expect a plethora of lodging options. On this particular trip we stayed at the Phoenix Inn Suites in South Salem, one of a collection of Phoenix Inn brand all-suite hotels located in Albany, Eugene, Lake Oswego and South Salem.
The Phoenix Inn Suites – South Salem
Website: http://www.phoenixinn.com/salem-south/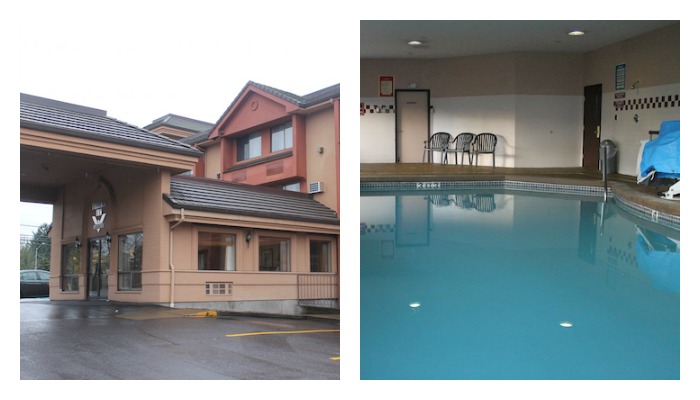 We liked the South Salem Phoenix Inn Location for many reasons including the proximity to I-5 and the complimentary breakfast buffet (kudos to this property for using traditional plates, glasses, and silverware; so many places use disposable plastic and Styrofoam to lower overhead at the expense of the environment). Our lower-level two bedroom suite was quiet and safe and within walking distance of both Walgreen's and Trader Joe's grocery store. We loved the heated pool and comfortable bedding and linens.
For More Information About Salem, Oregon
If you need more information before, or during, your time in Salem, pop on down to Travel Salem located at 181 High Street NE. You'll find friendly staff, maps, and plenty of pamphlets and personal suggestions from the employees. You can also use the clean bathrooms and poke a pushpin into the "where I'm from" map on the wall.
Do you have a suggestion? Leave a comment below.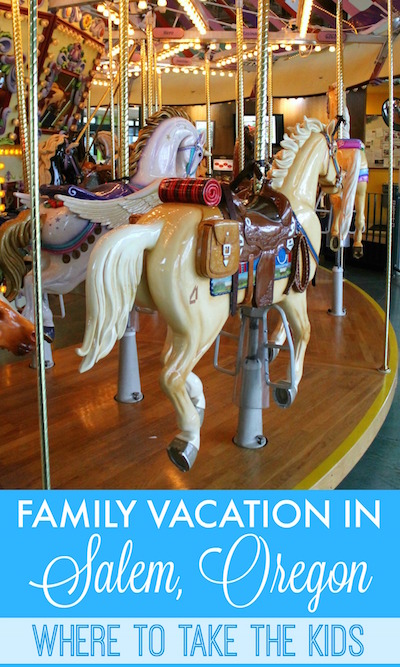 Happy Trails!