Most travelers think of heading to a vacation rental with the family for a summer beach vacation.  However, the winter can be a great time to stay in a vacation rental, too.  In locales with winter climates, homes typically have fireplaces and wood stoves for ambiance and extra warmth.  The entire clan can enjoy a pot of homemade chili or sip on hot chocolate while sitting around the fire and watching the snowflakes fall outside.
Make sure the home has good heating, is well insulated and that the pipes are freeze-protected. Ask your Vacation Rental Manager about these details of the home. Other good questions to ask are "Does the driveway get plowed and cleared?  Are the walkways and stairs shoveled?"
Consider purchasing Travel Insurance. Travel Insurance may cover a loss of non-refundable rent and tax payments if you are unable to travel to the rental home or if the trip is cut short because the home is uninhabitable due to a storm.
Many vacation rental companies are able to offer really terrific deals and specials for lift tickets, sleigh rides, tube hills and other fun winter events.  Make sure you inquire about packages and specials when you make your reservation as some of these activities and offers need to be reserved in advance.
 If snow is not your thing, go to a beach destination during their Quiet Shoulder Season. In many locations, the rental rate can be as low as 25-50% off the Peak Summer Season rates. And the beach will not be crowded. Depending on the location, you might still get fairly warm and sunny weather. And in some cases, it may actually be cold and stormy which can be a lot of fun to watch from inside your warm vacation home.
 If you are going to a mountain destination with snow, be prepared.
 In our location (base of Mt. Hood, Oregon), we recommend a 4-wheel drive vehicle with chains or traction devices.  Then, still drive safely; 4-wheel drive does not mean you can zip over any road surface as fast you want to go. Talk to the rental manager where you're renting your home to get vehicle and driving recommendations and resources.
Bring plenty of warm clothes for the entire family. When you are out playing in the snow, you can get wet and will want a change of dry clothes. Also, do not wear cotton when you are outside; it can get wet next to your skin and contribute to hypothermia. Be sure to ask about laundry facilities in the home you're renting!
Bring games, books, movies and other indoor activities. You will likely spend more time inside than you would during a summer trip, so bring lots of fun things to do for the entire family.
Bring flashlights in case there is a power outage caused by a storm. Do not bring candles as they can pose a fire hazard.
If you plan to ski or snowboard, ask about storage facilities at the home and any special rules regarding your equipment.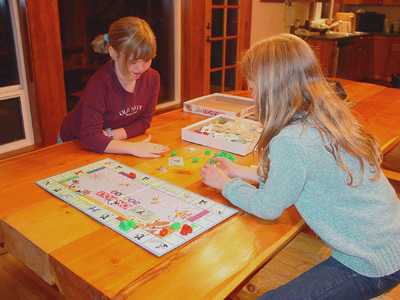 Betsy LaBarge is the president and CEO of Mt Hood Vacation Rentals in the Cascade Mountain Range of Oregon. Recognizing a business opportunity, Betsy started Mt Hood Vacation Rentals in 1991. The business has since grown to be known as the premier vacation rental company in the Villages of Mt Hood, Oregon. Betsy currently serves on the Board of Directors of the Vacation Rental Managers Association and on the Clackamas County Tourism Development Council.