We started this mega trip with few expectations. While we looked forward to seeing some familiar parts of the country, much of our trip would pass through areas we'd never traveled. And, to be honest, these areas weren't exactly inspiring from an entertainment perspective if you looked at the map. The towns were few and far between and very small. But, if you're going to drive all Top 10 Scenic Drives in the Northern Rockies, you have to figure there's a lot of getting from here to there. In states that are very low on the population density list.
The drive to Hamilton, Montana from Sun Valley looked to be one of those drives. We'd be driving the Salmon River-Sawtooth Scenic Byways. The mountains would be spectacular but we didn't anticipate much else, and settled in for a restful drive.
The lesson of the day? Your destination doesn't matter, it's all about how you get there and enjoying that journey. Oh, and maps (non-topo) are not really that descriptive in terms of mountain passes.
The drive from Sun Valley through the foothills was uneventful and we started looking for some geocaches. The first hint of Sawtooth glory was all the caches claiming to be the "most extreme" in Idaho. Huh. We settled on a group of caches that highlights all the camps used by Lewis and Clark and started talking about what that trip might have been like. And then we hit the mountains.
If you have older kids, do some research on the history of the area before you visit. Use it for reading or discussion in the car, or plan your route to specifically see some points of interest. In our opinion, the best part about this drive was how untouched it was from the days of Lewis and Clark. Sure, now there are safe roads, but there's not much else. It's easy to imagine how it might have been.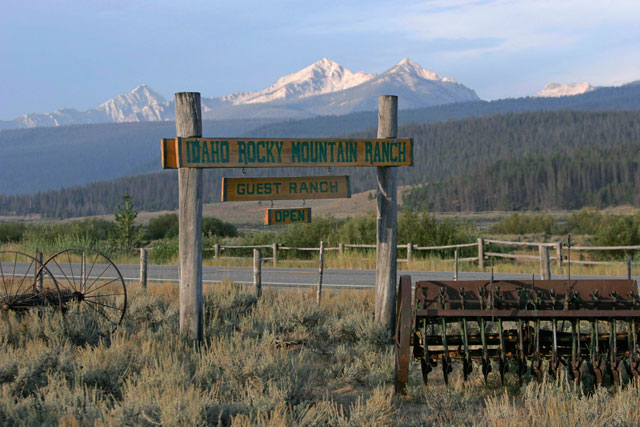 We had barely begun our journey through the Sawtooth Mountains when we stopped for lemonade and lunch at Idaho Rocky Mountain Ranch. Built by New York Frigidaire executive, Winston Paul, in 1929 and 1930, it was originally opened as the invitation-only Idaho Rocky Mountain Club. The ranch is largely original, and the atmosphere is old-school resort ranch. This is the place to go when you want to decide the day's activities over breakfast. With 900 acres to explore, the options are vast. You could have privacy and just read a book or take a group trail ride or fishing trip. Or, just hike and see what life without a cell phone is really like. Cabins at the ranch are luxurious without being fussy or fancy, and there are several options for families or couples. Judging by the lunch, the food is amazing!
Our path today took us over the Galena Summit to Stanley, Challis, Salmon, North Fork and over the Lost Trail Pass to Darby and finally Hamilton, Montana. Each of these could be explored for at least a day, and this trip would ideally be something a family took a week to enjoy. We pulled over and played in the river a few times but our schedule had us moving along pretty fast. It's definitely on our camping list for a week-long trip very soon. Plan to stop in Challis overnight, there are several campgrounds and RV parks to choose from, or stay in one of the historic B&Bs, like the Challis Hot Springs. Both historic sections of Challis are on the National Register of Historic Places, and the town makes an excellent base camp for exploring the river or hiking nearby.
Tip: Geocaching in this entire region is fabulous. While it's less populated with caches than some other regions, there are some fun family options as well as many more extreme hunts to talk about as you drive.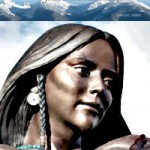 Salmon is famous for the Sacajawea Interpretive Center. The Lemhi Valley is where Sacajawea was born, and the center is an amazing resource. On 71 acres, with activities for children that rotate almost daily, as well as hiking and traditional museum exhibits, there's several hours of learning and fun here. There's also a community garden and beautiful picnic area as well as a seasonal outdoor school and many special event facilities. Try to plan your visit around some of the events, they come highly recommended. Later in the trip, we visit other places that Sacajawea helped explore and it really puts her remarkable contributions in perspective. The sheer miles and terrain that she covered (much as a young mother!) are staggering. As we crossed over the Lost Trail Pass into Montana, we talked about what it would have been like to explore this area and how relatively unchanged it is.
Driving into Darby and then Hamilton, Montana seems almost anticlimactic after all the mountains, the river and the history. The Townhouse Inn is a great option for families (nice laundry facilities!) with friendly staff and great location right off the main road. Kids will love the free breakfast and pets are welcome.