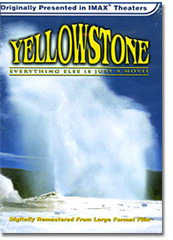 The title says it all. This was the day that never ended. It started out peacefully enough with breakfast at the Yellowstone Lodge. Then, an early morning showing of "Yellowstone," the movie, at the Yellowstone Giant Screen. Since there's no way to see the park like an IMAX movie can show it, watching "Yellowstone" larger than life is pretty magical. Kids will especially like the format for learning more about the park, and the theater is very convenient if you stay a night or two in West Yellowstone while exploring the area. It should also inspire you to hike just a bit further into the back country (whatever that means to you) or slow down and enjoy the park at a less hurried pace. History buffs will love the recounting of the park's past (see some of the props from the movie in the lobby) but there's also plenty to keep kids interested. Also showing when we visited were "Bears" and "Journey Into Amazing Caves". Both looked like family favorites and there are discounted tickets for multiple movies, so think about purchasing tickets for more than one movie when you make your schedule.
Just a short walk away is the Grizzly & Wolf Discovery Center. You will probably never get the chance to see either wolves or bears up close for an extended period of time in Yellowstone, so the chance to get such a good look at them is great for kids. The programs and tours are very geared for families, with a special Keeper Kids program to teach kids about responsible food storage in a fun way. There's special emphasis on the things your family needs to know about bears in the wild, like how to use bear spray, how to store your food and belongings in a safe way in the park and more. You can also see Yellowstone rangers give special presentations. If your family has a wide age range of children this is a fun way for everyone to learn something new at their own pace. The center is open 365 days a year, as they explain, their bears don't hibernate, which is perfect for winter visitors.
Where to Stay
Find family-friendly accommodations in West Yellowstone, Montana from traditional hotels to private vacation rentals through Stay22.com:
It's at this point that our day started to skid off schedule. Road construction (which we encountered all throughout the trip) is prevalent in the summer months in this region because of two things. Well, one thing really — the winter. It wreaks havoc on the roads, making constant repairs necessary. And, because the winter isn't the time of year to do road construction, it's concentrated in the summer. So, expect delays, and have a backup plan. Or not. In this case we had no choice but to wait our turn on the one open lane, which took a cool three hours off our day. With no internet or phone service to be had. But, we did get out and do a little walking near the road, and wished for a geocache or two! But plan to be delayed and make sure to carry extra snacks, games and maybe an art project or two.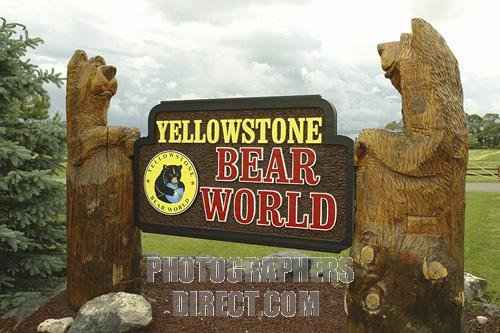 We arrived at Yellowstone Bear World in Rexburg, Idaho for a tour of the property and promptly tossed the schedule again. A short drive from either West Yellowstone or Jackson Hole, Bear World was started to give visitors the feel of Yellowstone old-school style. A few decades ago, visitors could feed bears (or at least see them very up close and personal) as common practice. Driving through the park was very different, and the owner of Bear World wanted to recreate the best parts of that experience for kids today. Staying in the car, with the windows rolled up, you can drive through, safari style, and see elk, deer and bears (and a lot of fun assorted friends and family) very close to your car, while staying safely in your vehicle. The petting zoo lets kids get up close and pet the animals of their choice (we'd never petted fawns before!) and there are small carnival rides to add to the excitement. Everything is included with the cost of admission, even a free taste (or two) of fudge. Be sure and make a reservation (required) to feed the baby bears their bottles, this will be the highlight of your vacation!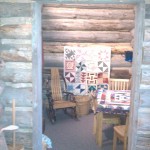 Keeping with the wolf theme of the day, we jaunted to Idaho Falls to the Museum of Idaho. The Wolf to Woof exhibit was showing and it's very family friendly. The museum is impressive, and has a varied inventory of items that illustrate local history and regional importance. Idaho Falls is a fairly small town but the museum doesn't reflect that, and is a fun place for a pit stop. The special kid's only area on the top floor is filled with games and interactive tools/experiments. The frontier cabin is every girl's dream play house, complete with costumes, and the teepee will be a crowd pleaser with even older children. Everything is "Please Touch" and designed to teach without being boring. There's also a display dedicated to the first nuclear power plant (located just outside Idaho Falls).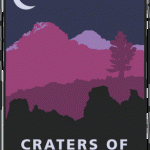 On our way to Sun Valley for the night, we stopped at Craters of the Moon National Monument and Preserve. Definitely a must for any geology buff, this is one of the most unique landscapes you'll ever experience. Similar to something you expect on the Big Island of Hawaii, Craters of the Moon is an ocean of lava with lava tube caves for the exploring. Start with a visit to the visitor's center for more information (did you know that the lava flows can clearly be seen from space?) and then take the seven-mile scenic drive and explore some caves. The campground is one of the most one-of-a-kind settings you'll ever camp in. Because of the lava, each site is slightly different, and kids will have fun exploring the immediate area. The park is huge (about 1,100 miles) so there's lots to explore.
Sun Valley is probably Idaho's most famous tourism destination. It's a hip little resort town with world-class fishing in the summer and world-class skiing in the winter. And everything in between no matter what season you visit. The Tamarack Lodge is a great family pit stop with large rooms, lots of space to explore as well as main street location for shopping or dining. The rates are reasonable and kids will get a workout in the heated, indoor swimming pool while parents lounge in the indoor hot tub. It's here that we arrived after midnight to crash and get some sleep after the first of several really long days. It was also this day that we really began to realize that the journey is so important. Rushing to arrive at the "vacation" causes you to miss all the great stops along the way!