Thanks to advances in satellite technology, social media, and the Groundspeak Geocaching iPhone application, geocaching as a family hobby is wildly growing in popularity. Yes, you can enjoy finding all the caches in your neighborhood and even treasure hunt on a day trip or two. But what about geocaching as a reason to take a family vacation? At Road Trips for Families, we call it Going on VaCachen™.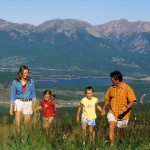 Keystone Resort, Colorado
Pinpoint hidden "treasures" along the hiking and biking trails surrounding Keystone Resort by entering pre-determined latitude and longitude waypoints into a Garmin eTrex Global Positioning System (GPS). Guests can check out GPS units and receive instructions from the Mountain Concierge office upon arrival. This is free with the Keystone Adventure Passport given to guests at check in.
Also a wonderful feature of Summit County is the potential for road trips with educational benefits! When coming in from Denver, guests can take scenic and historic Interstate 70 through various mining towns (Idaho Springs, Georgetown, Silver Plume etc.), and the beautiful Loveland Pass and Continental Divide. Additionally guests can check out the second highest incorporated town in country, historic Leadville and the story of Baby Doe, the miner's wife who was found frozen to death in her home trying to keep her husbands silver fortune alive.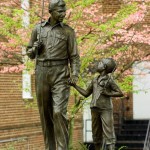 Mount Airy, North Carolina
Mount Airy, NC, known as Mayberry on the Andy Griffith Show,  is also the childhood home of Andy Griffith. This year marks the 50th Anniversary of the show. A family-friendly town, Mount Airy has several traditional cache sites, including Mayberry Reflections that contain a small log and trinkets. The Bunker Brothers virtual cache require a photo of the tombstone of Chang and Eng Bunker, the first famous Siamese twins, and former residents of Mount Airy. Coordinates of the Mayberry Cache multi-site cache will take you to Snappy Lunch, City Jail, Floyd's City Barber Shop, Andy Griffith's childhood home, and Wally's Service Station. Visit Pilot Mountain State Park for EarthCache on an enormous quartzite outcropping located a few miles from Mount Airy. A great educational tool for kids, the creator listed four things the finders must discover about the rocks, a river name, and the peak's elevation.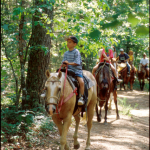 Kiamichi Mountains of Southeastern, Oklahoma
Located in the heart of the Kiamichi Mountains, McCurtain County, Oklahoma is home to Broken Bow Lake, Pine Creek Lake, the Mountain Fork, Eagle Fork, and Glover Rivers and Beavers Bend State Park (admission is free). With over 3000 caches in Beavers Bend State Park, you can also enjoy trout fishing, kayaking, canoeing, boating, horseback riding, hiking, and biking. Indoor activities include museums, nature centers, golf, and antique shopping.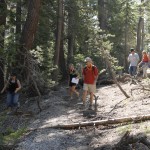 Mammoth Lakes, California
With over 100 caches spread throughout the area and surrounding mountains, geocaching is a popular activity in Mammoth Lakes California. The Mammouth Mountain Ski Resort,located in the Eastern High Sierra, California, has two private geocaching courses set up on the mountain. Maps and instructions for the courses are available at the resort Adventure Center. Both courses start at the top of Mammoth Mountain at 11,053 feet (via the Panorama Gondola) and lead back down to the base. Woolly's Escape has six caches and takes about two hours. Pumice Alley has ten caches and takes about four hours.
The recently launched Delaware Geocaching Trail involves securing a passport from the Delaware Geocaching Trail website and embarking on a predetermined trail in search of historical, cultural and art attractions in Delaware. To learn more, visit: www.visitdelaware.com/geo.