What does everyone say when you tell them you are taking a road trip that travels through Kansas?
"Boring!"
Since there is no such thing as a boring road trip, we decided to do a little research and find some family-friendly fun on our way across the state. Who knew that Kansas was home to the world's largest everything you can imagine and a lot you can't?
If you're willing to take a couple of days to make your road trip the "world's largest" themed, you can have an absolute blast, and fill an album of "you don't see that everyday" pictures. We turned the trip into a challenge to see how many world's largest (or smallest) photo-worthy stops we could make in Kansas. After a few false starts (is there really a world's largest cowpie?) everyone got into researching and making suggestions. Definitely not boring.
A suggestion that will save you some backtracking is to plot all the points in advance on your map. Internet is spotty, so a good old-fashioned paper map will help a lot. Make sure to save some of the most important geocaches as well, in case you don't have GPS access at a crucial time. We had surprisingly good cell phone and data service, but that varies by provider, so be prepared.
Van Gogh Project
Goodland, KS
"World's Largest Van Gogh Painting We'll See on This Trip"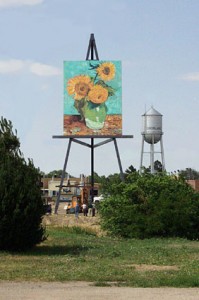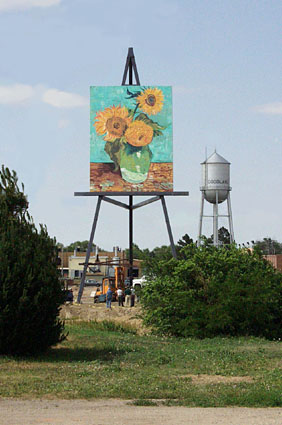 One of the crazy stops by the side of the road that becomes one of your favorite stops ever, the Van Gogh Project is a giant-sized sculpture of what we researched and concluded is Van Gogh's "Vase with 15 Sunflowers" painting. Part of a series of these giant sculptures, known as The Big Easel project, this easel is known as The American Easel. There are seven of these easels planned in all, with each of the sites having a connection to sunflower agriculture or Van Gogh, and the paintings depicted will be the seven Sunflower Paintings, some of Van Gogh's most famous works. Giant easels also exist in Australia and Canada.
A great way to infuse some art into a small-town Kansas road trip, the juxtaposition of the giant painting against a rural town backscape is fun to photograph, and this is an easy attraction to visit without any complicated route planning.
They Also Ran Gallery
Norton, KS
"World's Nicest Museum Curator"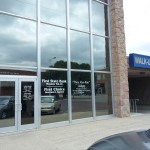 Meet one of the nicest museum curators in the world at this trivia lover's dream stop. We learn in school about who won the presidential elections, but what about the guys who also ran — and lost? You'll be able to start your Trivial Pursuit Presidential edition when you leave. Housed in the local branch of the First State Bank, the museum is a fun stop while exploring the area. Norton is the Pheasant Capital of Kansas — if you like good bird dogs, this is your place. The Prairie Dog State Park is an excellent choice to enjoy the outdoors if you have a little extra time or want to camp for a day or two.
World's Largest Ball of Twine
Cawker City, KS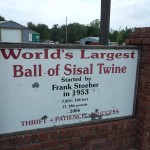 What can we say — this speaks for itself. There's no admission fee, no tourist traps, just a charming little town with a giant ball of twine in the center. Be sure to stop for a souvenir and chat with the woman who owns the shop — she will give you twine to add to the ball (we admit to putting this on Facebook for all our friends) and tell the kids about the annual festival where they add more twine to the ball, so it keeps growing. They have it on a Saturday night (because Friday nights are always hotter) and take turns running around the ball. Over and over. "I bet that's something you don't see everyday," said from the backseat as we were driving away.
Home to a plethora of world's craziest, this is one of the gems you probably never knew existed if you only drive the interstate. The town is home to less than 500 people, but our conclusion is that they must all love folk art. A lot.
The newest addition, The World's Most Artsy Public Toilets, should be high on your list of a road tripping family's Christmas card cover. It's so cool we covered them separately, after all, aren't road trips about public bathrooms?
Probably the best place to start your visit (after a trip to the bathroom, of course), is the Grassroots Art Center. Grab some visitor information and make sure you hit all the highlights of the town that you can.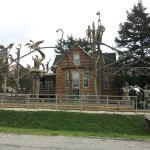 The Garden of Eden is one of the best examples we've found of the "Grassroots Art genre", where found objects play a vital role. For almost 30 years, this was the home and art project of Civil War Veteran Samuel Perry Dinsmoor. Guided tours are available.
The World's Largest Collection of the World's Smallest Versions of the World's Largest Things draws visitors from all over the world. We've heard that it's best to see the collection when it's traveling (it's a traveling exhibition) but you can see it at home in Lucas.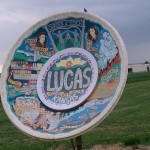 World's Largest Souvenir Travel Plate — Admittedly, you probably haven't thought much about the category of world's largest souvenir travel plate lately, but take a look at this plate from up close. By now, the kids will be thinking of their own additions to the world's largest collections, and the grandparents will be loving all the pictures!
More Must-See Road Trip Pit Stops in Kansas
Lebanon, KS — Geographic and Geodedtic Center of the US. If you're a map buff, you'll already know how cool this is, but if you have never bothered to think about where the center of the US actually is, or realize that this spot is the center of almost all the maps you'll ever read, this is a fantastic stop. We love learning experiences marketed as treasure hunting, and a geocaching search found this for us.
Coffeyville — What did the two-pound hailstone look like when it fell in the 70's? There's a replica at the Dalton Defenders Museum.
Ellinwood — If you have time, the underground tunnels are a nice way to get a break from the car and learn a little about history. Age appropriate explanations are necessary here, but kids don't have any way to experience what life was like for the less fortunate in fairly recent history without tours like this. The tour sparked hours of conversation over a couple of weeks following our visit, and it's one of the stops we almost didn't make, but are glad we did.
Lexana — This "Spinach Capital of the World" hosts an annual Spinach Festival where you can sample the World's Largest Spinach Salad.