Almost exactly a year ago, I shared with you our family's first trip to Smuggler's Notch Resort in Vermont. We enjoyed ourselves so much last year, that we returned again this year. And to double-up the fun, we invited another family to join us.
Both families look like this: a Dad who is an expert skier, two kids who are on their way to becoming expert skiers, and a Mom who is not entirely comfortable on skis even on the "bunny-est" of "bunny hills."
I think there are a lot of us out there – folks who never skied as kids, aren't particularly athletic, and might find the notion of spending a family holiday at a ski resort a touch daunting. But here's why I love this ski resort, even though I don't classify myself as a skier: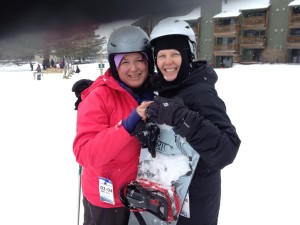 Beginner Lessons for Adults 
Do you imagine that only kids take beginner ski lessons? Not so! There are a ton of lessons available for adults at Smuggler's Notch. I took a Level 3 ski lesson, while my girlfriend took a Level 1 snowboard lesson. A group lesson runs for 2 hours and lets you increase your confidence and skill level, while also giving you a chance to meet people from all over North America. All for the cost of $75.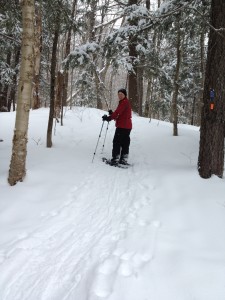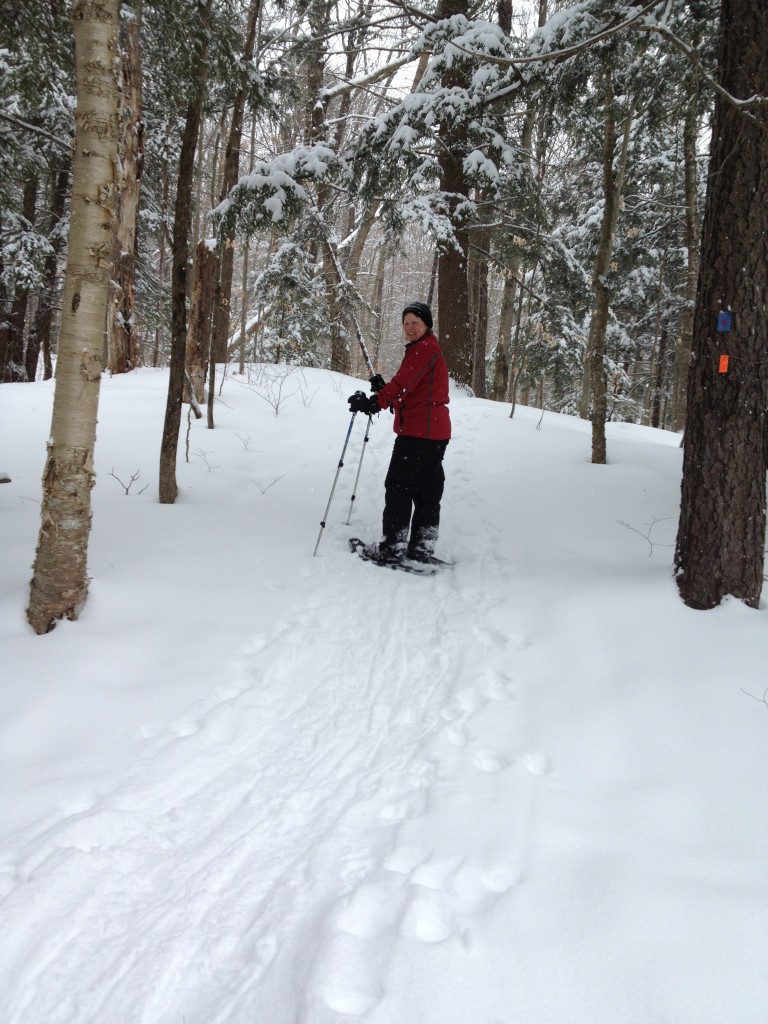 Snow-Shoeing
Not sure you even want to get on a hill? Then you can opt for the more flat terrain of a snow-shoe trail. Simply wear your own winter boots and rent snow shoes ($19) from the Nordic Center on the resort. My girlfriend and I appreciated an option with so little chance of falling on our butts! We took a trail called "Moose" and talked and laughed, and talked and laughed some more while we snow-shoed for almost 3 hours. There is no cost to use the trails if you already have an alpine lift ticket, otherwise the trail fee is $14 for an adult.
Indoorsy?
Okay, so maybe you are just plain not "outdoorsy." Hey, me too! I'd like to curl up and read a book any day. But there are many more options than hanging out in the chalet by the fire (as awesome as that is). Like most resorts, Smuggler's offers massages, yoga and other fitness classes. However, if you're looking for something a little different, you can join a painting ($54), knitting ($35), jewellery-making ($130), or other arts class.
Photos from top to bottom: My girlfriend and I after she completed a beginner Snowboarding class; This is me on the "Moose" snow shoe trail at Smuggs; and this last photo, credited to Smuggler's Notch, shows one of their many arts and crafts classes offered during the week.
Want to learn more about Smuggler's Notch? The resort's website is www.smuggs.com and has all the info you need to learn or make a booking, or you can also feel free to leave me a question in the comments section below.