A volcanic tuff ring rising from the flat landscape of Oregon's high desert, Fort Rock received its designation as a National Natural Landmark in January of 1976. Occupied as a natural shelter by Native American tribes who occupied the area thousands of years ago, visitors to the Fort Rock State Natural Area see their remains in pictographs and petroglyphs on the rock walls.
During the last ice age, Fort Rock was a volcanic island in a prehistoric lake that encompassed what we know today as Christmas Valley. Sandals made of sagebrush were located in nearby Fort Rock Cave* are radiocarbon-dated at an approximate age of 10,000 years old are evidence of some of the earliest humans in North America. Similar archeological findings have been identified at the Paisley Caves, about an hour drive to the Southeast.
While some of the trails are closed seasonally between February 15 and August 15 during the raptor reproductive season, we hiked the designated open trails during a recent visit to the site.  A fairly easy excursion, you may want to use hiking poles on the initial ascent into the crater.
Modern restrooms and a small picnic shelter with interpretive signs and other park information greet visitors. If you are pulling a camper trailer, there's a small turnaround point but no designated large vehicle parking. Between a picnic lunch and a full hike inside the rim, we spent about an hour and a half fully exploring this location.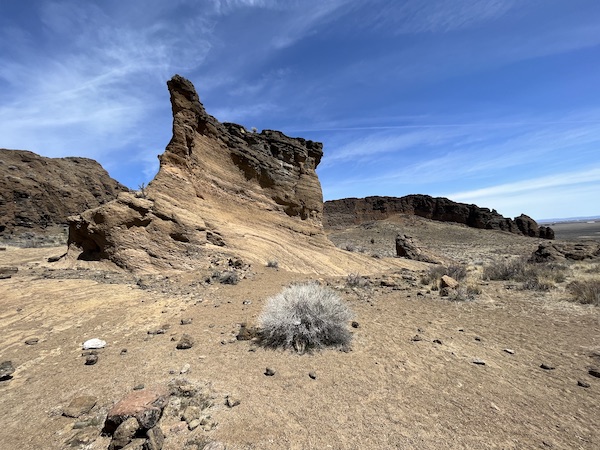 To round out your Central Oregon adventuring, consider hiking the volcanic fissure at Crack in the Ground located 37 miles to the East.
*Fort Rock Cave is the site of instrumental archeological discoveries contributing to the significance of the Fort Rock Basin as a vital part of Native American History and Live. Tours of Fort Rock Cave occur throughout the spring and early summer bat 9am and 12pm. Register for a cave tour online or call the LaPine Sate Park Office at 541-536-2428.
Happy Trails!