Would you make a trip to Cawker City, Kansas without finding the world's largest ball of twine? Or drive through Niagra Falls, New York without at least glimpsing at the water? The same goes for Tillamook, Oregon. If you are a true tourist, plan to stop at the Tillamook Cheese Factory at least once on your visit to the area. Wikipedia cites Tillamook Cheese as the 44th largest dairy producer in the United States, with 110 local farmers in the dairy co-operative.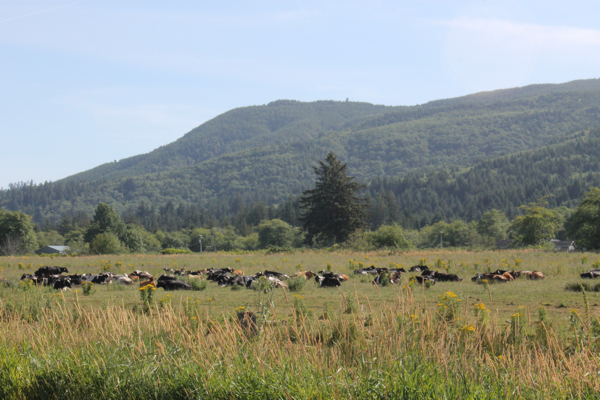 In addition to cheese, Tillamook also produces yogurt, ice cream, sour cream, and butter. Open daily from 8AM-8PM, tours of the facility are self guided and free. For us, the highlight of the visit was the second-level observation deck where visitors observe large blocks of cheese travel on conveyor belts for slicing, shredding, and packaging.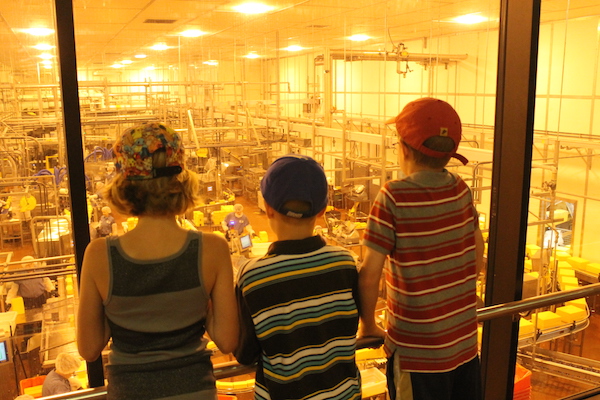 1.7 million pounds of milk received into the factory each day and, from that, yields 171,000 pounds of cheese. Kids may enjoy learning farm and factory facts on one of the touch screen kiosks (or just play a game where they drop scoops of ice cream onto an empty ice cream cone).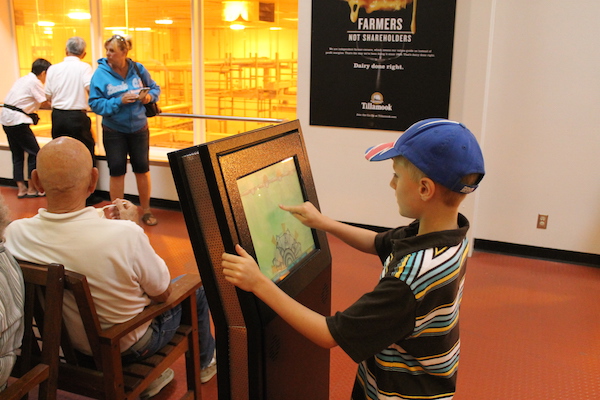 Downstairs, people line up to sample the different varieties of Tillamook cheese. Closer to the restrooms, you can watch a short video on the cheesemaking process.
Travel Tip: If you love Tilamook Cheese, check out these other Family Friendly attractions in Tillamook County.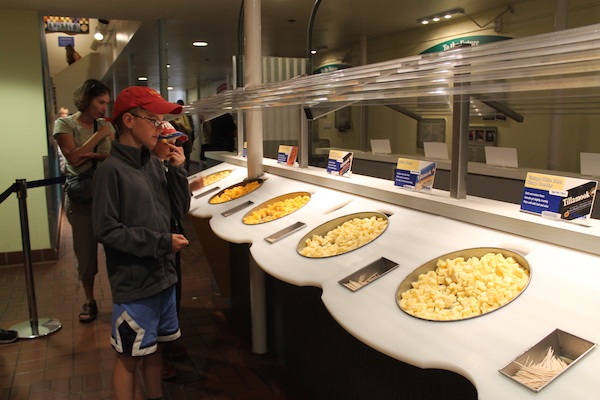 At this point, the "tour" portion of the visit is complete. As you might suspect, Tillamook provides its guest with several different opportunities to purchase their dairy products.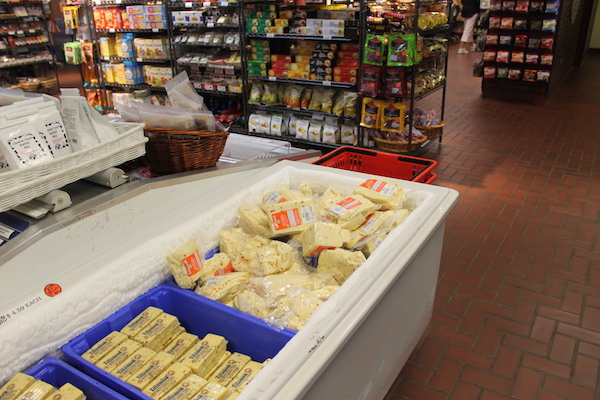 Perhaps the best "deal" is the endcuts, or irregular shaped pieces, of specialty cheese. Endcuts from the more popular varieties (cheddar, mozzarella, colby jack) are shredded; endcuts vary based on what cheese was produced that week.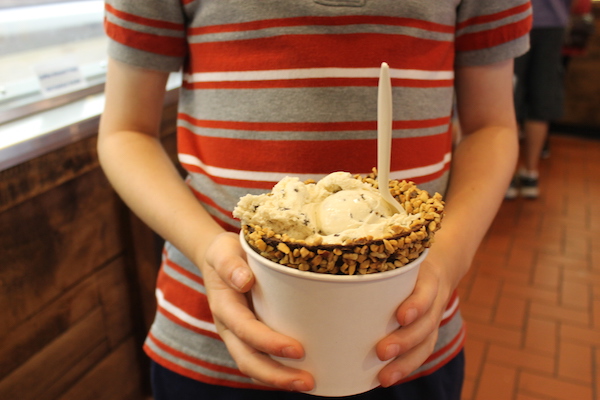 The remaining portion of the first level is a giant dining room where patrons enjoy food items purchased from the ice cream counter, fudge counter, or cafe. We put down a sundae, chocolate shake, and the scoop of ice cream featured in the photo above.
A group of teenage boys was about to devour the Ice Cream Adventure—one scoop of every flavor of ice cream dished into a pail ($29.95). This breaks down to about $3.75/person between eight ravenous kids.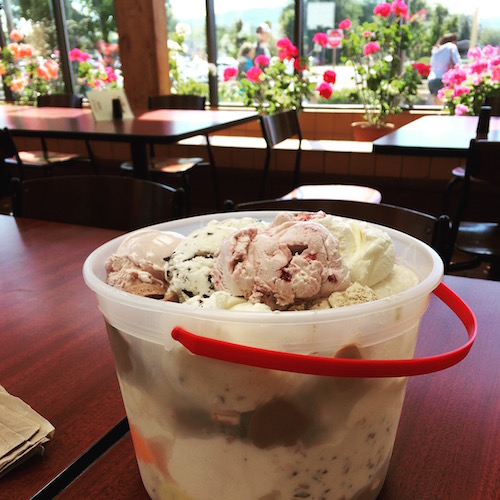 The cafe serves a variety of more filling foods, ranging from a farmhouse scramble (breakfast) to grilled cheese on sourdough bread (lunch), to deep-fried squeeky cheese curds (anytime is fine).
Before you leave, don't forget to take a photo in the mini-loaf mobile. A word of caution, this is what can happen to you when you eat too many cheese curds and then fall asleep at the wheel. (ha)
Also worth noting is the mobs of people you may potential encounter during your time in the Tillamook Cheese Factory. One tip is to arrive earlier in the day or during a less-touristy time of year. Tillamook seems to have a system for directing the flow of the "herd" (cow joke) and you can always enjoy your food at the picnic tables directly outside the visitor entrance.