In our continued exploration of the Oregon Coast, we ventured out to find the Hobbit Beach Trail located just north of the town of Florence on Highway 101. After crossing the bridge and turnout down to the Heceta Head Lighthouse be on the lookout for the Carl G. Washburne State Park entrance sign (right-hand side of the road if you are heading north). Park in the small gravel lot just before the sign (also on the right-hand side) and carefully cross to the opposite (ocean) side of the road.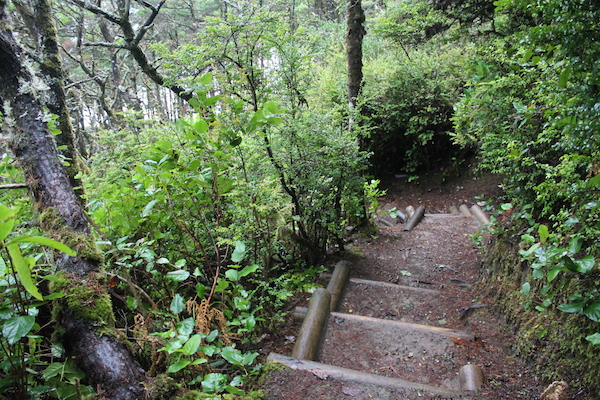 You are looking for a brown designated hiking sign and and a wooden directional marker that reads: Hobbit Beach 1/2 mile. The trail slopes moderately down towards the beach and you will need to maneuver through a series of stairs, roots, and potentially muddy and slippery ground. Even in late December we were enveloped by a damp, green canopy of that seemed to swallow us on our walk down to the ocean.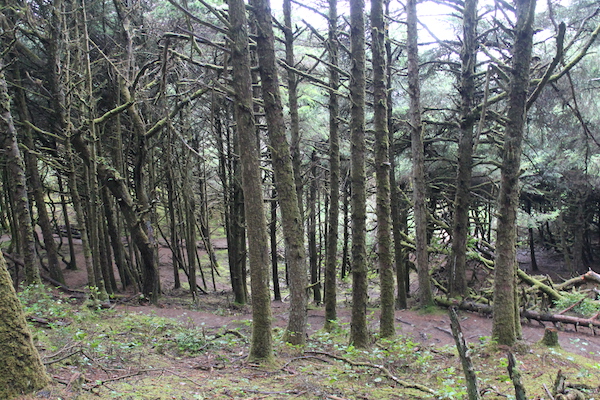 The trail switches back-and-forth and then comes to a deep and narrow entrance at the edge of the woods. Look for a fairy shrine of clam shells, polished glass, feathers, sand dollars, and crab bodies and claws. Note the mouth of the trail is at marker 93 (you can't miss the large metal sign).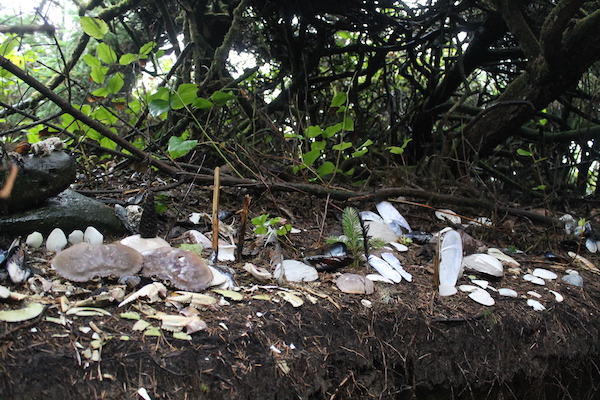 We found ourselves alone on Hobbit Beach and wandered south in the direction of Heceta Head. The tide was almost in and a recent storm had covered the beach in kelp and shells. Small streams of water were flowing down from the sand dunes and we walked to a more significant waterfall pooling down the backside of the massive outcropping of volcanic rock shown in the photo at the top of this post. Return in the reverse order, leaving an offering for the fairies on your way back home.
As long as you're in the area, why not:
Sandboard on the Oregon Dunes: https://www.roadtripsforfamilies.com/2015/09/sandboarding-the-oregon-dunes/
Make a Driftwood Structure in Florence: https://www.roadtripsforfamilies.com/2015/05/exploring-the-central-oregon-coast/
Find the Ghost Forest at Neskowin Beach: https://www.roadtripsforfamilies.com/2015/06/oregon-coast-neskowin-beach-ghost-forest/