Your first car probably holds a lot of memories from over the years. While it may have had its fair share of rattles, didn't offer the best gas mileage, and had some rust on its exterior, it's what got you from here-to-there when you first got your driver's license.
You probably have a nostalgic feeling when you reflect on where that first car took you and the people you were with. Take a look at a few things your first car went through back in the good ol' days.
The Drives
Oh, the drives this car went on and the things it saw! Sometimes there was a destination in mind, and sometimes the drive was just for the fun of it. Fill up the car with gas and go, and if you found something worth stopping for, you did it.
The Endless Requests
If you were one of the first of your friends to get your license, you probably got countless calls asking for rides or requesting food drop-offs. The attention probably made you feel pretty cool since you had your license and a car at first, but over time the requests became a bit of a pain.
The Indestructibility Factor
While there have been a lot of improvements in both safety and efficiency since the days of your first car, the old thing was practically indestructible. While it may not have been as safe as today's vehicles, it took its fair share of fender benders and you survived them. The car seemed indestructible in the hands of a teenager who always wanted to have a good time. You probably loved your car and thought, "I'll never sell my car." Most people want to keep their first ride forever!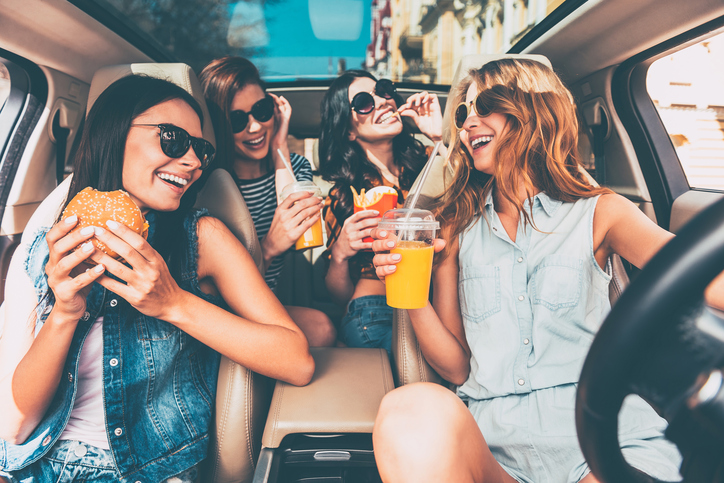 The Food Runs
As a kid with a driver's license, a car and friends would often find themselves hungry, you probably had an itch to run out and grab fast food all the time. The local Taco Bell employees knew your names and how you dropped far too much change at the drive through window.
The Spilled Food
The amount of spilled sodas and ketchup stains meant the car seats weren't in the best shape! Picture a car full of teens, driving a little too fast, and some unexpected red lights that led to slamming on the breaks. You get the idea.
The Sounds
Like most first cars, the sounds of rattling and popping happened so often you quickly grew accustomed to riding in a loud vehicle. While it's not ideal to hear those sounds, the car was running and provided freedom so you rolled with the noises.
The Irreplaceable Memories
When you think of your first car, you might get a feeling deep down in the pit of your stomach. It's probably one of those things in life that take you back in time and bring a flood of emotions to mind. It's a feeling you don't want to go away. While it may seem silly to say that an old vehicle meant so much, it was an integral part of your glory days. The car was there during a lot of laughs, and during the tough times, too. Your first car probably means more to you than you realize.
FTC Disclosure: We received monetary compensation for this post. My first car was a Subaru Loyale Wagon and I experienced all of these things and more. I loved that car!