Just twenty miles from Oregon's iconic Timberline Lodge (if you're traveling on U.S. 26 in the direction of Government Camp), the Wildwood Recreation Site is an excellent stopping off point on your way to the summit of Mt. Hood.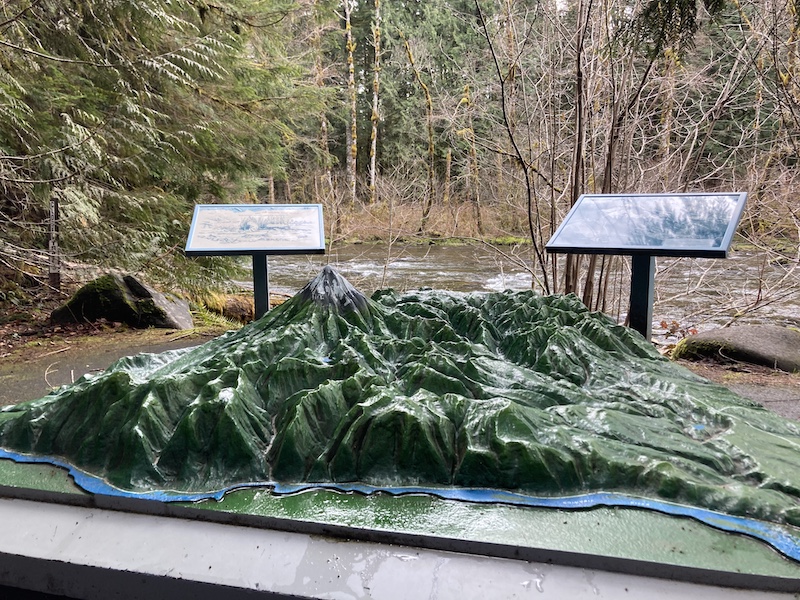 A rest stop on steroids, visitors to Wildwood Recreation Site can recreate in the following ways: hiking, biking, swimming, fishing, picnicking, geocaching, and nature watching. ADA accessible, Wildwood is great for families with strollers, walkers, or wheelchairs.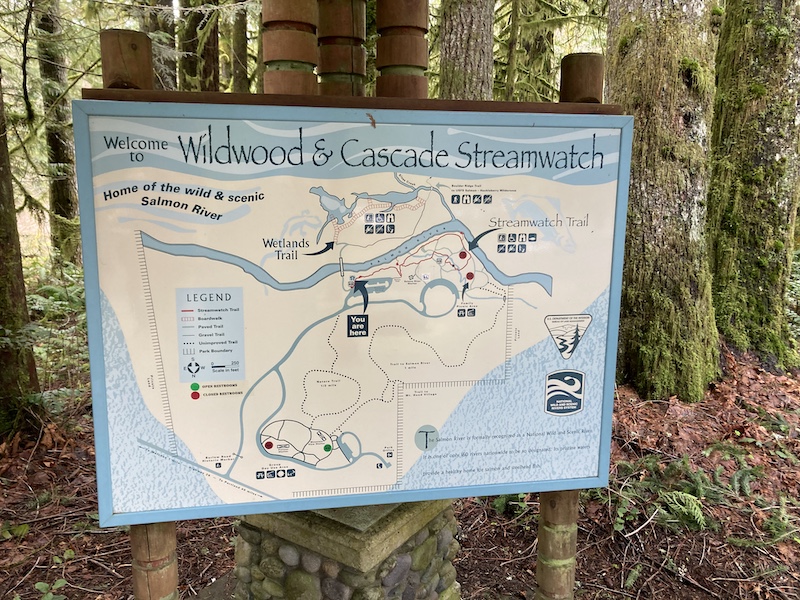 We visited Wildwood Recreation Site during spring break, in the brief transition window just after the snow melts but before pollen fills the air.
Where to Stay
Find family-friendly accommodations in Welches, Oregon from traditional hotels to private vacation rentals through Stay22.com:
Hugging the south side of the Salmon River, the Cascade Streamwatch Trail is a paved 3/4 mile loop nature trail with interpretive markers highlighting history, ecology, and environmental impact of various industries on the river basin. A highlight of the Cascade Streamwatch Trail is the Underwater Viewing Area leading visitors into a lower-level glass viewing area of a small stream tributary off the Salmon River. Here you can view water nymphs and smaller fish seeking protection under logs and other debris.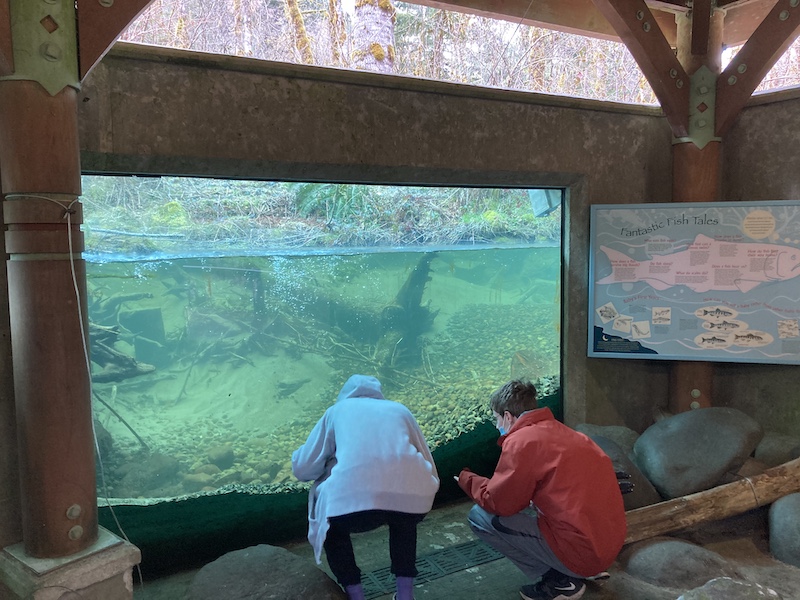 Along the path are several marked picnic areas with wooden tables and charcoal grills. The picnic areas look almost like camp sites; we initially thought this is what they were but posted signs prohibit overnight camping. Near the Underwater Viewing Area is a rocky beach, perfect for skipping stones and wading in warmer weather.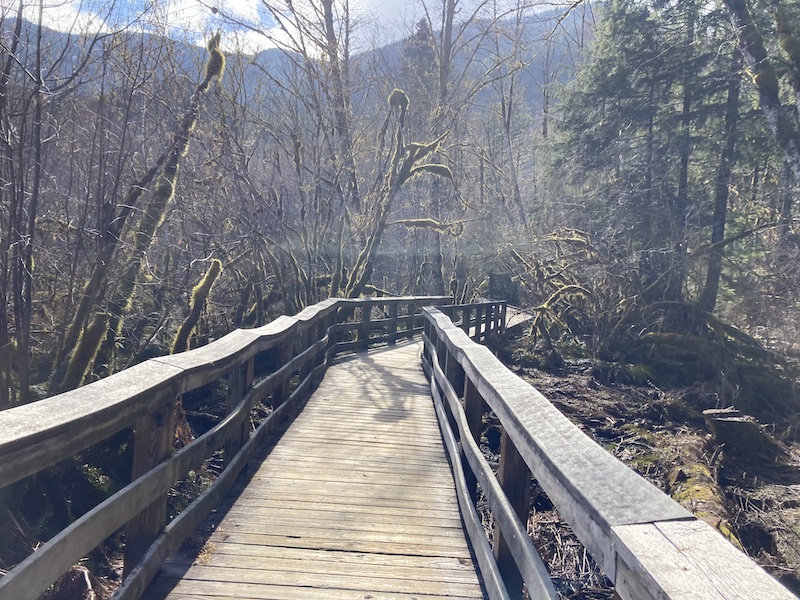 Crossing over the Salmon River on a wooden bridge leads to the Wildwood Wetland Trail, a crushed gravel and wooden boardwalk path with bifurcations into the mountain wetland for key viewing points and interpretive material like this durable book on the Oregon beaver. Did you know adult beavers weigh an average of between 45 and 50 pounds? Now you do.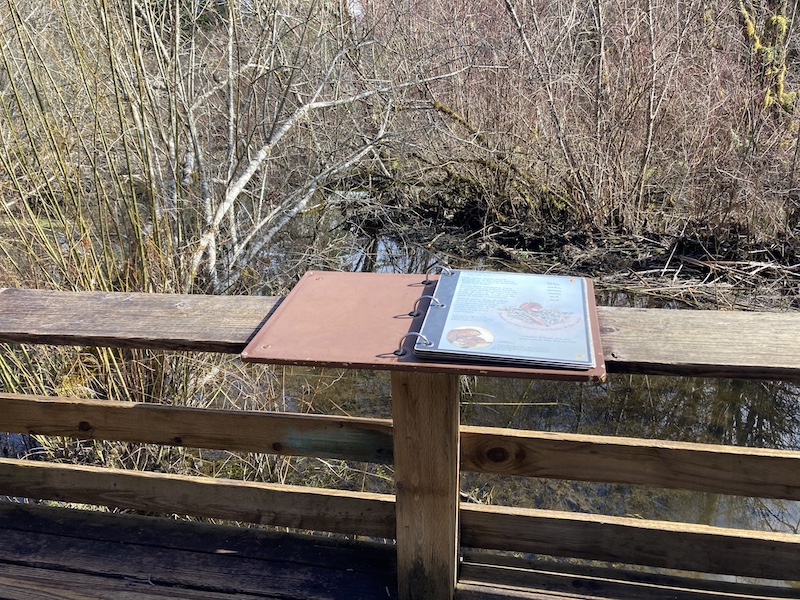 The Wetland Trail leads to the Boulder Ridge Trail, a 4.7-mile hike up Huckleberry Mountain into the Salmon-Huckleberry Wilderness but was closed during our visit (due to recent winter storm damage and erosion).
Maintained by the Bureau of Land Management, we used our annual National Parks Pass for a day visit (we spent about an hour and a half on the trails). Admission varies by the size of your group, with additional fees to reserve a picnic shelter (annual passes are available). See the Wildwood Recreation Site website for complete details, including considerations during COVID: https://www.blm.gov/visit/wildwood-recreation-site
Happy Trails!