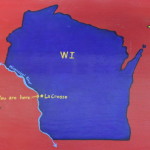 La Crosse, Wisconsin  is one of those places you might first read about in a "cool small towns" list or discover in a outdoor lovers guide book. With a population large enough to support three colleges (one private, one technical, and one state school), 51 thousand residents know first-hand that La Crosse is a beautiful, bucolic place to call home.
Untouched by the glaciers that otherwise flattened most of Iowa and dug out the Great Lakes, the geographical landscape is generally known as the Coulee Region primarily due to the deep valleys cutting down into the Mississippi River corridor. In a nutshell, if you live in the Midwest and want to feel like you're somewhere else, check out La Crosse.
A lovely place to be in any season, our mission in 2013 is to visit places like La Crosse and report back the family-friendliest of venues. Because January is typically one of the coldest months here in the Frozen Tundra, here are some ideas for a trip to the region in the winter months.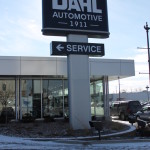 Dahl Auto Museum
Relatively new to La Crosse is a museum located in one of the oldest Ford automobile dealerships in America. Located in a 10,000 square food space adjacent to the currently operational service center, the Dahl Auto Museum is perfect for the auto-buff in your family. Not particularly toddler friendly (although little kids will enjoy the toys and fish tank located in the waiting area or a movie playing on the StarLight "drive in" movie screen marquis), our attentive tour guide helped take a fun family photo and helped sneak in a bit of social studies cleverly disguised as vacation trivia. And as a bonus, children ages eight and under are free when accompanied by a paid adult.
An authentic 1930's ice cream parlor and confectionery, The Pearl Ice Cream Parlor & Confectionery is a family favorite in downtown La Crosse. With people lined up for waffle cones, malts, and ice cream sundaes in the middle of the winter, our family thoroughly enjoyed one giant sugar buzz. Making selections from both the soda fountain and the candy counter, the splurge was worth the wait. And, no, I didn't share my banana split!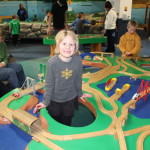 Children's Museum of La Crosse
A popular hangout for Coulee families, the
Children's Museum of La Crosse
spans three stories in an unassuming-looking building on 5th Street. Geared towards the elementary-age crowd down to tots, the museum has a hands-on exhibits including a train table, water station, dinosaur maze, wind tubes, and a plethora of pretend play stations. Families interested in sending kids' up the climbing wall in snowy weather should remember to pack tennis shoes (whoops). Large enough to keep kids entertained for several hours, leave enough time in your itinerary to check out the entire museum.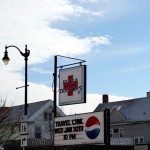 Pizza Doctors
Describing themselves as pizza buffet "professionals," the pizza doctors at Pizza Doctors pizza restaurant specialize in exploratory pizza surgery. With menu items including The Freudian Slip and The Cardiac Arrest, patrons can also order one of the twenty-plus dessert pizzas (Pizza Colada anyone?). Dining with the locals over lunch hour, our family enjoyed the pizza buffet, salad bar, and (to our pleasant surprise) tacos. A "no frills" kind of dining room, younger kids will enjoy the "pediatrics" play area or feeding quarters into one of the arcade games.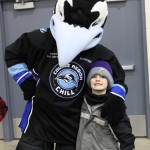 Coulee Region Chill: Omni Center in Onalaska
The region's Junior A Tier II ice hockey team, the Onalaska-based Coulee Region Chill gives sports-enthusiasts a reason to get the entire family out of the house. Scheduling games and contest between periods, and sending Shiver the Penguin (the team mascot) out to mingle with the kids, it's easy to see why so many locals turn out for the game. Sitting down with Anthony Larson, team photographer and owner of Coulee Region Adventures, listen to this Midwest Travel podcast for a bit more about what to expect at a Chill game.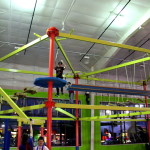 Shenanigans Entertainment Center and Sports Bar
Located on French Island between downtown La Crosse and Minnesota is Shenanigans Entertainment Center and Sports Bar. A "totally awesome" indoor fun zone with laser tag, a rock wall, bumper cars, inflatables, and aerial obstacle course. Accessible by car and (this summer) by boat, Shenanigans is perfect for large groups looking to let the kids play arcade games while the adults fit in a game of pool. With value packages available on the website, out-of-towners might want to consider a visit to Shenanigans around lunch or dinnertime. Hint: if your group does want to play laser tag in the impressive indoor arena, make sure and get your reservation in ahead of time.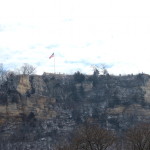 Grandad Bluff
Last, but not least, a trip to La Crosse is not complete without making the windy drive to the top of Grandad Bluff. Overlooking downtown and the river valley in the distance, plan to torment your kids with a mandatory vacation photo at the summit. In summer months, Grandad Bluff Park is a lovely spot for a picnic (note the newly-renovated bathrooms and covered shelter near the giant flag pole). Hikers will enjoy the trails. If you geocache, plan ahead to do the earth cache and find some of the traditional containers of varying difficulty and terrain along the way. If visiting the bluff in the winter months, use your best judgement in bad weather. Also note that many people bike/run/hike up the bluff—make sure and watch out for them going up or down the road.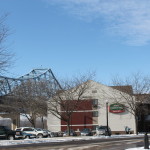 Where to Stay: Courtyard Marriott
In a beautiful and convenient downtown location along the Mississippi riverfront, the Courtyard La Crosse Marriott Downtown/Riverfront is ideal for families looking to make the most of their trip to La Crosse. Within walking distance to restaurants, museums, theaters, and the People's Food Co-Op, the Courtyard Marriott is the place to stay. Adjacent to the landmark Cass Street/Cameron Avenue bridges, riverside rooms have a great vantage point for scrapbook-worthy photos. Atrium views of the bridges from the pool/hot tub are also great. Serving dinner and breakfast at reasonable Midwestern prices, rooms do have refrigerators for snacks and to-go containers.