The cost of getting to Texas from Wisconsin was expensive. Lucky for us, we were able to fill our Austin itinerary with low-cost (but fun) things to do once we got there. Here's what we did:
Zilker Metropolitan Park

Zilker Metropolitan Park is to Austin what Central Park is to Manhattan. A 351-acre spot for recreation and relaxation, family attractions include a large playground, picnic spots, hiking, biking, open fields, canoe/kayak rentals, and the Zilker Zephyr miniature train shown in the photo to the left. Extremely popular in summer months (basically half the year), is Barton Springs Pool, a natural spring-fed pool with a year-round average temperature of 68 degrees. Park admission is free, but entrance to the pool will cost between $1-$3/person. Train rides last approximately 1/2 hour and costs $2 (kids) and $3 (adults).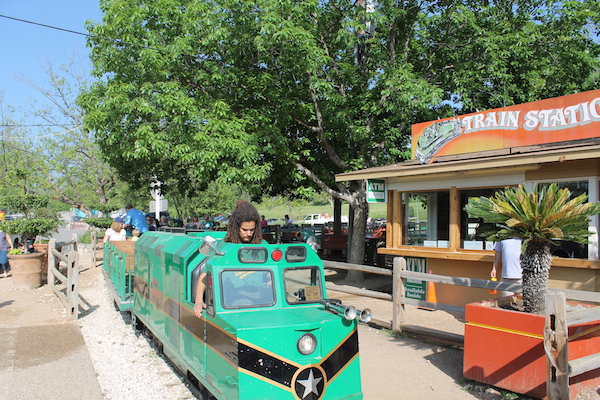 State Capitol Building
Leaving space for a bit of time for social studies, it only seemed fitting to visit the Texas state capitol building at some point during our trip. Consulting the building hours on the main visitor website, we walked on a self-guided tour up, around, and under the rotunda and into a senate room (not in session). Packed with visitors on a Saturday afternoon, had we planned ahead we could have attended a guided tour (groups of ten or more can arrange for a private  guide). Tours are free and last 45 minutes, covering the Capitol building, Texas history, and Texas legislature.
Where to Stay
Find family-friendly accommodations in Austin, Texas from traditional hotels to private Air B&B homes through Stay22.com:
The most pleasant surprise on our Austin itinerary was Umlauf Sculpture Garden (look for the signs that point left on Robert E. Lee Road on the way in to Zilker Park). Home to statues and sculptures of 20th century American sculptor Charles Umlauf, the xeriscape garden is home to Umlauf's varied creations. Winding paths make their way through the shaded grounds and a small scream bubbles down a waterfall and between two ponds. Children can request a marker and laminated photo-scavenger hunt at the front desk (crossing out photos of whole or partial sculptures), a sticker souvenir is the reward for a completed card. General admission is $3.50 (kids 6 and under are free and students can visit for $1).
Check out our story on Where to Eat in Austin! 
Congress Avenue Bridge
Ahead of their migratory pattern, our trip to Texas was unfortunately incomplete in that we missed seeing famous bats emerge from under the Congress Avenue Bridge. A sight to behold, the bats hunt en masse and look like a black cloud over Lady Bird Lake. Bat watching is free, but you may want to arrive early and scope out a parking spot.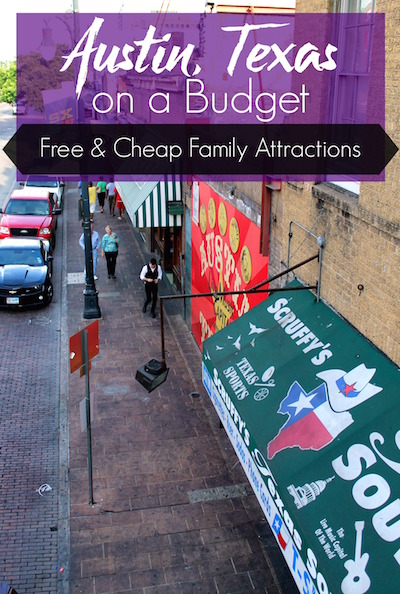 Happy Trails!