If you've come to Fredericksburg, chances are you're interested in wine. And no one would blame you – after all, its 15 wineries along Highway 290 feature some of the region's very best vintages. But did you know this central Texas Hill Country town offers much more than just acclaimed vino? From scenic hikes to German delights, here are some all-age options in culturally unique Fredericksburg.
Meander through museums showcasing Fredericksburg's past
Fredericksburg has a long and interesting history that goes all the way back to the pioneer days of the mid-1800s. Founded by German immigrants, the town was acquired through an 1842 land grant that sought to open Texas to further development. Take a trip back in time to the town's earliest days at the Gillespie County Historical Society's Pioneer Museum along North Milam Street. Stroll around on three and a half acres with beautifully preserved buildings housing artifacts from a bygone era. Listen to recordings on the walking tour, catch live reenactments of pioneer living, and don't forget to swing by the Vereins Kirche ("Society Church"), a replica of the first pioneer-constructed public building.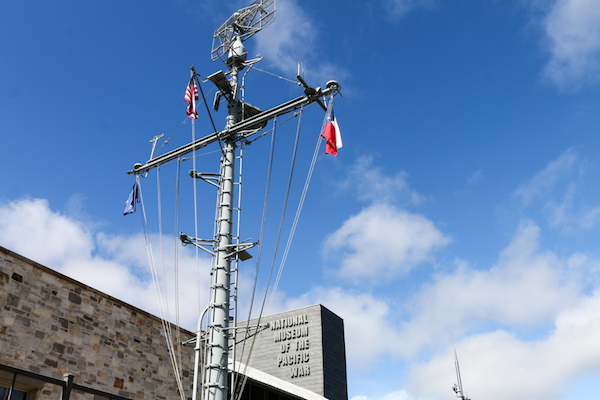 Photo: National Museum of the Pacific War, Vacasa.com
But the history doesn't end at the Pioneer Museum. Continue your peek into the past at the National Museum of the Pacific War, a sprawling six-acre complex that honors the eight million American soldiers who fought against Japanese forces in World War II. The site also includes the Admiral Nimitz Museum, which celebrates the life of Chester W. Nimitz, a high-ranking World War II admiral who grew up in Fredericksburg.
Where to Stay
Find family-friendly accommodations in Fredericksburg from traditional hotels to private vacation rentals through Stay22.com:
Conjure up some fun on the Magic Mile
When your history lesson is complete, head down to Fredericksburg's central shopping district along Main Street to sample its Old West kitsch. Known as "the magic mile," this walkable retail area begins just east of the Admiral Nimitz Museum and extends west to Marktplatz ("Market Square"), encompassing art galleries, jewelry shops, clothing boutiques, urban wineries, restaurants, and much more. Pack some sturdy shoes to walk through the neighborhood, pausing for pictures of 19th century buildings and well-kept courtyard gardens with heirloom roses. Enjoy some delicious small-batch ice cream from Clear River while watching your kids climb on the public playscape, or walk over to the fascinating Maibaum ("Maypole"), which was created by a local artist to tell the story of Fredericksburg's past.
If you happen to be in Fredericksburg on the first Friday of any month, make sure to take part in the First Friday Art Walk that winds through 13 local galleries. Often including live music entertainment and wine from local wineries, it's a must-see event that's even more enjoyable if you're over 21.
Want to stay right in town? From tiny cottages to homes that can accommodate your entire family, Vacasa offers more than 50 historic Fredericksburg vacation rentals within walking distance of Main Street!
Play in the park and go a full 18 holes on Lady Bird Johnson Golf Course
If you enjoy spending time in the outdoors, you're in for a real treat at Lady Bird Johnson Municipal Park. Named after Claudia "Lady Bird" Johnson, the wife of former president Lyndon B. Johnson who was also a lifelong advocate for beautifying public spaces, this sprawling 340-acre green space on the southwest edge of town features a variety of activities to keep you entertained all day long.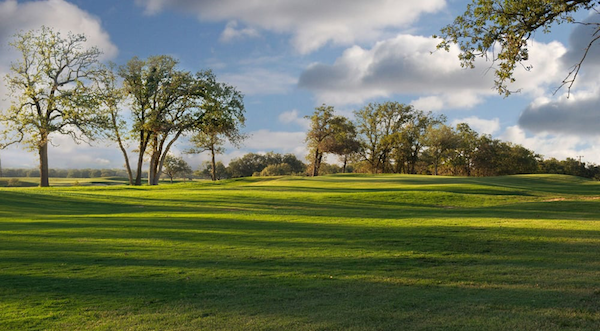 Photo: Lady Bird Johnson Golf Course, Yelp
Hike along rambling nature trails in the shade of majestic live oak trees, practice your strokes on public tennis courts, shoot hoops on a basketball court, or get some relief from the summer's high temperatures in the swimming pool. You could also bring along some fishing gear and wet a line in the trickling creek that runs through the park, or play group sports on the volleyball courts or baseball fields. Pack a lunch for when your group gets hungry, and enjoy mid-day meals in any of the multiple picnic areas or covered pavilions.
Do you like to golf? If so, make sure to bring your clubs to tee off on the Lady Bird Johnson Golf Course, one of the finest courses in central Texas. Recently renovated to encompass 6,686 yards, this sweeping course with a par 71 design will test even the best golfer. It also has 46 bunkers and water on 10 of the 18 holes, upping the challenge factor. But if you just want a leisurely day of working on your swings, there's also a driving range. Afterwards, enjoy Southern favorites like catfish, chicken fried steak, and barbecue brisket washed down with a pint of locally brewed Shiner Bock at the course clubhouse's Red Bird Grill.
Sample the bold flavors of Bavaria
In a town founded by Germans, it's little surprise that the options for eating authentic Bavarian cuisine are many. One only needs to take a short stroll down Main Street to check this fact. Swing through the Auslander Restaurant and Biergarten for German classics like schnitzel, sauerbraten, and cabbage rolls paired with beer steins of foreign and domestic microbrews. Soak up the alpine chalet atmosphere, complete with a stone fireplace and wood panel walls, while listening to mellow tunes from local bands that play nights and weekends.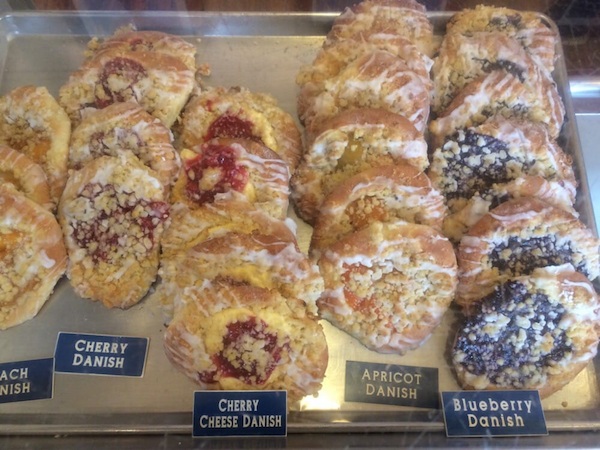 Photo: Old German Bakery & Restaurant, Yelp user Frank H.
To satisfy your sweet tooth, take a trip to Old German Bakery and Restaurant where you'll find a wide variety of mouthwatering turnovers, decadent danishes, and other goodies. Fresh bread is also baked daily, so don't forget to bring home a loaf or two.
Other authentic eating includes Otto's German Bistro, featuring German staples with locally sourced ingredients, and Der Lindenbaum Restaurant, which offers a fine dining atmosphere and apple strudel that's to die for.
Hit the Hill Country trails outside of town
Have a hankering to tackle some hilly hikes? Whether you're a multi-day adventurer or a daytime rambler seeking a leisurely walk in the woods, you'll find numerous area trails to suit your style. For epic views of pastel-colored sunsets at dusk, head 18 miles north to Enchanted Rock State Natural Area. Here, nearly 11 miles of trail wind up, down, and around a pink granite dome rising 1,825 feet above cactus and oak scrubland. Carry along your climbing gear to scale the park's granite cliffs, bring some binoculars to spot armadillos, coyotes, red-tailed hawks, and other wildlife, or tote a telescope for close up views of the star-filled sky at night.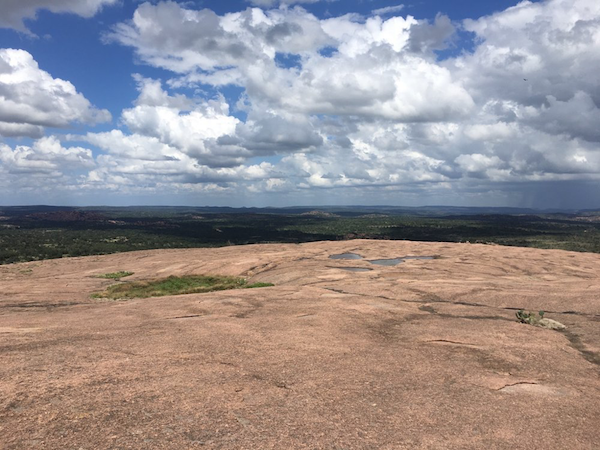 Photo: Enchanted Rock, Yelp user Kristin S.
If you're looking for a quick hike that doesn't require a lot of planning, head to the Live Oak Wilderness Trail in Lady Bird Johnson Park. Take in the scenic, shaded views as you stroll beneath 100-year-old trees with gnarled limbs stretching in all directions. Pause to take in the calming sound of flowing water in Live Oak Creek, and snap postcard-worthy photos of springtime fields painted in the electric blue of bluebonnet, the state flower of Texas. Continue along on the Vista Loop Trail to wander through post-oak savannah, short grass meadows, and woodlands running right up against the winding creek waters.
So much more than just a stop on the Wine Road 290, Fredericksburg offers something for everyone. One-of-a-kind culture, boundless outdoor activities, and historic attractions make this Texas town unlike any other.
Author: Chris Brown, Vacasa.com
Feature Photo: Main Street, Flickr user MyEyeSees