Enveloped within Bandelier National Monument and located near the town of Los Alamos, the Tsankawi Village Trial is a nice option for visitors looking for a less structured—and potentially less crowded—venue for appreciating and understanding the lifestyle of the Ancestral Tewa Pueblo People. Headed back to Santa Fe after experiencing the main park, we stopped at the Tsankawi Village Trail with barely enough time to make the full 1.5 mile loop before the sun set for the day.
Requiring the guests to climb three wooden ladders and navigate narrow depressions worn deep into volcanic tuff, the Tsankawi Village Trial is not possible for wheelchairs or strollers or anyone with limited mobility. Heed the daylight warnings, as much of the hike is within feet of steep drop-offs (which you would not want to navigate in the dark). Make sure to use the restrooms at the trail head and purchase a trail guide booklet for $1; the trail is not marked save the twenty points of explanatory reference contained within the booklet.
Located on Pajarito Plateau, remains of life from six-hundred years ago is marked by petroglyphs and pictographs, fragments of pottery, and cavates (small rooms carved into the side of the mesa). The guide booklet tells us Tsankawi means "village between two canyons at the clump of sharp, round cacti."
As we approached the top of the mesa and spectacular views of the Jemez Mountains, Sangre de Cristo Mountains, and the Rio Grand Valley, we noticed fragments of pottery lining the trail. With an average of 15-inches of rainfall each region, earthen jars were used to collect water from a nearby stream for drinking and cultivating crops of corn, beans, and squash. We noticed a wide variety of "rock art" carved into the side of the cliffs. As you can see from this photo, the sun was really beginning to set.
Worth mentioning is the idea of wearing longer pants for this excursion. By the end of the hike, my legs were fairly scratched from extended periods navigating through the volcanic tuff. I'm also fairly certain I encountered some of the "sharp, round cacti" referenced in the definition of the word Tsankawi.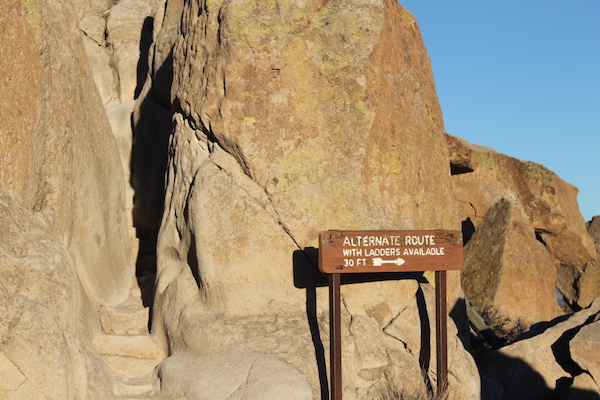 Erosion from humans is the main reason parts of the trail are closed today. Some cavates are open for exploration, with a note in the trail guide booklet to be careful and respectful of their ancient history. One trail sign reminds us: "This important ruin and the cave rooms in this vicinity are protected for future scientific research. Please take nothing but pictures and leave nothing but tracks."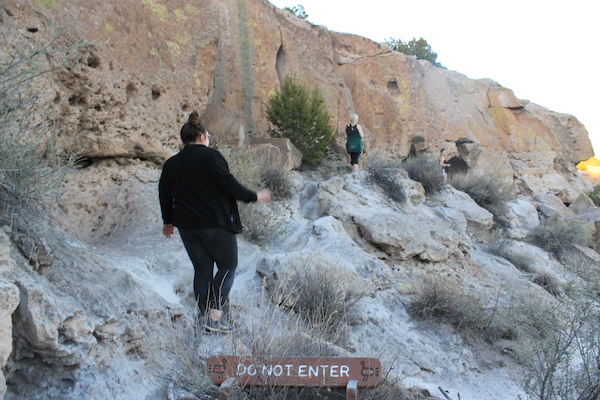 One group was exploring beyond the "do not enter" signs, a bold move that made some of us fairly annoyed and upset. I'm not sure how to handle this particular situation after the fact, except to note park rules are intended to keep all visitors safe and to preserve our national parks and monuments for generations to come.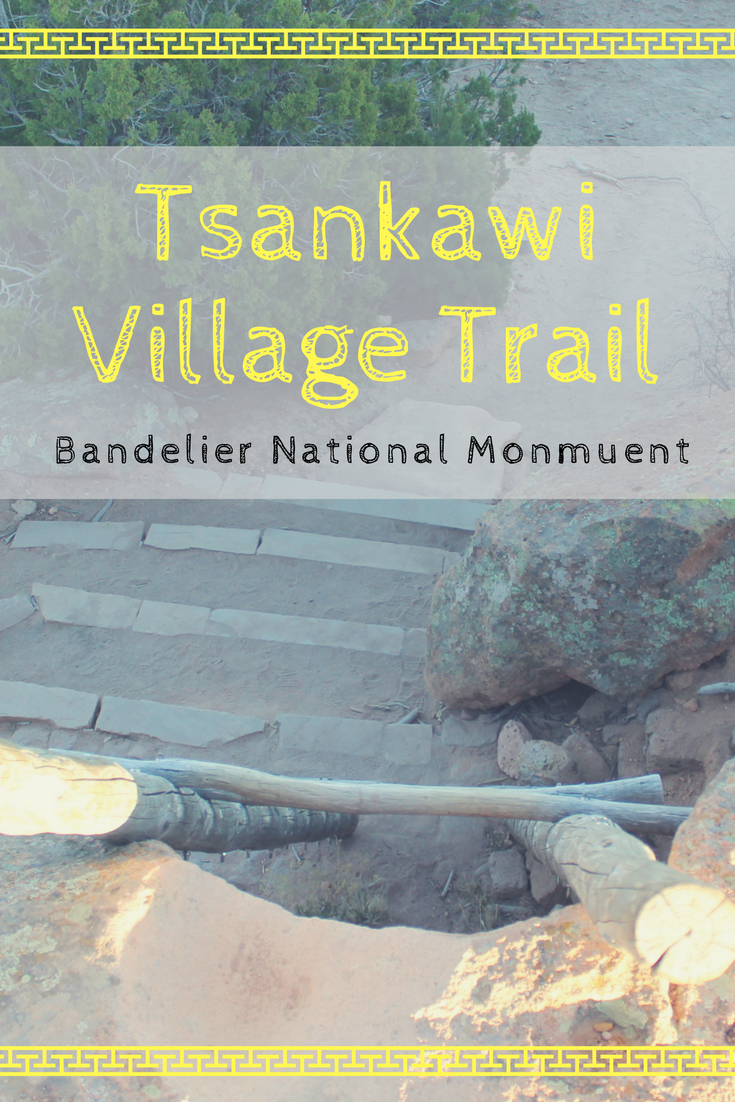 Happy trails!