Thanks to advances in satellite technology, social media, and the Groundspeak Geocaching iPhone application, geocaching as a family hobby is wildly growing in popularity. Yes, you can enjoy finding all the caches in your neighborhood and even treasure hunt on a day trip or two. But what about geocaching as a reason to take a family vacation? At Road Trips for Families, we call it Going on VaCachen™.
Here are some of our favorite places to geocache around the United States.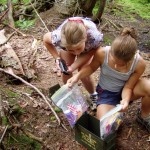 Pennsylvania Wilds
The Pennsylvania Wilds region is known for its incredible elk herd, awesome fall foliage and woodlands, and of course, the famous groundhog Punxsutawney Phil. It is also known for some very cool geocaching experiences—especially in the Allegheny National Forest. The Allegheny GeoTrail, as it's known, is one of the largest of its kind, encompassing ten counties throughout northwestern and north-central Pennsylvania. Within each county are between 10 and 20 designated geocaches which make up the "trail". The quest to find these caches will take participants throughout the rugged and scenic land of the Allegheny National Forest and its surrounding gateway counties.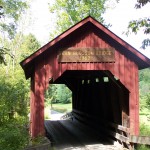 Brown County, Indiana
Located in southern Indiana, Brown County is one of the most heavily forested areas in the Midwest, offering rolling hills and scenic valleys. The terrain offers the perfect backdrop for geocaching. Rawhide Ranch is one location where you can rent handheld GPS devices and begin the hunt.  You will receive personal instructions on how to use the GPS unit, while finding your first cache. Then you either head off into the surrounding county or try your luck on the ranch caches. There are a variety of sites throughout the county, such as Muddy Boots Café, Bean Blossom Covered Bridge and Ogle Lake.  The drive on the county's backroads to find the geocaches is half the fun.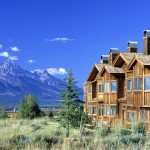 Spring Creek Ranch, Wyoming
Spring Creek Ranch in Jackson Hole, WY  developed and maintains a private geocaching course on its 1,000 acre property. This private course allows us to be innovative with the activity and to offer higher quality rewards within each cache. Guests are also welcome to rent GPS units to search for the hundreds of "public" caches hidden within the Jackson Hole area. Located on a butte just outside the Western town of Jackson and overlooking beautiful Jackson Hole Valley, the 1,000-acre Spring Creek Ranch is a secluded mountain retreat with spectacular views of the Teton Mountains.
The resort's ruggedly elegant accommodations feature stone fireplaces and hand-made lodgepole pine furniture. Guests may choose from suites, studios with full kitchens, two- and three-bedroom luxury condominiums and executive homes. Outdoor enthusiasts will enjoy the pampering and relaxation of Spring Creek's full-service Wilderness Adventure Spa, offering a variety of treatments including aprs ski massages, cozy mud wraps, hot stone massages, sunrise facials, Acupressure, and more.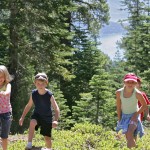 Northstar, California
Families will love exploring Northstar-at-Tahoe Resort's 100 miles of scenic hiking trails that wind among the tall pine trees of the Sierra Nevada with views of nearby Lake Tahoe. Search out the nine geocaches among the trails for added adventure – rated easy-to-find (green circle), intermediate (blue square) or hard-to-find (black diamond). Follow the take-a-trinket, leave-a-trinket policy and add your family's name to the logbook at each cache.
You'll enjoy the local flora and fauna on the trails and brush shoulders with old growth Red Fir and White Pine trees. Leashed dogs are welcome on the hiking trails and there are plenty of spots to pick up a picnic lunch in the Village at Northstar. When your on-mountain adventure is done head back down to the Village where you can learn how to make candles or bead your own jewelry, or pull on a pair of roller skates and cruise around the 9,000 foot rink. On-site lodging options and restaurants mean your family doesn't have to get back in the car once you arrive. Nearby Lake Tahoe affords plenty of family fun, both on the water and the surrounding trails.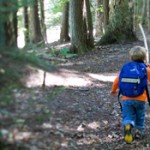 Sunday River Resort, Maine
Sunday River Resort's geocache points are hidden along the resorts 12 mile network of designated hiking terrain spanning eight mountain peaks. Some caches are easy to find and others are much more challenging with the option to hike or take advantage of our Chondola. Geocaching equipment is available to rent out of Sunday River Sports at $15 for a full day.
Sunday River also offers Summer Adventure packages with the options of activities like geocaching, white water rafting, kayaking and canoeing, mineralogy expeditions, fly fishing, ATV tours and mountain biking. These packages run until October and start at $109. For more information visit www.sundayriver.com or call 800-543-2SKI.