With gas prices spiking these past few months and rental car shortages impacting rates and availability, we altered our road trip mantra during a recent visit to Minneapolis and St. Paul, Minnesota. Cancelling our rental car reservation and booking an Air B&B within walking distance of the METRO Transit public transit system, we saved hundreds of dollars and managed to come up with plenty of ways to explore the Twin Cities by light rail.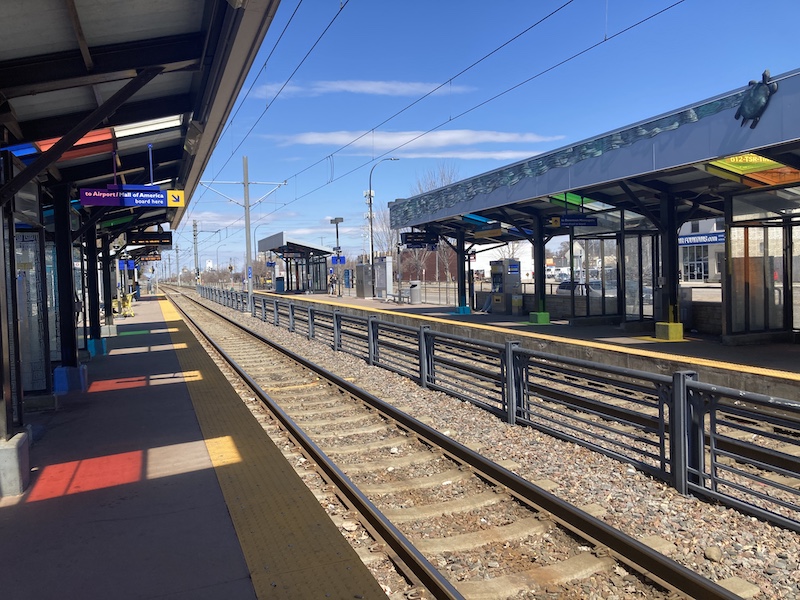 With blue line stops in both Terminal 1 and Terminal 2 of the Minneapolis Airport (one in the Lindberg terminal and one in the Humphrey terminal), METRO Transit tickets range from $2 to $6 depending on the day and trip duration (purchase tickets at pay station kiosks on each side of the tracks).
With two options for light rail (blue and green lines), METRO passengers can switch between bus and train for access to much of the greater metro area.  Trains run at all hours of the day and schedules are available on the METRO Transit website, smart phone app, and on signs at each station/stop.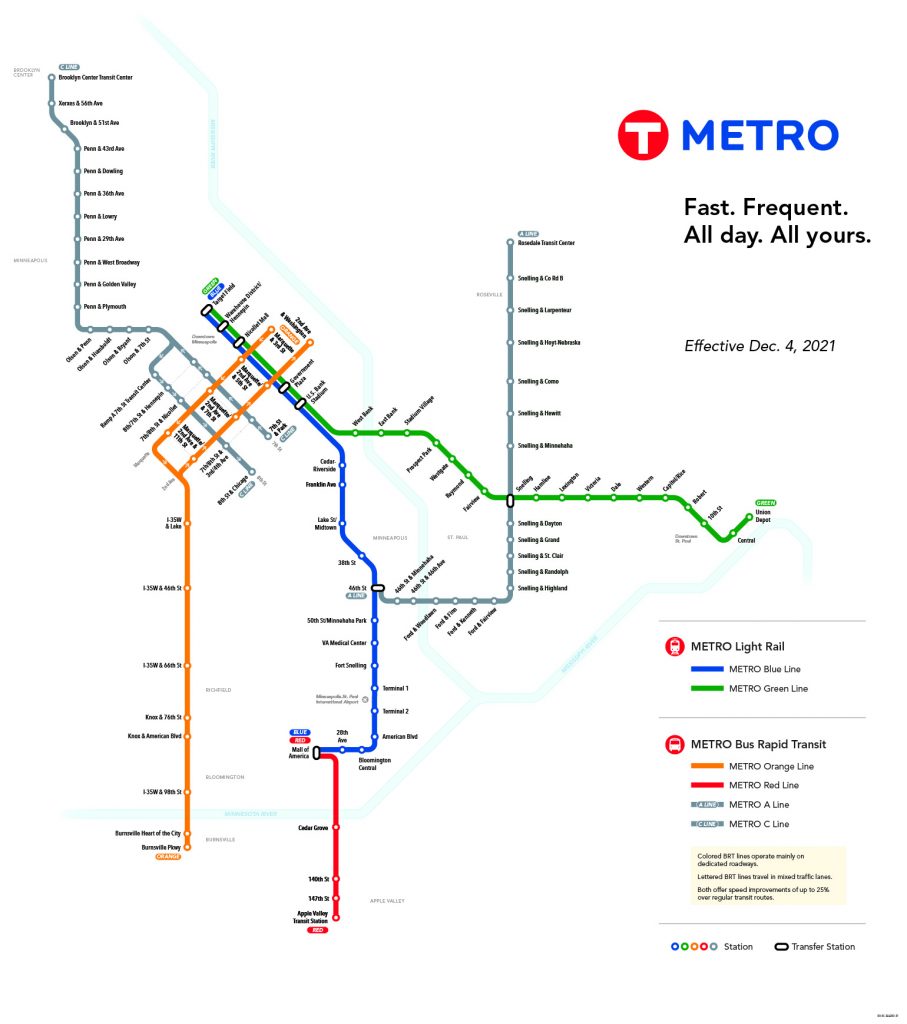 Here are some key attractions worth checking out; all are located at a designated lite rail stop.
Mall of America
An iconic Minneapolis destination, the Mall of America is just four stops way from Terminal 2 on the blue line. Ideal for anyone with a long layover and definitely winter-friendly, MoA has an indoor amusement park, aquarium, miniature golf, arcades, restaurants, and four levels of shopping. Tip: Minnesota does not charge sales tax on clothing or shoes.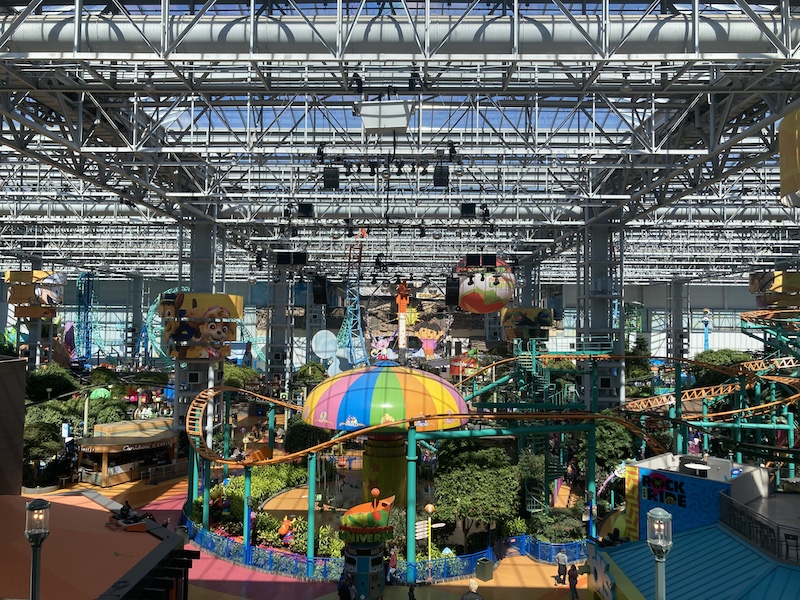 Minnesota Twins Baseball at Target Field
Extremely convenient and much cheaper than a nearby parking garage, Twins fans can access both the blue and green lines from the Target Field stop. The only time were asked by a Metro Transit employee to show proof we purchased a ticket, look for kiosks and a larger information window just outside the stadium.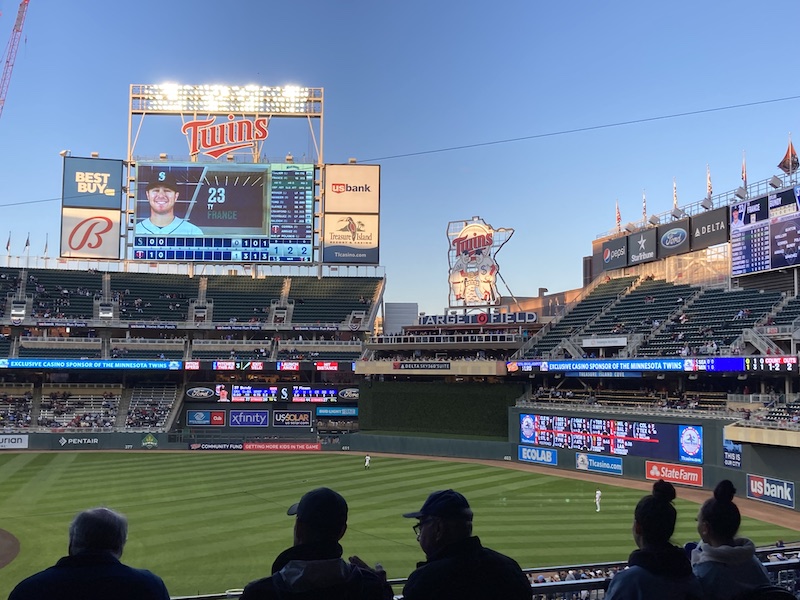 Minnehaha Park and Falls
A popular summertime picnic spot, Minnehaha Falls is the feature attraction at Minnehaha Park. Four stops from Terminal 2 on the blue line in the opposite direction of the MoA, is a lovely place to stretch your legs and enjoy an ice cream cone.  Our trip brought us to the falls at the intersection of winter and spring when the last sheets of ice and snow are slowly disappearing from the cliff banks.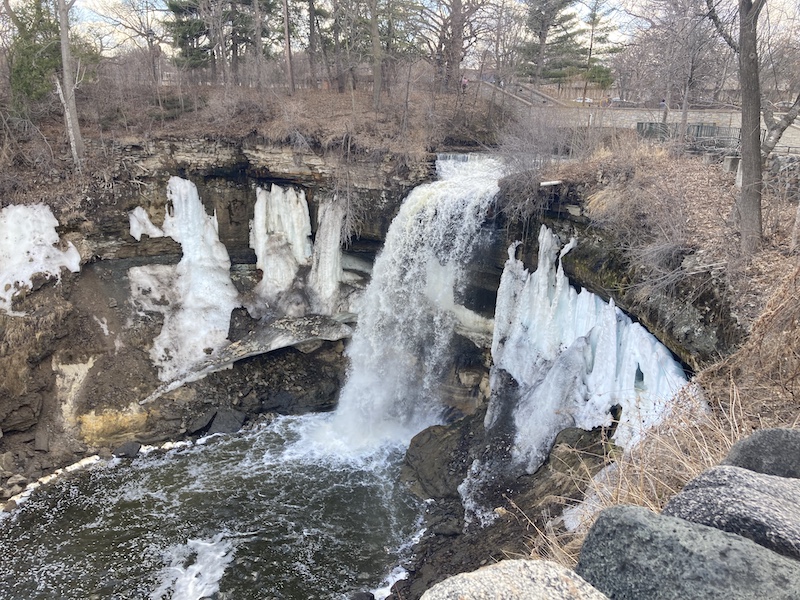 Minnesota State Capitol Building
Venturing into St. Paul in search of another state capitol building for our bucket list,  we took the green line to Capitol/Rice St. Free and once again open to the public, consult the State Capitol Building website for information on self-guided and structured walking tours. A short distance from the government buildings is Como Park Zoo and Conservatory (free and worth visiting any time of year).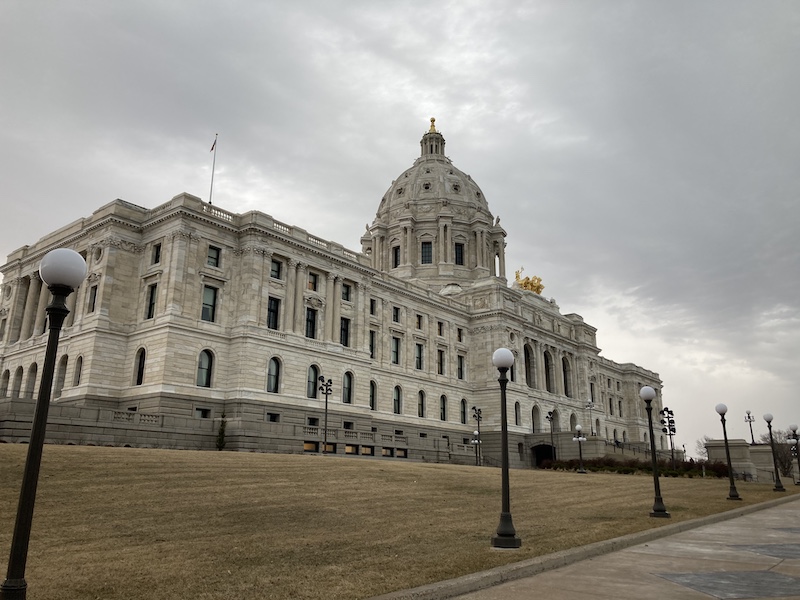 Weisman Art Museum at the University of Minnesota St. Paul Campus
Designed by renowned architect Frank Gehry, it's hard to miss the Weisman Art Museum on the edge of the University of Minnesota Twin Cities Campus. Perched atop the river bluffs overlooking downtown Minneapolis and the Mississippi River, this free attraction is just off the green line at the West Bank or East Bank stops (for fun, we explored campus and then walked across the covered pedestrian bridge on our way home).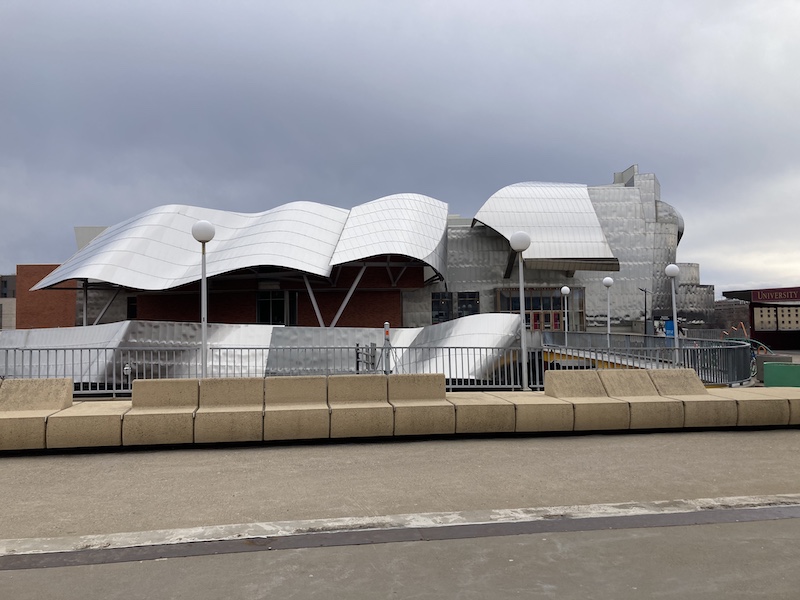 More Ideas
Having lived in Minneapolis/St. Paul for six years, check out this older "What to Do in Minneapolis and St. Paul with Kids" for other trip planning ideas/inspiration in the Twin Cities.