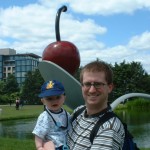 Home to nearly  3.5 million people and spanning nearly 500 square miles, the Minneapolis and St. Paul, Minnesota metro area holds 11 counties and nearly 200 cities and townships. Residents of the Northwest Metro for nearly six years, we traveled to all corners of "The Cities" looking for kid-friendly fun.
Considered one of the greenest metro areas in the country, a family can drive a half mile in any direction and stumble upon a park, lake, playground, or bike path anywhere in the city or surrounding suburbs. Lugging kids from one corner of the city to the other, crossing through it diagonally, with endless trips through the Lowry Hill Tunnel in the hear of downtown, here are some of the places we miss the most: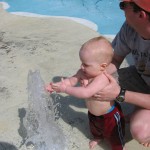 Oak Hill Splash Pad, St. Louis Park
In the park system for the city of St. Louis Park, the Oak Hill Splash Pad is about as toddler friendly as it gets. Open from late May to early September (which really is just about summer in Minnesota anyway), the park is adjacent to two sizable playgrounds and a pavilion with indoor restrooms. Giant sun umbrellas are available for us Norwegian sorts, but all the splashing happens in full sun. No lifeguards. Swim diapers required.
Where to Stay
Find family-friendly accommodations in Minneapolis, Minnesota from traditional hotels to private vacation rentals through Stay22.com: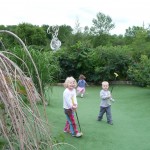 Big Stone Mini Golf, Minnestrista
Hands down my favorite mini golf course on earth, the only reason I mention Big Stone Mini Golf in this article is I have finally come to terms with telling people about it. Discovering this western suburban gem, I first read about "art meets fun" in this article in the Minneapolis Star Tribune. For two years we rolled down our windows and enjoyed the fresh country air. Surrounded by giant sculptures, plants, bold colors, and goats (yes, goats), I don't think we ever kept score or followed the correct putting order. Make sure to visit the shipwrecked boat turned play fort and the re-creation of Stone Hinge (in the evenings look for campfire smoke and s'more making ingredients).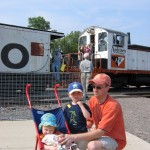 Jackson Street Roundhouse, St. Paul
Home to the Science Museum of Minnesota, the Minnesota Children's Museum, and the Minnesota History center, drive slightly north of the Capitol building to the Jackson Street Roundhouse. Operated by the Minnesota Transportation Museum, the Jackson Street Roundhouse is part museum, part advertisement for Thomas the Tank Engine, and part adventure. The building itself is a converted steam engine maintenance building. Behind the museum is a real-life roundhouse with operating steam engine. For a few extra dollars you can ride out-and-back on the train (on their birthday, kids may even be lucky enough to ride in the front car). And if you can't get trains off your brain, pop on over to the Twin City Model Railroad Museum a few minutes away in Bandana Square.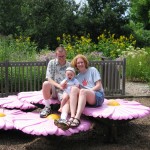 Lake Rebecca State Park Reserve, Rockford

Embrace your inner insect, rodent, or woodland creature at the Lake Rebecca State Park Reserve in Rockford. Part of the Three Rivers Park District system, we passed many a winter afternoon with a picnic and playtime in the lower level of the park nature center. Summer at Lake Rebecca means open season at the Big Woods Play area, burrowing under the beaver's den or in the lookout atop the eagle's nest. If nature isn't your thing, try snow tubing at Elm Creek or the award-winning play structure at Highland Park (pack your aqua socks in summer months).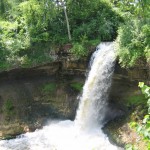 Minnehaha Falls, Minneapolis
A short train ride from downtown Minneapolis on Metro Transit is Minnehaha Falls Park, a 193 acre park complete with impressive 53-foot waterfall, pavilion area, picnic grounds, and hiking trails. The perfect place for a Sunday stroll, a picnic, or a nature walk down Minnehaha Creek from the falls, visit the website to read about the historical significance of the buildings and gardens on the grounds.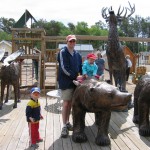 Plants and Things USA, Anoka
It's easy to forget that Plants and Things USA in northern suburb Anoka is "technically" place of business. With 12 acres of plants, playgrounds, sculptures, fountains, fire pits, play structures, gazebos, sheds, and gnomes (u betcha!), a family can easily spend hours lost in this outdoor wonderland. Always leaving with photos on our camera and a purchase from the gift shop, good weather and an open calendar can easily be combined for a few hours wishing we had greener thumbs.
Runners Up
In close second, consider these standby venues for more Twin Cities kid-friendly fun:
Minnesota Valley Wildlife Refuge: Why wait at the Minneapolis Saint Paul International Airport when you could watch birds, build puzzles, and enjoy the sanctuary that is the nearby Minnesota Valley Wildlife Refuge.
The Works Museum: A hands-on science and engineering museum in Edina, The Works encourages taking things apart and building them up, all in the name of fun. Located on the third floor of the Edina Community Center, check the limited museum hours before you go.
Como Zoo and Conservatory: I credit Como Zoo and Conservatory for saving my mental health as a new mom. Supported by donations from the public, both the zoo and the indoor gardens are free and the perfect size for a morning or afternoons with kids in tow. In the summer months the carousel and amusement park come to life (check the website for admission to these bonus venues).
St. Paul Saints: The area minor league professional baseball team, attending a St. Paul Saints game is a summertime right of passage in the Twin Cities. Equal parts entertainment and sportsmanship, the game is best experienced with pre-game tailgating and lots of pauses to heckle passing trains and cheer tubs of cottage cheese as they race between innings.
Edinborough Park: The website text just about sums this one up,"Edinborough Park is Minnesota's unique indoor public park. The completely enclosed, one-acre park features a junior-Olympic size swimming pool, a running track and fitness area, a huge indoor playground and a multi-purpose play area, all connected by meandering pathways through the densely landscaped interior."
Of course, if you're hanging out by the Mall of America, venture down to the Minnesota Zoo, have a 99 cent breakfast at IKEA, and check out the newly re-modeled Sea Life Minnesota aquarium on the lower level.