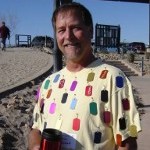 Eric Elya (aka,
EXMAN)
, a retired air traffic controller at Detroit Metropolitan Wayne County Airport, first contacted me when I was planning a geocaching event in celebration of 2012 Leap Year. Timing his project with a worldwide attempt to break the record of most geocaches logged on a single day, Elya was was attempting to re-release 500 trackables (otherwise gone MIA) for free.
Anyone monitoring the path of a travel bug or geocoin, no matter the significance or mission, knows the sinking feeling of a "missing log" in their email inbox. Thanks to folks like EXMAN, we all can learn a thing or two about doing great things within the geocaching community.
Tell us a bit about the idea behind re-releasing lost and stolen trackables? How many have you re-released to date?
All trackables have a unique number assigned to them which allows their travels to be "tracked." When you buy a travel bug or geocoin, you're paying for not only the physical tag or coin, but also that number. The number is yours for life, so if your trackable goes missing–as they often do–all you have to do is re-release it in whatever form you want. As long as that same tracking number is on it, you're good to go.
Most people don't know this, so my job is two-fold in that I first have to let them know that they CAN do this.  And second, to encourage them to either do it themselves or to offer to do it for them for FREE. The idea behind my project is to get more trackables back into the game, and I've accomplished that in a big way.  In just four months I've released almost 600 trackables for people in about thirty states, four Canadian provinces and three countries.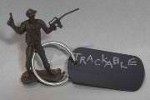 What inspired you to spend the money and time on this project?
I did a little math and concluded that for the cost of one new travel bug, I could take ten replacement tags.  And for the price of one new geocoin, I could release twenty replacement tags. So, it sounded like a "no brainer" to me, and as far as the time is concerned, I'm really enjoying my little project—it makes me feel good to put a smile on someone's face and make geocaching more fun for everyone.
What are a few stories you've received about the trackables? Do you have a favorite one or two?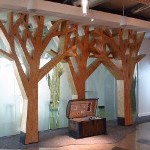 So far, I've gotten a lot of "thank you's" and people saying that they think the project is a great idea. But what has really been nice is that some people have helped me out in a big way by taking bunches of the finished tags and spreading them around the world.
As far as stories go, the best are those where cachers have taken it upon themselves to add trinkets to the tags that make them look more like the original trackable did. A geocacher named backroads2010 found almost 100 of my tags that were placed in  The Lily Pad [the popular geocache located at Groundspeak headquarters in Seattle, Washington].  She ended up taking about thirty of the tags home with her, and is doing a great job of  gussying them up before sending them out into the world.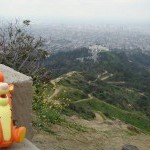 What is your geocaching experience? How did you become interested in geocaching and where have you gone geocaching?
I started caching in January 0f 2011, so I've been at it about a year and a half.  So far, I've found 1175 caches and logged 283 trackables (both travel bugs and geocoins). My wife and I wintered in Benson, Arizona last year and a great geocacher who goes by the team name gryhwk turned us on to geocaching. Since then we've found caches on mountain hikes, desert trails, city walks and country roads.  We've found some containers smaller than a thimble and one as big as a refrigerator.