Butterfly lovers should plan a yearly migration to Cincinnati to see the annual Butterfly Show at Krohn Conservatory.  Every year features a new theme; often the themes showcase butterflies from a particular country.  2012's show is "On Wings of Harmony:  Butterflies of the World" and it runs through June 24.
This year's theme was inspired by the 2012 World Choir Games which are being held in Cincinnati later this summer.  (I think would be prudent to note here that, despite the theming,  there is no schedule overlap between the Butterfly Show and the World Choir Games, so you'll have to make two trips to Cincinnati if you want to see both.)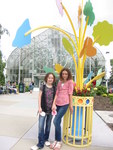 The entrance to Krohn Conservatory is adorned with a giant butterfly made from recycled CDs.  The CDs sparkle in the sun creating a stunning effect.  Other festive decorations and flowers surrounding the building create a fun and inviting entrance.
You must enter and leave the showroom through a set of double doors that acts as a butterfly security system to prevent any winged creatures from escaping.  You emerge from the double doors into a showroom that is an utterly delightful oasis of brightly colored flowers accented with show decorations that include an aluminum globe festooned with fabric.  The finishing touch to this already festive room is the addition of thousands of butterflies fluttering freely.
Where to Stay
Find family-friendly accommodations in Cincinnati, Ohio from traditional hotels to private vacation rentals through Stay22.com: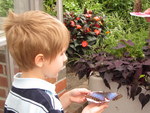 When you pay your admission, you are given a small card with a photo of a flower to help you catch a butterfly. Signs on one wall help you identify different species of butterflies and discover their continent of origin.  While some species seem more social than others, it's easy to spot several different types of butterflies around the room.
One of my family's favorites is the Blue Morpho which originates in South America and can have a wingspan of up to seven inches.  From the side, they actually look rather drab with their brown coloring, but when they open up you can see their shimmery azure wings. Fortunately these are easy to spot in the showroo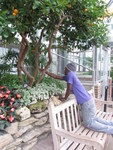 m.
You can also see from this picture that (most) kids LOVE butterflies.  We've been to this show many times before and occasionally we'll see a kid who finds these gentle creatures frightening and will scream when one lands on him, but most kids are fascinated and immediately jump into the task of trying to catch one.  And unlike some family attractions, the Butterfly Show is embraced by children of all ages and genders.  We spotted teens who were every bit as enthusiastic as the toddlers we saw.
The highlight of our visit was the interaction of Paper Kite butterfly with my eldest daughter.  Upon catching it, she placed it on her shirt for a picture. The butterfly then decided to take a walk up her shirt. It kept going and then spotted her hair. Who needs bows or headbands when you have something this gorgeous hanging out in your hair? The bu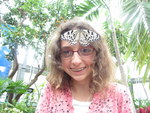 tterfly continued on to her forehead before it finally flew away.
In addition to the butterfly showroom, Krohn Conservatory also has kids' programming and other special events.  One room is set up for kids who like to color so they can create their own butterfly species with a unique color combination.  The butterfly showroom is just one of the rooms you can visit in Krohn Conservatory.  Other rooms include a desert, rainforest, orchids, and bonsai that transport you to other parts of the world in an instant.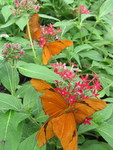 Butterfly Show at the Krohn Conservatory
1501 Eden Park Dr.
Cincinnati, OH  45205
Open daily, April 21 – June 24, 10 am – 5 pm
$6 adults;  $5 seniors;  $4 children;  4 and under are free
Family Packs are also available for $20 (includes admission for 2 adults and up to 6 children)
Today's guest post is proudly brought to you by Cincinnati mom and road tripper Terri Weeks:
Terri Weeks is a family travel writer in the Cincinnati.  Her family is on a mission to visit all 50 states by the time her kids graduate from high school.  She blogs about family travel in the US at www.travel50stateswithkids.com.  Terri is also a local travel guru in Cincinnati and is co-author of Adventures Around Cincinnati: A Parent's Guide to Unique and Memorable Places to Explore with your Kids.  www.adventuresaroundcincinnati.com.  She's also the Cincinnati Editor at www.wanderingeducators.com.