Back in November, we made a weekend trek to Cleveland, one of the Midwest's least sung treasures. Located on the mighty Cuyahoga River in northern Ohio, Cleveland is firmly planted in the country's Rust Belt. But don't let that stir in your mind images of burned-out warehouses and abandoned factories. Sure, there's some of that, but the only thing my family had to say after a weekend of great food, music, and museums was "When can we go back?"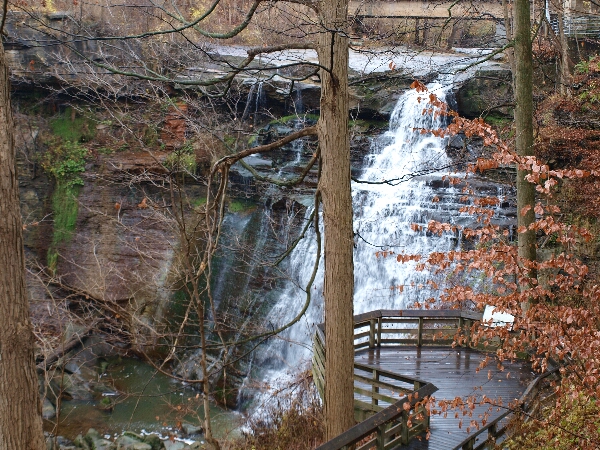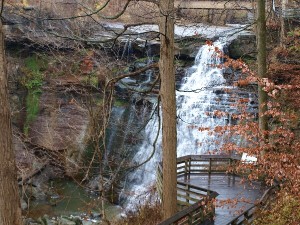 The approach to Cleveland from the south cuts through some of the state's most stunning geography. The Cuyahoga carves out a wide U through the northeastern corner of the state; its headwaters are actually slightly farther north than where the river empties into Lake Erie.  As the river leaves Akron, it drops into the scenic Cuyahoga Valley, which is preserved here as the Cuyahoga Valley National Park. This stunning landscape is criscrossed with trails. In the winter, families can go out snowshoeing or cross-country skiing, or take the kids sledding on the Virginia Kendall Hills.
A family could easily spend the day hiking (when there's not so much snow) or snowshoeing (when there is), or scouting for waterfalls (the Brandywine Falls are the easiest to access). The Cuyahoga Valley Scenic Railroad shouldn't be missed. The train operates year-round and offers a special glimpse of the park when winter snow might seem an obstacle to getting into the thick of it.
Amazingly, all of this natural beauty is just minutes from downtown and Cleveland's surprising number of quality museums. If your teen-angst riddled memories are tied up in the music of your youth, there is perhaps no better place on earth for a walk down memory lane than the Rock and Roll Hall of Fame. Here garage bands, sultry singers, and self-deifying frontmen receive a treatment that borders on idolatry. See costumes and instruments, and listen to raw cuts and forgotten interviews, of the celebrities that have made rock and roll what it is today. If you head here around lunch time, plan on grabbing a hot dog from the vendor out front (or make other arrangements). You might expect this place to offer an awesome burger and fries, but you'd be wrong.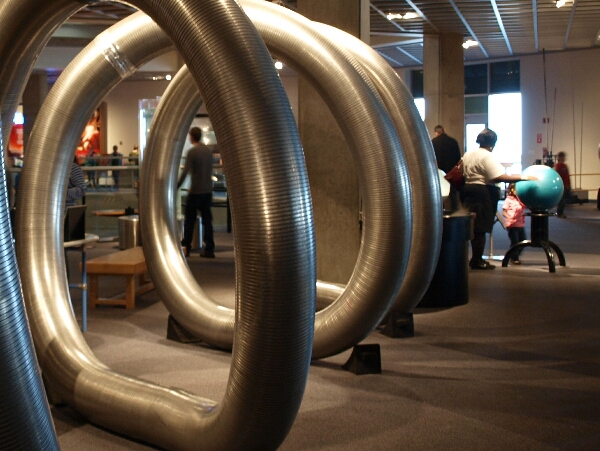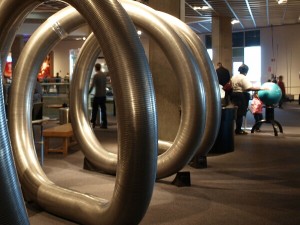 Right next door, and perhaps even more interesting for families, is the Great Lakes Science Center. This museum has an IMAX theater and some of the most impressive, hands-on exhibits we've seen. During our visit we had a chance to see a movie about the Hubble telescope and participate in a Q&A with astronaut Mike Good, who we saw in the movie. But special events aside, there's a lot to learn and play with here.
When mealtime rolls around, you're not too far from Lakewood and the famous Melt Bar & Grilled. The lines here are long, and you can expect to wait a couple hours for a seat even during the usual after-lunch lull, but folks in Cleveland tell me you there's nothing better than one of their gourmet takes on the classic grilled cheese sandwich. They also have a location over on the east side of town in Cleveland Heights. This might suit your schedule if you find yourself touring some of the museums over that way.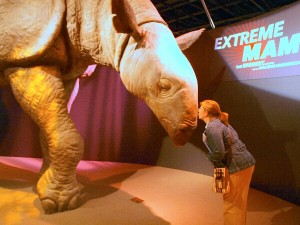 Right within walking distance you have the Cleveland Museum of Natural History, the Cleveland Botanical Garden, and the Cleveland Museum of Art. From now until mid-April the Museum of Natural History is showing off the Extreme Mammals exhibit. We've all grown a little complacent about the monster-size of dinosaurs, but seeing these crazy huge mammals—like the armadillo with a shell the size of a Volkswagen—it's very cool and kids LOVE it!
No trip to Cleveland Heights would be complete without a stroll down Coventry Road. Tommy's Restaurant is here with the burgers and fries you wish you could've had at the Rock and Roll Hall of Fame. For decades now people have bragged on their milkshakes, and the experience fully lives up to the legend. Connected to the restaurant is a two-story used bookstore (not counting the basement). Great place for a little post-dining browsing. And a few doors down from that you will find Big Fun, a goofy shop with new and used toys and novelties. Missing your long lost Smurf collection or your Hans Solo action figure (complete with Millennium Falcon)? You'll find it all here.
While in Cleveland, be sure to check out an entertainment calendar. In addition to a boatload of festivals (see our sister site's review of the Cleveland Beer Week), there are several theaters downtown and a regular stream of shows take the stage here. The Rock and Roll Hall of Fame brings in classic performers, many of whom are no longer touring on a grand scale. We caught the tribute concert for Fats Domino and Dave Bartholomew. Bringing a bit of Mardi Gras to Ohio, the night ended in the foyer where the New Orleans Rebirth Brass Band had the crowd hopping, literally. Road Trips for Beer (our sister site) also has several other articles on Cleveland's craft beer scene.
Check out the city's visitor and convention bureau, Positively Cleveland, for a full list of things to do in Cleveland.