We're celebrating National Park Week with posts from authors who are experts on our nation's National Parks. James Kaiser is an award-winning author of books about some of our most iconic National Parks. The journey that led James to "the coolest job in the world" started 12 years ago when he was a recent college graduate with no job and no job prospects. Drawing on his love of Acadia National Park in his native Maine, he decided to write, photograph and publish a guidebook about the state's most popular destination.
With its beautiful photography and insider tips, Acadia: The Complete Guide: Mount Desert Island & Acadia National Park was a hit. It also set the stage for a series of successful national park guidebooks focused on in-depth research, informed nature writing and real life experiences. James' guidebooks benefit from the integrated perspective of a writer who is also a skilled photographer – a rarity in the guidebook field, where books are often developed by a team of writers and photographers working separately.
We asked James to construct an itinerary for road tripping families.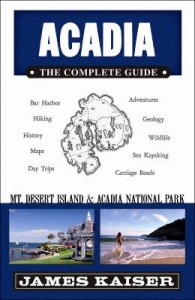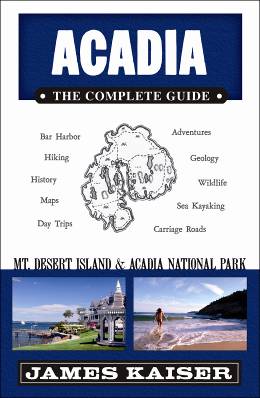 Two-thirds of the way up the craggy coast of Maine lies Mount Desert Island, home to granite mountains, picture perfect harbors, and Acadia National Park. Mount Desert Island is the crown jewel of coastal New England—the only place on the East Coast where the mountains literally meet the sea. Nearly 40% of the island has been permanently protected as Acadia National Park, and it's home to some of the most dramatic coastal scenery in America.
From hiking and biking to boat trips and high-end seafood restaurants, there's no shortage of activities on Mount Desert Island. You could easily spend a month here and not run out of things to do. But if you're like most people, you've only got a few days. Make those few days count! With a limited amount of time you've got to plan your trip wisely. The following itinerary will put the best of Mount Desert Island at your fingertips, helping you maximize your time for an unforgettable vacation.
Day 1
Hit the Highlights
The best introduction to Acadia National Park is the Park Loop Road. Twisting 27 miles through the spectacular eastern half of Mount Desert Island, the Park Loop Road cruises through forests, dips through valleys, skirts the shoreline, and rambles past beautiful lakes and ponds. After passing Acadia's most popular sights—Sand Beach, Thunder Hold, Jordan Pond—the road climbs to the top of Cadillac Mountain, the island's highest peak. A short loop-trail at the summit offers sweeping views of the surrounding coastline, and several longer hiking trails are also found nearby. After soaking in the scenery, head to Bar Harbor, the island's largest and most popular town. In Bar Harbor you can wander past historic mansions, explore terrific museums, and enjoy and some of the island's best restaurants.
Day 2
Enjoy the Best Coastal Hiking in America Acadia National Park is home to over a dozen mountain peaks, and over 100 miles of hiking trails criss-cross the park. Many of these trails offer spectacular views of the surrounding coast, which is home to offshore islands, working lighthouses, and dozens of sailboats in the summer. If you're looking for a leisurely hike with great views, check out Gorham Mountain. Or, if you're an avid hiker in search of adventure, head to the Precipice Trail, Acadia's most challenging hike. A jungle gym of iron rungs guides hikers up the trail, which rises nearly 1,000 vertical feet above the ocean to the top of Champlain Mountain. The Precipice Trail is not for the faint of heart, but the views are beyond compare.
Day 3
Explore Acadia's Watery World
Maine is one of America's top sea kayaking destinations, and the waters around Mount Desert Island offer some of the best sea kayaking in Maine. Start your day with a morning sea-kayak tour around some of the beautiful offshore islands, keeping your eyes out for bald eagles, harbor seals, and minke whales. After you've explored waters above, check out the scenery below on Diver Ed's "Dive-In Theater Cruise." Maine's version of the Croc Hunter, Diver Ed puts on a drysuit and jumps overboard with an HD video camera, seeking out strange creatures on the ocean floor and projecting his findings live onto his onboard movie screen. He then resurfaces with a grab bag of live sea creatures for a highly entertaining show-and-tell. If you're visiting with kids, this will probably be the highlight of their trip.
Day 4
Live Like a Rockefeller
In the early 1900s, summer resident John D. Rockefeller, Jr. built over 50 miles of horse-drawn carriage roads on his private Mount Desert Island property. Rockefeller spared no expense, hiring famous landscape architects and constructing over a dozen beautiful stone bridges. Fortunately for us, he later donated his property to Acadia National Park. Today Rockefeller's gorgeous Carriage Roads are open to bikers, and they are a highlight of any trip to Mount Desert Island. Rent bikes in Bar Harbor and spend a day on the Carriage Roads peddling past lakes, waterfalls, and ocean views. Stop for lunch at the Jordan Pond House, which has been serving mouth-watering popovers (homemade puffed pastries) and jaw-dropping views of Jordan Pond for over 100 years.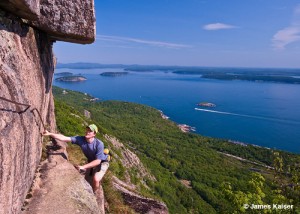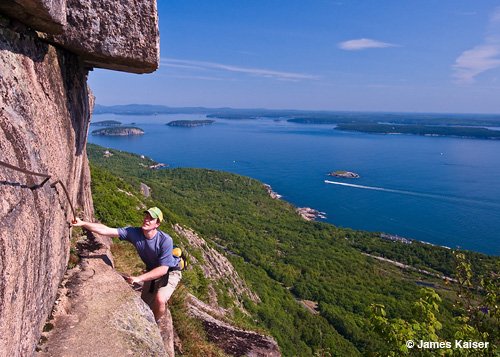 Day 5
Explore the "Quiet Side" of Mount Desert Island Acadia's most famous sights are clustered on the eastern side of Mount Desert Island, but the western "Quiet Side" of the island should not be overlooked. Start your day with a quick morning hike up Acadia Mountain, which offers stunning views of Somes Sound, the only natural fjord on the East Coast. Have lunch in nearby Southwest Harbor, then head to Bass Harbor and catch an afternoon boat tour on the R.L. Gott. Captained by the knowledgeable Kim Strauss, who has been cruising these waters for decades, the R.L. Gott motors past the beautiful islands lying just southwest of Mount Desert Island. Along the way Captain Strauss explains the fascinating history of these islands, pulls up working lobster traps, and spouts off dozens of fascinating lobster facts. Once back onshore, finish off your day with dinner at Thurston's Lobster Pound, a rustic, waterfront restaurant that serves up the freshest lobster for miles. There's no better way to cap off a vacation to Mount Desert Island and Acadia National Park!
For more adventures in Acadia, Maine, check out this blog about Isle Au Haut.