Every summer millions of tourists flock to Maine in search of rocky coastlines, sea breezes, and fresh lobster. Many of these visitors venture to Acadia National Park on Mount Desert Island, a go-to destination for campers, hikers, and nature-lovers alike.
However, Mount Desert's popularity can be a problem if crowded campgrounds and congested roadways aren't high on your list of priorities. In order to spend some time alone in the great outdoors, consider a trip off-the-beaten-path; the remote island of Isle Au Haut (pronounced I-La-Ho) offers Maine camping at its best, without all the crowds.
Situated on the edge of the Gulf of Maine, the southern half of Isle Au Haut is part of Acadia National Park and contains a campground and several hiking trails for varying ability levels. On Isle Au Haut you'll find respite from the crowds while experiencing the best that Acadia has to offer in a weekend trip. Here's an itinerary for a weekend getaway:
Duck Harbor Campground
Duck Harbor Campground has five highly coveted campsites that are open between May 15 and October 15. Reservations for the campground open at 10 AM EST on April 1. To book, go to recreation.gov and choose your preferred dates and campsite. Be prepared with a couple of backup dates, as summer weekends tend to book up quickly. Each campsite comes with a lean-to, a picnic table, a fire ring, and a food box and offers a fair amount of privacy from other campers. The proximity of the campsites from the dock (100 yards) provides a unique blend of camping that isn't as minimal as backpacking nor is it as excessive as car camping. As a result, campers can choose to pack lots of gear and haul it to their site or keep it simple with the basic necessities.
Where to Stay
Find family-friendly accommodations in Acadia, Maine from traditional hotels to private vacation rentals through Stay22.com:
Day 1
Get up early and catch the mid-morning mailboat from Stonington, a small coastal town located on the eastern tip of Deer Isle. The hour and fifteen-minute ferry ride cruises past colorful lobster buoys, rocky Maine islands, an old quarry, and the famed Robinson Point Lighthouse. Upon arriving at Duck Harbor, the park ranger will meet day hikers and campers to orient them to the trails and sites. For a moderate 2-3 hour long hike, follow Western Head Trail, a primarily flat footpath that winds through rocky beaches, until you reach the Western Ear, a perfect spot for a swim. Next, veer off towards Cliff Trail, a short and spectacular hike that offers stunning views of jagged Maine cliffs that will make your jaw drop. Western Head Road is an easy 20-minute walk that will bring you back to the campground, which offers pump water and stacks of wood for campfires. On a clear evening, keep an eye out for shooting stars and constellations that can be spied between the evergreen trees.
Day 2
Experienced hikers can head up Duck Harbor Mountain—a brief, but steep hike that provides expansive 360-degree views from the summit. This hike is considered "difficult" and will require some scrambling up-and-down large boulders, but at only 1.2 miles the difficult sections are brief and well worth the sweat-equity. The hike will eventually bring you to Squeaker Cove, a perfect spot to eat a packed lunch while watching the crashing waves. To extend your hike, head north on Goat Trail towards Median Loop, a marshy, flat walk that offers sightings of the carnivorous pitcher plants, If you prefer a less strenuous hike, take the morning boat to the town of Isle Au Haut and walk back to the campground along Duck Harbor Trail—a flat, four-mile hike that takes between 2-3 hours. After a long day of hiking, give yourself the rare treat of watching a sunset over the Atlantic Ocean. For the best sunset spot, follow the road to Eben's Head Trail—this short path winds through mossy, dense trees and eventually leads to a large rocky bluff that provides expansive views. Keep your eyes peeled for ocean wildlife, including cormorants, porpoises, and seals.
Day 3
Campers must check out of the campsites by 11 AM, but feel free to leave your belongings by the dock if you still have more exploring to do. The return trip on the ferry makes a brief stop at the town of Isle Au Haut; to extend your day, spend a couple of hours exploring the small town and the local lighthouse before catching the afternoon boat back to the mainland. Once you're back in Stonington, the hustle and bustle of Bar Harbor is only an hour and a half away. Or, if you prefer a quieter scene, the small town of Belfast is a little over an hour's drive and directly off of Route 1. After three days in a remote paradise, you might be ready for some civilization, and maybe a lobster roll.
Start planning your trip to Acadia, Maine, and Isle Au Haut by searching for hotels right in that area.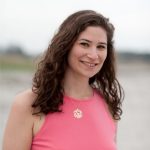 Jersey Griggs is a writer, a certified yoga instructor, and an outdoor enthusiast living in Portland, Maine. An avid reader, a travel-lover, and a perpetual student, she loves learning new things and spending time outdoors with her husband and pup. In the summer she can be found swimming in the closest body of natural water, and in the winter, she can be found on the ski slopes of New England and Montana.