"Downeast" refers to the northernmost coastal region of Maine, extending from the mouth of the Penobscot River to border of Canada. The expression was passed down from old sailing terminology because sailing downwind was the only way for boats to reach this part of Maine.
Today, "traveling Downeast" is quite a bit easier than in the past, but the locale is often considered too far for day trippers. Cobscook Bay State Park is the perfect base camp for exploring Downeast Maine, and its convenient location is a mere 30 minutes from the must-see sites.
Here's more about where to stay and 3-day trips that will make the drive worthwhile:
Camp at Cobscook Bay State Park
Cobscook Bay State Park is an ideal spot for tent campers and RV'ers alike—the campgrounds are surrounded by saltwater on three sides, allowing for water views at more than 100 of the campsites. Many of the sites also offer a moderate amount of privacy and seclusion, making Cobscook a sought-after respite in the woods.
Where to Stay
Find family-friendly accommodations in Lubec, Maine from traditional hotels to private vacation rentals through Stay22.com:
Within the park boundaries, Cobscook offers several activities to keep you busy. Boating, fishing, hiking, and swimming are permitted, but rangers will warn about the strength of the tides, which average 24 feet. In fact, Cobscook is a Maliseet-Passamaquoddy word for "boiling tides" and as you watch the tides roll in and out, you'll understand the expression. During the clamming season, campers are allowed to dig up to a peck of clams, a perfect campfire meal on a clear, Maine evening.
Day Trip 1: Visit Quoddy Head State Park
Quoddy Head State Park boasts the easternmost point of land in the United States. The park is most famously known for its red-and-white striped lighthouse, a historic structure that was commissioned by Thomas Jefferson in 1808. The lighthouse overlooks the Quoddy Channel, the dividing body of water between the U.S. and Canada and provides views of New Brunswick across the water. Keep your eyes peeled for spouting whales that frequent the area, including the humpback, minke, and finback whale.
The park also offers 5 miles of hiking trails for varying levels and abilities. The Coastal Trail is a 2-mile, moderately difficult trail, traveling from the lighthouse and along the stunning Maine coast. This trail provides jaw-dropping views of rocky cliffs and crashing waves, but may not be suitable for small children or the elderly. Notable stops include Gulliver's Hole, a narrow chasm formed from erosion and Green Point, a large, rocky outcropping perfect for a picnic.
The Bog Trail, a 1-mile loop from the parking lot, is ideal for those looking for a short, easy walk. The trail travels through a wide forest path until it reaches the bog boardwalk, which forms a short loop around the peatland. Along the way, there are interpretive signs with information about the history of the bog, the formation of peat, and plants native to the acidic habitat.
Day Trip 2: Explore Lubec, Maine
A short drive from Quoddy Head State Park is the small town of Lubec, Maine. Lubec is the easternmost town in the continental U.S. and offers all the charms of a coastal town while still maintaining a strong local vibe. The small water-side downtown sits on the aptly named Water Street, lined with local sites and shops, including a combined yarn and dog supply store, a candy shop, and the McCurdy Smokehouse Museum.
At the end of Water Street is the Lost Fisherman's Memorial, a sculpture dedicated to the Lubec men and women who have lost their lives at sea. The memorial provides a picturesque view of the Lubec Channel and the International Roosevelt Bridge that crosses it, connecting the U.S. to Canada's Campobello Island. Harbor seals are also often spotted from this vantage point during both high and low tides and down the street, whale watching tours are available from late June to mid-September.
For food and drink, hit up Lubec Brewing Company, which offers locally brewed beer, delicious pizza, and even has vegan options for the health conscious. Seafood lovers might venture down to Frank's Dockside Restaurant, a popular spot serving fried seafood on its outdoor patio.
AVAILABLE NOW! Get Our App And Save Up To $5 Off Your First App Reservation! For A Limited Time Only At AirportParkingReservations.com !


Day Trip 3: Hike Along Cutler Coast
Cutler Coast Reserved Public Land offers a network of wilderness hiking trails along Maine's most dramatic and rugged coastline. Nicknamed "The Bold Coast", Cutler is a 12,234-acre expanse best known for its views of staggering views of jagged cliffs rarely seen in the northeast. Visitors to Cutler can choose between a half-day, full-day, or multi-day excursion, depending on their schedule and hiking ability.
Half-day hikers will want to walk the Coastal Trail to the ocean. This one-mile trail winds through cedar swamps and fragrant spruce-firs, before bringing you directly to the water's edge. Views of the Bay of Fundy and Cutler's spectacular coastline are abundant here and for a short trip, hikers can walk the same trail back to the car.
Advanced hikers can extend their walk by continuing along the rocky cliffside until they reach Black Point Cove, where a log ladder descends to a small cobble beach. To get back to the car, complete a 4.7 mile loop by following Black Point Brook Cutoff Trail to the Inland Trail.
For a full day, hikers can continue past Black Point towards Fairy Head, where 3 remote campsites are available on a first-come, first-serve basis. There is no water source at these campsites, so pack wisely and ration well. At Fairy Head, the Coastal Trail meets up with the Inland trail, completing an 8.4-mile loop that meanders through blueberry fields, peatlands, and past a beaver pond.
These three trips will fill up a weekend, so pack your bags and get ready to explore. Where will you go first?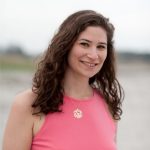 Jersey Griggs is a wellness and travel writer for hire. A certified yoga instructor, a travel junkie, and an outdoor enthusiast, Jersey is a Maine-based writer who loves to chronicle her adventures. When not writing, she is certainly doing something outside with her husband and dog. To learn more, check out her website or follow her on Twitter.