Old Orchard Beach has been welcoming families for more than 170 years, so you figure they must be pretty good at it. After our trip concluded, we were in complete agreement that they are THE best at it.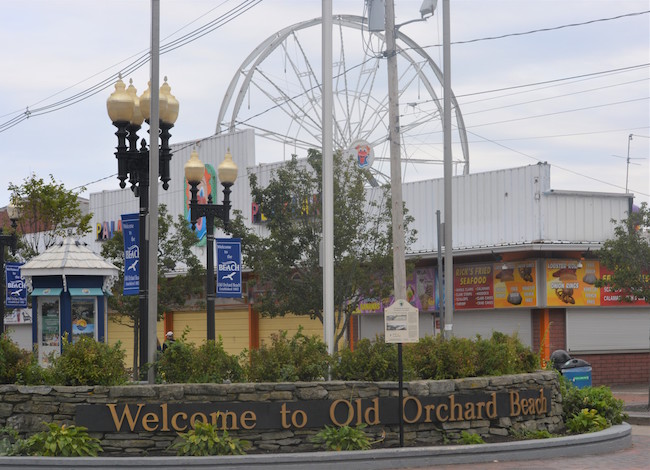 Old Orchard Beach is easily accessible by the Amtrak Downeaster, which stops just steps from the beach, or by automobile. With the only beachfront amusement park in New England, Old Orchard Beach is one of those legendary boardwalk destinations where wonderful experiences form stories shared for generations.
Palace Playland Park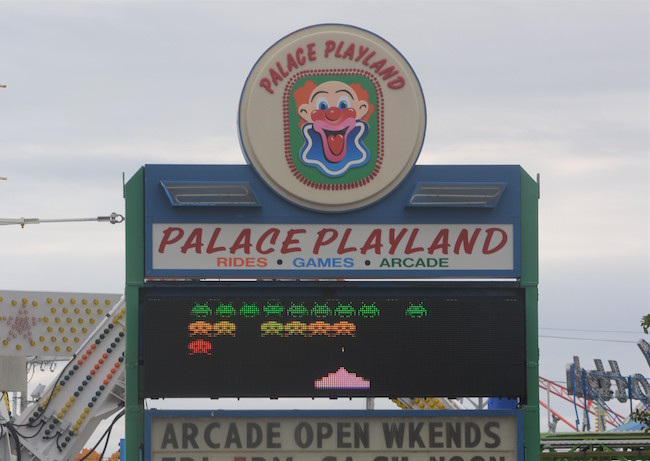 For the young at heart at any age, Palace Playland rides include classics
like the Ferris wheel and Carousel, plenty of rides for small children, and many thrill rides. Our favorites were the fun house, water flume, the bumper cars or the Sea Viper, the park's brand-new Italian-made roller coaster that debuted in 2018.
I enjoyed being atop the Electra Wheel, a gondola Ferris wheel that gave us a breathtaking view of the beach, Atlantic Ocean, and entire midway. At night the ride has a spectacular LED lighting display, so make sure to stay for the evening. Thursday nights during the summer are especially busy as there is a firework show at 9:30pm.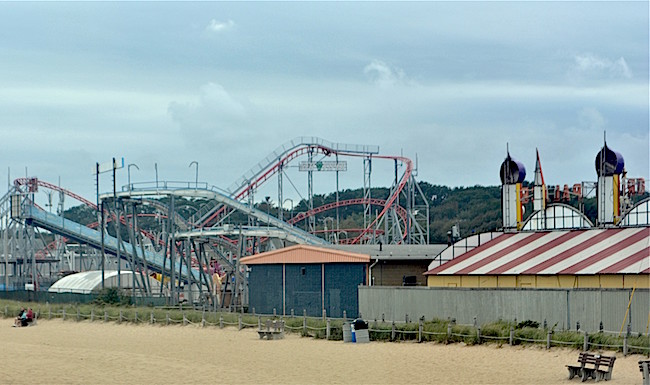 If you want a short break from the rides you can try their miniature golf. Or you can take twenty steps and have your toes buried in Maine's most renowned sand. The boardwalk and amusement park literally exit right onto the 7-mile pristine beach. The Pier on Old Orchard Beach juts out 500 feet into the Atlantic and is home to restaurants, gift shops, boutique stores and more. When hunger calls, you can stay on the pier or walk and find another couple dozen fun and quick lunch options right nearby.
Pier French Fries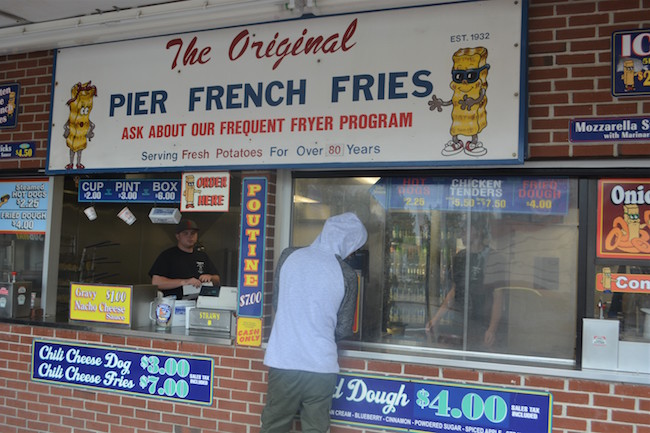 We knew where we were going for dinner as the locals were almost unanimous in their recommendations for Old Orchard House of Pizza (see below), so we walked around for lunch looking for quick, tasty, traditional boardwalk beach food. As we were craving savory and immediately stopped when we saw "The Original" Pier French Fries, a medium-sized hole in the wall beach joint serving delicious fries, hot dogs, fried dough, and onion rings. We could get a dog and fries for under five dollars and had lots of additional topping options. Chili, cheese, or gravy is available for your fries or dogs. You can eat it there or walk back to your beach blanket before the food even begins to chill.
The stand has been serving up incredible tasting beach favorites since 1932, making it one of the longest-tenured places on the midway. Of course, after savory must come sweet. As the locals were unanimous on this, we eagerly walked two blocks up the hill to our next destination.
Dickinson's Candy and Ice Cream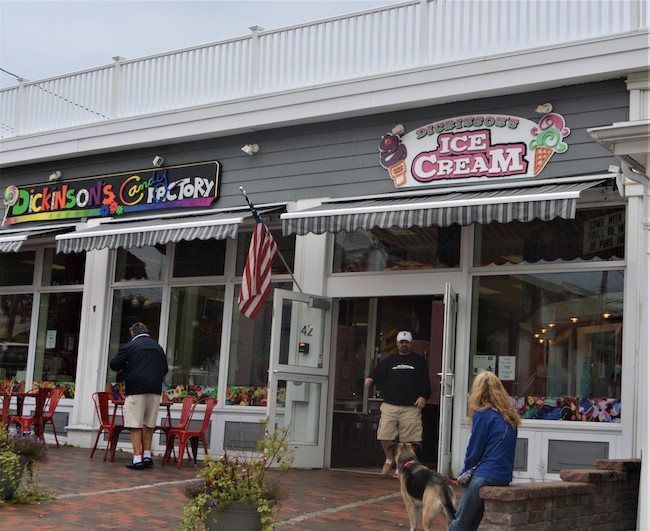 Their Facebook page says it all: "Dickinson's Candy features 4,500 square feet of pure indulgence." I justified a few extra treats as the walk to Dickinson's was uphill, after all. Replacing those extra burned calories from the incline were so needed!
Dickinson's make their own fudge and taffy with plenty of flavors available. They had candy that brought us back to our youth, our teens, and me to my guilty pleasures. We tried the coffee brownie and Maine Tracks ice cream at the suggestion of one of the staff members and loved them both. After spending fifteen minutes looking, tasting, and enjoying the Willy Wonka-esque décor, we settled on some truffles, chocolate bark, and a nostalgic favorite, a Boyer Butterscotch Peanut Butter Cup. The knowledgeable and friendly staff, incredible décor, and variety make Dickinson's one of our favorite candy stores we've ever visited.
Old Orchard House of Pizza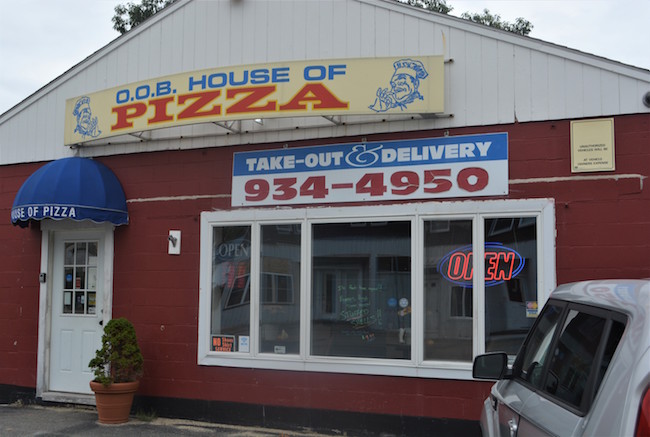 After more rides and sun, we cleaned up and headed out for some great Italian food at the advice of the locals. Located a mile off the boardwalk, Old Orchard House of Pizza has been delivering great Italian food to the locals as well as the tourists for more than 40 years. We ordered one of "Momma's" specials, stuffed shells, and some pizza. It was served family style, with healthy sized portions. The dining room is relatively small as much of the business is delivery to local campgrounds and hotels, as well as many of the locals, so the experience is quite home like. What stood out was the fresh ingredients and the shells. The pizza was loaded, and the vegetables and herbs tasted and smelled as though they were picked that day. Apparently, they were, or at least the day before . . . I'll get to that in a moment.
The stuffed shells were so delicious beyond expectation, we had to compliment Momma. We were grateful we did as she explained where she gets her fresh produce, basil for pesto, and other ingredients. As kismet would have it, we could stop and pick out our own produce on our way out of town.
Anderson Family Farm Stand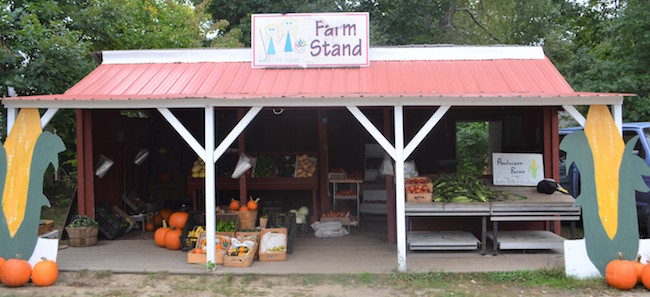 Old Orchard Beach certainly goes big with its family entertainment, and it does it with family farm produce as well. The farm stand had as much produce as many grocery stores, and it was all picked from the 100-acre Anderson Family Farm. The stand is located just as you leave Old Orchard Beach on the left before you hit the highway and it is a must-stop. Anderson's is known for the best sweet yellow corn in the state and they sell more than 1,200 ears of corn a day just at this stand! Whatever is fresh and seasonal, Anderson's stand has it. After indulging a bit on our trip, it was just as exciting to enjoy the fresh vegetables and corn with our guests the next day.
As New England's only beach side boardwalk and midway, Old Orchard Beach provides a one of a kind vacation experience. The coffee brownie ice cream was the best surprise I've had in a dessert for a long time and Momma's shells were the best we've ever tasted! The sounds, sights and flavors, along with the friendly ease in which we were directed to hidden gems, make Old Orchard Beach the best family trip we've taken. Next time we're going on the train to make it even better!
Book Your Stay
Ready to plan your trip to Old Orchard Beach, Maine? Search this interactive map for hotels and home rental locations in Old Orchard Beach.
Want to extend your road trip less than an hour away? Check out this blog for a family day trip to South Berwick.
Donald Capoldo has been traveling, (46 states and counting!) taking pictures, and writing since he was 22 years old. He routinely travels Northern New England with his guitar, Nikon, and laptop. When he is not traveling he can be found at his Air B&B wellness retreat in Southern Maine.