New England is famous for quaint towns, historic homes, and cozy restaurants. South Berwick, Maine, is one of those fabulous towns, with a wide variety of entertainment for all ages and tastes. We recently took a day trip there and here's some of what we experienced.
The Early Bird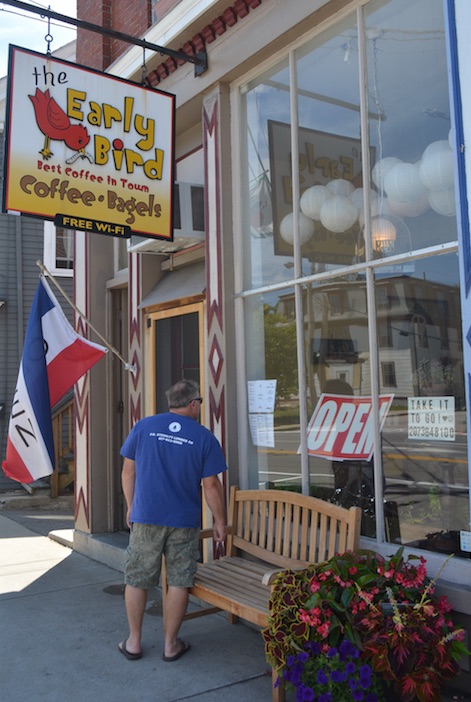 Start your day at a breakfast nook like no other! The Early Bird offers many options, but they are famous for their huge variety of breakfast sandwiches. Served on fresh bagels, English muffins, or gluten-free options, you will likely spend more time reading the menu than waiting for your food. Local artists have their works adorning the walls and a well-stocked library of short stories and motivational messages is available for all ages. By the time you share a story with your family, your food will be delivered to your table.
Where to Stay
Find family-friendly accommodations in South Berwick, Maine from traditional hotels to private vacation rentals through Stay22.com:
The Early Bird has a nice selection of teas and coffees and its street front location gives all a bird's eye view of South Berwick's historic downtown. When you finish your breakfast and thank Cara for her hospitality, just walk outside across the street to begin your South Berwick experience.
The Sarah Orne Jewett House
This historic home was built in 1774 by John Haggens. Sarah Orne Jewett was born in 1849 and died in the home, now called the Sarah Orne Jewett House, in 1909. Sarah was a writer of fiction and her friends and contemporaries consisted of Mark Twain, Henry James, Rudyard Kipling and Harriet Beecher Stowe. If you enjoy art history, literature, or antiques, plan to spend a while as the pieces on display are just awe inspiring.
If the kids get a bit restless, the South Berwick Public Library is two blocks away and has a great computer lab, Lego station, and plenty of books and games. South Berwick's downtown has plenty of crosswalks and they are well respected.
Hamilton House
Another breathtaking historic home. Unless you are a bona fide history buff, we suggest putting this on the list for the outdoor activities. We saved the inside for the next visit.
Located just 10 minutes down Dow Highway from the Jewett House, we suggest packing a lunch for a visit to the Hamilton House. Sundays in the summer consist of jazz and blues concerts. The floral gardens and fountains provide the perfect setting for the incredible musicians. The home is on the river and offers light hiking and sightseeing views that match the music. (All for $10 dollars, or $40 for a year's membership to all Historic New England's homes)
The Artists at Salmon Falls Mills
A short drive back through downtown South Berwick and you are in Rollinsford, New Hampshire. The Mills offer room after room of artisans sharing and selling their crafts. Check their website as they are not open every day. Bicentennial Park is across the street. Bring a bathing suit and a fishing pole if you want as the area is popular with locals as a hidden gem to relax.
Get your sandals on, leave your car in the lot, and walk over the bridge back into Maine to Fogarty's. We ordered the Peanut Butter Chocolate and Key Lime pies. That family has been making pies and serving home-style food since 1960 so don't miss it!
Second Life Thrift Store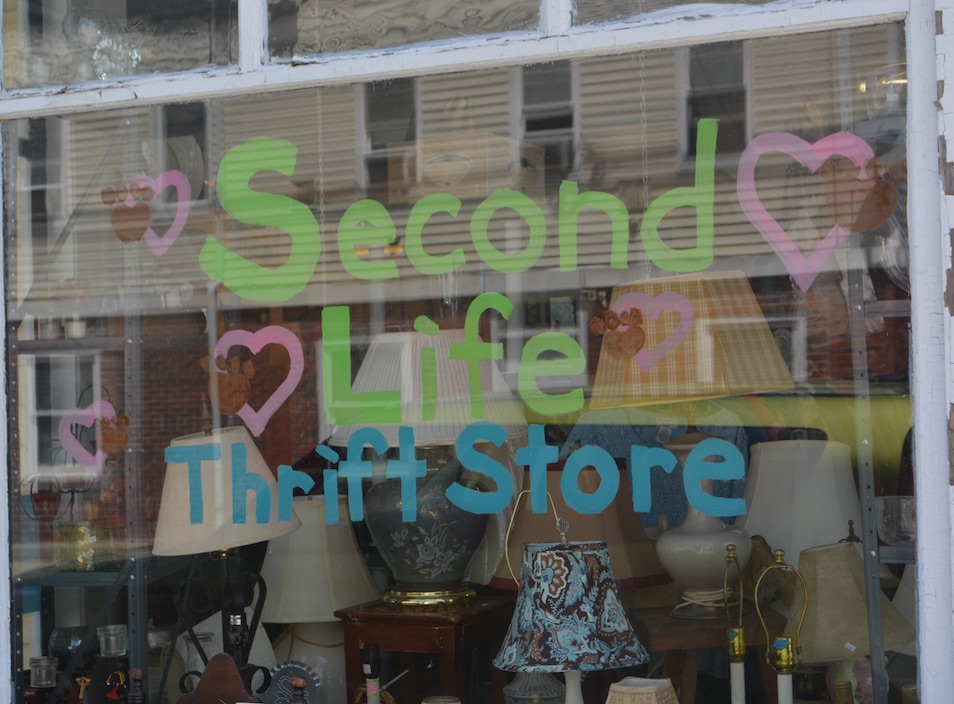 Our favorite boutique in South Berwick is right next to Fogarty's. Second Life describes both the vintage merchandise they sell and the opportunities they give animals. All proceeds go to shelter rescued animals with hopes of finding appropriate homes for them. There were two super friendly bunnies when we stopped in.
You might find dogs too, but you will definitely find jewelry, lamps, artwork, kitchenware, and lots and lots of clothes. Your purchase will help save a life.
The Thistle Pig
Ready for a late dinner? Try The Thistle Pig on Main Street. All ingredients are from local vendors and they offer gluten-free, vegetarian vegan meals and can accommodate food allergies. The Thistle Pig has room to sit down as a family as well as plenty of room in their full bar. With local craft beers and a large wine list, the Thistle Pig is a great place to end your evening.
Did I say the food was fresh? The menu can change daily, that is how fresh the food is. We enjoyed a grass-fed cheeseburger and the Grilled Tuna Nicoise. And the kid's menu has nothing priced over $6! The Thistle Pig has gluten-free options and can accommodate allergies.
South Berwick in a Day
South Berwick was the perfect day trip. The entire downtown is small but packed with wonderful gems. It's also easy to walk around. We put less than ten miles on our car once we got there. The only thing we wish we did differently was staying one more night so we could go back to the Early Bird!
Editor's Note: When you're ready to visit South Berwick, Maine, use this search bar to take you right to lodging in the area. Donald, the author, is remodeling his lodging and will share a link with us when it's ready for public visits!
Donald Capoldo has been traveling, (46 states and counting!) taking pictures, and writing since he was 22 years old. He routinely travels Northern New England with his guitar, Nikon, and laptop. When he is not traveling he can be found at his Air B&B wellness retreat in Southern Maine.