A gateway stop between Southern Oregon and Northern California, Medford sits in the heart of the Rogue Valley. Located between the Cascade and Siskiyou mountain ranges, fruits like peaches, pears, and grapes thrive in a warmer, dryer climate than our home in the Willamette Valley. The fourth largest metropolitan area in the state of Oregon, expect to find a plethora of outdoor and indoor activities for kids of all ages.
We visited greater Medford for the fist time last week and fit as many activities as we could into the span of three days. Here are seven places to get you planning your own road trip:
Crater Rock Museum
Website: http://craterrock.com/
Giving full credit to the Minecraft computer game, our kids have developed a strong interest in geology. We love rock museums. On the surface, the Crater Rock Museum is a static collection of gems, minerals, rocks, fossils, shells, arrowheads, and petrified wood. Visitors walk through various rooms and much of the experience is behind glass. Sounds pretty boring, right? Wrong. Find the lapidary shop and door leading to the outside rock bins (shown in the photo below). Staffed by volunteers/members of the Roxy Ann Gem and Mineral Society, museum patrons are welcome to head outside and pick through the bins. Choices range from wood, jasper, and agate for $1/pound to water polished fountain rocks at $6/pound. Being relatively new Oregonians, we loaded up on the state stone (thunder eggs) at $2/pound. For a small fee, volunteers cut our thunder eggs in half using the high-powered cutting tools in the workshop (thunder eggs range between 7 and 8.5 on the Mohs hardness scale, so you really need the professional equipment). $11 later we had enough "souvenirs" to weigh down the back side of our Ford Fiesta. We really enjoyed this experience.

Rogue Creamery
Website: http://www.roguecreamery.com/store/
You can take a family out of Wisconsin, but you can't take the dairy cravings out of our DNA. Thank you Rogue Creamery for setting up shop just a few minutes away from the Crater Rock Museum. (Picking rocks made us hungry!) A small cheese shop with outdoor seating, patrons can sample award-winning cheese and peek into the production room. Local honey, pears, crackers, beer (etc.) are also available for purchase. While we stuck with cheese curds, Rogue Creamery apparently serves "mind-blowing, solar powered, grilled cheese sandwiches." If you have a sweet tooth, wander over to the Lillie Belle Chocolate shop located on the other side of the parking lot.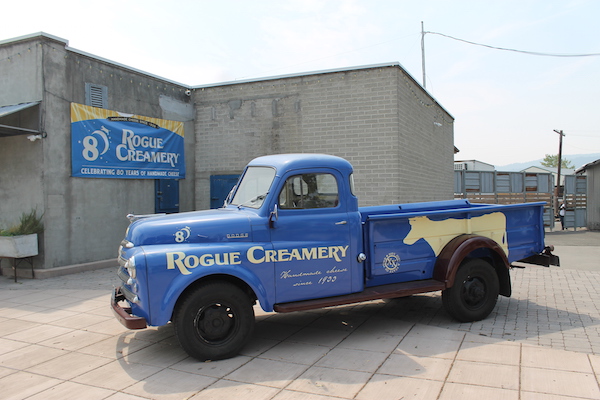 Book Your Stay
Rogue Valley Family Fun Center
Website: http://rvfamilyfuncenter.com/
The Rogue Valley Family Fun Center is a nice place to round out a day. Located in Central Point (just north of Medford), you'll never be able to hide this destination if you come in to town on Interstate 5. Spread over a considerable campus, expect to find indoor arcade games, batting cages, go-karts (kiddie go-karts for toddlers), bumper boats, two different eighteen-hole miniature golf courses, a concession stand and a multi-tier indoor climbing playground. Typically, visitors pay a la carte for the individual games and attractions, but look for various deals and discounts on the fun center website and Facebook page. For instance, we visited on Twelve Dollar Tuesdays and enjoyed unlimited mini golf, one bumper boat, one go-kart, and full access to the indoor playground. Indoor and outdoor options are nice when the weather is hot, cold, or rainy, or just right.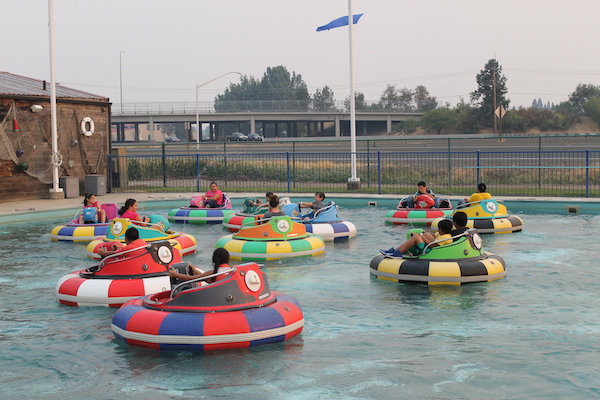 Science Works Hands-On Museum
Website: http://www.scienceworksmuseum.org/
The region's premiere STEM based "hands on" science museum, Science Works draws visitors from across Southern Oregon and Northern California. A popular destination for families and school groups, we enjoyed our mid-week visit to the museum. A perfect fit for our elementary-age kids, we spent the bulk of our time between the Science Gallery, Bubbleology, and DaVinci's Garage exhibits. If you go on a nice day, make sure to leave time for the museum's outdoor exhibits (we also totally missed the Frozen Shadow's room located behind the Discover Island, age 5 and under exhibit). According to the museum website, parts of the facility are getting a face lift. Also, note that some of the exhibits are only available when museum volunteers are in the building. If you visit the Crater Rock Museum, look in the front lobby for a Science Works pamphlet containing a 10% off coupon for admission or museum membership.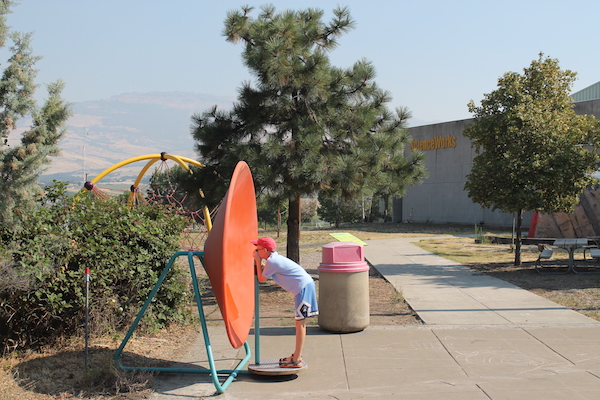 Harry & David Factory Tour
Website: http://www.harryanddavid.com/
Harry & David is, perhaps, the most reputable gourmet gift company in America. It's also the largest employer in the Rogue Valley. Blame it on four years of engineering school, but I love anything to do with human factors, industrial engineering, and a mechanized assembly line. I made a reservation for a 10:30 AM tour leaving from the Country Village store located on Center Drive—tours run Monday through Friday at 9:15AM, 10:30AM, 12:30PM and 1:45 PM and you must email [email protected] or call 1-877-322-8000 for an advance reservation. I paid $5 for my seat and all of my kids were (thankfully) still young enough to qualify for free admission. Over the course of an hour (give-or-take fifteen minutes), we toured the packaging facility, saw the company cafeteria, watched Moose Munch popcorn dump out of a giant vat and onto a conveyor belt, and sat mesmerized while white truffles run through a shower of drizzling chocolate. I am encouraged to learn the company is making headway in the organic fruit industry.  As a bonus, the kids loved this experience almost as much as I did.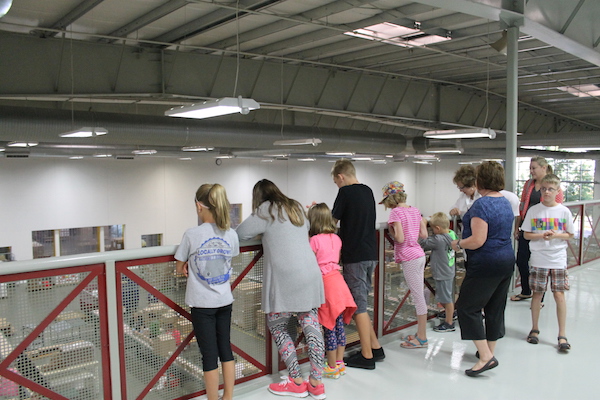 Rogue Air Trampoline Park
Website: http://www.rogueairpark.com/
Rogue Air is Southern Oregon's only indoor trampoline park. Located in the Medford Center shopping complex, this 20,000 square foot facility is one of the larger trampoline parks we've ever seen—options include a dodgeball arena (shown below), basketball court, open jump, wall-to-wall corridoor, and pit jump. Parents with younger (shorter) kids will appreciate a reserve arena for toddlers and tikes. Look for a few vending machines and arcade games and leather couch seating for mom and dad. BYO grippy socks, or you'll need to purchase a pair on your first visit to Rogue Air.
Where to Eat
Until Larks Restaurant is open for business, why not dine at any number of Medford's independent and chain restaurants? We enjoyed a taco pizza at Wild River Brewing (shown below) and the delicious homemade pastries and biscuit sandwiches Buttercloud Bakery (a short walk through Hawthorne Park from the Inn at the Commons).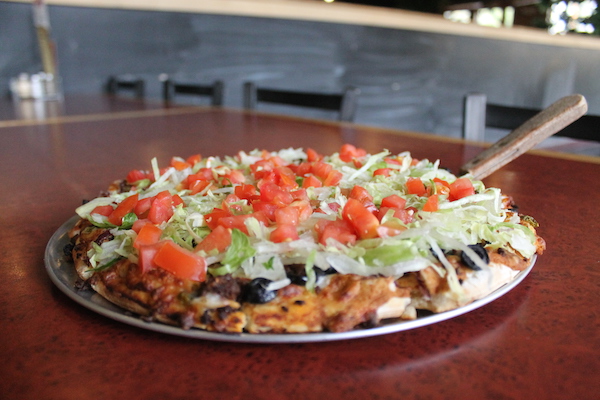 For more information or ideas on planning your own family vacation to Medford, Ashland, and the Rogue Valley, consult the Travel Medford website or call (541) 776-4021.
If you take your road trip north a few hours to Roseburg, check out these family friendly activities here.