"Colorado" and "skiing" are nearly synonymous with most people. It's impossible to separate the state's rugged mountains, deep snow, and classy resorts from public perception. And that perception is mostly accurate. Colorado is home to a ridiculous amount of very good skiing, much of it located near its capital, Denver. But what often gets overlooked is how much of that skiing is perfect for families. Sure, there's plenty of steep and gnarly terrain available to satisfy the adrenaline starved, but for kids and families just getting started in the sport, there are few places better than Denver to be based.
So, whether you live in Denver, or are planning on visiting this winter with your family, here's our guide to the most family-friendly ski resorts in the area. But first, a few tips to make your family skiing experience as smooth as possible.
While all of the mountains on our list offer kids' ski rentals on the mountain, we'd recommend renting at a Denver ski and snowboard shop. It just takes away a lot of the stress of renting. It's hard to make sure your boots fit when you're sweating in your ski clothes after waiting in a long line at the ticket office, hurrying through the on-mountain rental shop. So we'd recommend heading into a good ski shop in Denver and making sure you've got plenty of time to go through the rental process. It's worth taking your time and making sure your ski boots fit, and that you've got all the ski equipment you need. It's always better to find out you need new snow pants close to home than to discover a problem when you're already waiting in a lift line.
The same goes for folks who own their gear. It's worth going into a good ski shop at the beginning of every season and having them go over your gear. They can check to make sure your bindings are adjusted properly, that there's no dangerous wear on your boots, and if you need any kind of ski repair. It just helps make your season go smoother and safer.
Second, we'd recommend shopping online for any sort of package deals for your kids. Most mountains offer "learn to ski" packages that bundle together a lift ticket and a lesson for a discount. Having someone else teach your kids to ski is the number one way to make sure they end up loving the sport, and you. So shop for a deal on lessons, drop them off with an instructor, and then steal away to get a few laps with your spouse.
With all that in mind, here are our top three picks for family-friendly ski resorts near Denver.
Winter Park
Winter Park is the closest family-friendly resort to downtown Denver. In fact, you can take the Amtrak from town to Winter Park if you so desire. What sets Winter Park apart for families is its size. It's one of the biggest resorts in the state, and much of that terrain is fun, safe intermediate and expert runs. That means there's a huge area for your kids to explore, without you having to worry about their safety. For parents, there's plenty of upper intermediate to expert terrain to be had.
Winter Park also has a great ski school, they'll teach lessons to kids as young as three. Also, they offer on-mountain childcare for younger kids. So if you're looking to take the whole family skiing, or if you just want to get some quality one-on-one time with your spouse, while somebody else takes care of your kid, Winter Park is the perfect place.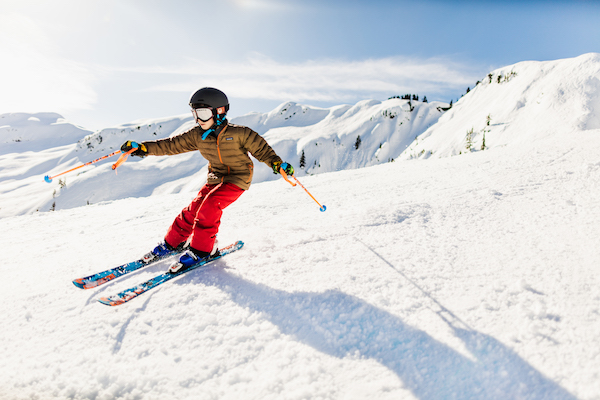 Keystone
Keystone is just a little further from Denver than Winter Park, but those extra few minutes of driving will be well rewarded. Just like Winter Park, it has a huge variety of terrain, with plenty of trails for your kids to choose from. It also has a great ski school, with lessons for skiers and snowboarders of any age or ability. And, just like Winter Park, Keystone also offers daycare for parents looking to get out and ski on their own a little.
What sets Keystone apart though are all their non-skiing activities for kids. It's important to take plenty of breaks from skiing, and Keystone has plenty of activities to keep your family busy while you take a rest from the hill. Your kids will love exploring the world's largest snow fort. Or, if you want to keep sliding down snow, try Keystone's tubing hill. 
Keystone also offers night skiing, a perfect way to start your weekend of skiing after a long day at school. And if your older kids are getting into freestyle skiing, they'll love Keystone's Area 51 terrain park. No matter what sort of ski experience your family is looking for, Keystone has something they'll enjoy.
Vail
We've all heard of Vail's legendary powder skiing. Their back bowls, big cliffs, and wide-open powder fields get plenty of hype. What often gets overlooked though is how great of a family destination Vail is. Vail is the biggest ski resort in Colorado, and it shows. Your family will love exploring their massive acreage, from mellow green groomers to challenging blacks.
Vail has also put a lot of investment into their family-friendly infrastructure. They have great ski-school packages, on-mountain daycare, and family-friendly lifts. They also might just have the biggest range of non-skiing family activities around. Just like at Keystone, your kids can take a break from the slopes to go tubing, but Vail also offers snowshoeing, a mountain coaster, children's snowmobiling, and fat biking.
So grab the skis out of the garage, load the kids into the car, and head for the hills!