Like many other high-tech hobbies, Geocaching is something you get better at the more you do it. Buried under three feet of snow in Wisconsin this winter, I curled up in front of our gas fireplace with these nine books on geocaching. Unique in their own way, some are basic, others are advanced, some emphasize the social aspect of the sport, while others stay focused on technology. Worth a hold at your local library or place in your home collection, here's my abbreviated review: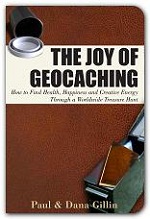 The Joy of Geocaching: How to find Health, Happiness and Creative Energy through a Worldwide Treasure Hunt
Paul and Dana Gillin, Quill Driver Books
Authored by a husband and wife geocaching team, Paul and Dana Gillin write about why a person should take up geocaching (with some where, what, when, and how mixed in for good measure). Featuring photos and stories from around the world, the Gillins have captured the human aspect of geocaching (a personal friend of mine has a travel bug tattoo like the one featured on page two). From geocacher profiles, social encounters, to memorable finds, flip to the last page and read about the authors. Who among us can't relate to this last sentence in the book, "They've made the most mistakes geocacher can make but still love the game." Avoid hindsight and check out this book.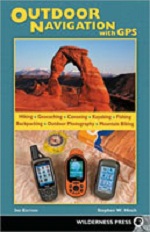 Outdoor Navigation with GPS, 3rd Edition
Stephen W. Hinch, Wilderness Press
True to it's name, Outdoor Navigation is just that. Navigating your way in the wilderness, the 2011 edition has been updated to stay current with the most recent advances in GPS technology. Technology not being my strong point (I would have fit right in the Lost Colony of Roanoke), I specifically requested this book with advanced terrain and difficulty in mind. Broken into four parts (from basic navigation to recovering from disaster and getting the most from your GPS), it's probably best to process through the information with regular-strength coffee and technology in hand. Read the sections in this book where you have a strong GPS signal (from your backyard or the back forty, Hinch encourages real-life application in this one).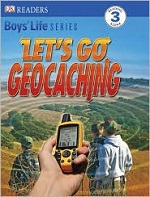 Boy's Life Series, Let's Go Geocaching
John McKinney, DK Readers
Not too proud to walk into the local Boyscout Shop (kids in tow, of course), we are the new owners of Let's Go Geocaching in the Boy's Life Series. A geocaching friend of mine (who is coincidentally a troop leader) let me borrow this guide when I was first getting into geocaching. At reading level three and in 20 point font, you're not going to need a dictionary or bi-focals to get through the forty or so pages. The beauty of this guide (beyond using it to earn a geocaching badge) is this: read it and you will understand why people geocache. Lend it to your friend, your mom, or even your co-worker and then ask when they want to go out (heck, even help them cross the street and keep the merits coming).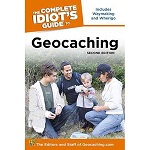 The Complete Idiots Guide to Geocaching, Second Edition
Editors and Staff of Geocaching.com, Penguin Group USA
A sucker for books geared towards both "idiots" and "dummies," and written by the editors and staff of Geocaching.com, this book really is a "no-brainer" purchase for beginner and intermediate geocachers. Introducing the idea of geocaching on smart phones, my favorite section continues to be How Not to Look Weird in Chapter 6, Geocaching Tips and Tricks.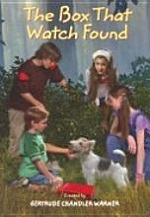 The Boxcar Children: The Box that Watch Found
Gertrude Chandler Warner, Albert Whitman & Company
Fine. I'll admit to reading a Boxcar Children book at age 33, but only because my preschooler lost interest and I wanted to know who was taking Hammer Ed's caches and why the Zeller twins were acting so mysteriously in the woods. A surprisingly fun story, read how the Boxcar Children accidentally found a geocache and ended up saving the Greenfield Geocachers Club. Put this one on hold at your local library and make it a bedtime read with your elementary-age kids.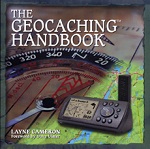 The Geocaching Handbook
Layne Cameron, Falcon Guide
One of my new favorites, there's something about The Geocaching Handbook that appeals to my inner travel writer. Going beyond the basics and into the geo-games, events, clubs, websites, and other happenings, the handbook mixes real-life examples and explains the evolution of the sport in a human interest kind of way. Chapter 9, Cachionary 1.0, is worth a read (cachuration, doghouse, and wayfarer are now in my geocaching vocabulary). Published in 2004, some of the references are out of date. However, the way Cameron has organized the information, you can pick and choose which section is most appealing to you (and still learn something new).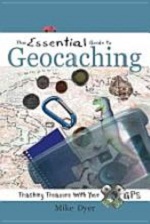 The Essential Guide to Geocaching, Tracking Treasure with Your GPS
Mike Dyer, Fulcrum Publishing
Heavy on maps, cartography, and orienteering, this guide mixes the basics of geocaching with the tools of the trade. Read the author bio at the end of the book (Dyer manages the MapMachine at National Geographic and is a member of the International Map Trade Association). Published in 2004, some of the GPS models have been replaced. Fundamentally, the 101 content is true to the sport. Read Chapter Three for outdoor ethics and wilderness safety.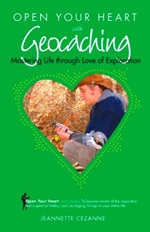 Open Your Heart with Geocaching, Mastering Life through Love of Exploration
Jéannette Cezanne, Dream Time Publishing
Now, the title on this book should be your first hint you won't find GPS reviews or the best method to read a topography map. A menagerie of quotes, antidotes, analogies, stories, and practical information, Cezanne takes us through a winding geocaching journey in her book. Each person has a reason for geocaching and a different story to share and sometimes it's nice to step away from the technology and into our hearts. Available at our public library, I'm glad our community has this resource.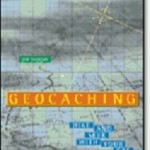 Geocaching: Hike and Seek With Your GPS
Erik Sherman, Action Press
Give yourself some time to read this one. This almost 200 page book on geocaching spans eight chapters, two appendices, and an impressive (and thorough) index. Written in a conversational tone with bouts of humor. For example, on page 80 we learn, "You lose a honking huge amount of heat through your head: 40 percent or more." Sherman follows with some suggestions for retaining heat in the winter months and avoiding sun burn in the summer. In a problem/solution format, Geocaching: Hide and Seek with Your GPS is way more than a handbook. Having written for Newsweek, US News & World Report, and Red Herring (among others), Sherman continued in the the tradition of his investigatory research with this one.