Spring Break for families doesn't get enough attention. The media is overwhelmed with offers for frat-boy parties and topless beaches. But, for most families, it's a time to enjoy a quick getaway before that last month or two of school and summer.
List everything you really want in a spring vacation. The destination should be easy to get to, have something for everyone to enjoy (even if your kids range in age from 2-15), sun and affordable prices. A road trip to Paso Robles, California, is the perfect solution.
You may have never heard of Paso Robles, even though they play host to the California Mid-State Fair. The town is located in San Luis Obispo County, and is about half-way between San Francisco and Los Angeles on the Central Coast. Only about 20 minutes inland from the Pacific Ocean, you can choose to road trip along the coast or take the quicker (and less scenic) route on the 101.
Known for the hot springs that run under the town, visitors have come for the curative powers of the water since the 1700's. Today, Paso Robles is also home to the largest and most diverse wine region in California. Almost 200 wineries now blanket the area, and wine tasting is inexpensive, educational and not intimidating. At many of the wineries you can meet the actual winemaker and learn about their process. Many of the wineries are also very family friendly, so it's easy to slip into a couple of tastings while you tour the other agricultural attractions. There are even a number of wineries who offer free tastings. If you're in town for a romantic getaway, try the Paso Robles Inn. The gardens are spectacular and the deluxe spa rooms and two-room suites have private hot tub mineral baths.
The juxtaposition of the old-fashioned, high-end resort town with the surrounding ranches and agriculture has grown into a unique little town, where friendly, small town America meets wine and art festivals. Not the expensive, snobby atmosphere of the wine regions to the north, this is a place where you can indulge your foodie cravings while the whole family has a great time — on a budget.
The Holiday Inn Express is a great place to anchor your vacation. The rooms are designed to be family-friendly with refrigerators, lots of space, modern amenities and free breakfast. The business center is also quite capable and when we visited on a very busy weekend the hotel was surprisingly quiet. You're located only a short block from morning coffee and several family-friendly restaurants, including Big Bubba's Bad BBQ, a local favorite. You are also only a five minute walk from the fairgrounds, if you're in town for the festivities. The hotel has several family-friendly packages, including the Family Water Park Package at nearby Ravine Waterpark. Ravine has something for everyone, from the 325 foot long flume slides to Kiddie Cove. Individual day passes are very affordable and range in price from $16-22.
Plan to enjoy at least one dinner in one of the many fine dining choices. The abundance of locally grown ingredients paired expertly with local wines is an experience you shouldn't miss. Villa Creek serves only sustainable, organic ingredients in the style of California cuisine with reasonable prices and is kid friendly. You can also tour downtown and visit a few of the other offerings to see if they are your type of family-friendly. If dinner isn't an option, many offer lunch. Panolivo is open for breakfast & lunch every day (they serve dinner on Friday & Saturday). The bistro environment is fancy enough to feel like a treat without being unfriendly to children. Take home a few pastries for a late night snack with a bottle of wine after the kids are asleep.
While you're downtown, don't miss the Paso Robles Children's Museum. The museum is housed in the old volunteer firehouse, and "Old Mac", the original fire engine, built in 1944, is proudly on display. Don't worry, this isn't a "look but don't touch" museum. Kids can climb on, play in and explore every nook and cranny. Everything is interactive and kids of all ages will have such a good time you'll have a hard time leaving. Also downtown, the Good Times Cafe offers 50's diner-style food with easy access to all the downtown attractions.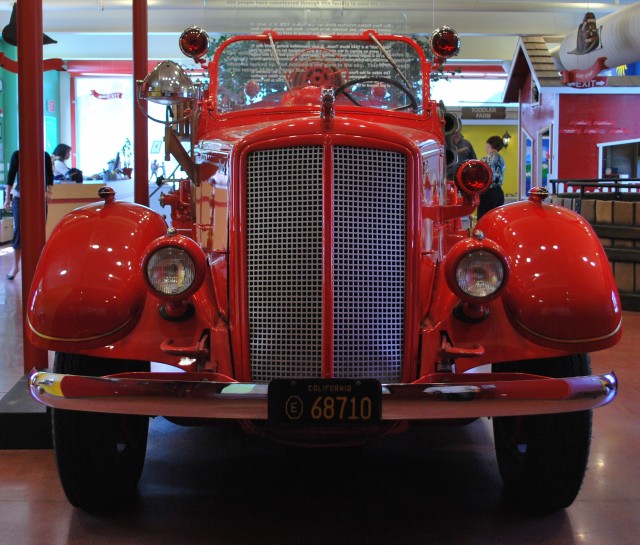 Before you leave town, make sure to try olive oil tasting. It sounds strange until you do it, then you're hooked. We Olive's store downtown offers the best first stop. Let the friendly experts behind the bar teach you about olive oil, the proper method for tasting and help you find some favorites. Once you have that basic knowledge under your belt, head out to Pasolivo, a family ranch just outside town. See where the fruit is grown and talk to the family that does everything from growing and pressing to estate bottling themselves. Make plans to come back to town in August, make sure to plan your trip to include the Paso Robles Olive Festival. It takes place downtown, and features tastings of olive oil from all over the state. There's even free samples of Olive Oil Ice Cream!