When my employer told me that he was closing the office for the week after Christmas, I immediately had one thought . . . road trip! I personally was thrilled by the concept of being away from home for the days leading up to and after Christmas because it meant not having to put up a tree. Not having to buy gifts (my family understood that not having gifts meant we'd have more money to spend on what we wanted to get or do on the road). Escaping some of the dreary mid-winter weather in our home in western Oregon.
Yes, all in all, hitting the road that week was too good an opportunity to pass up. So with myself, my partner, my daughter and my son on board we started planning our trip to sunny Quartzsite, Arizona, to visit with my boyfriend's grandmother.
We were a little worried about the weather, since we had to pass through two mountain ranges on the way down and one on the way back. We don't have a great snow car, but the weather held for us and we had no trouble making it across the mountains in Southern Oregon and then again the mountain roads near Lake Tahoe.
Our plan called for first heading about 8 hours to Reno, Nevada, where we stayed at the Sands Regency. The second day we headed an additional 8 hours to Las Vegas, where we stayed at Golden Nugget on Fremont Street. The third day was only about a 6-hour drive to Quartzsite. On the way back we planned to drive about 10 hours the first day to get to a friend's house who lives in Oakland, California. But truth be told, we were too burned out in the car for a 1-hour drive, so we split up the drive by staying one night at the Holiday Inn in Bakersfield, California. Why the Holiday Inn? Indoor pool! Yes, when you're traveling with a 10-year-old boy, the pool is a strong selling point.
Where to Stay
Find family-friendly accommodations in QUARTZSITE, ARIZONA from traditional hotels to private vacation rentals through Stay22.com:
Here are some highlights of our days on the road.
Reno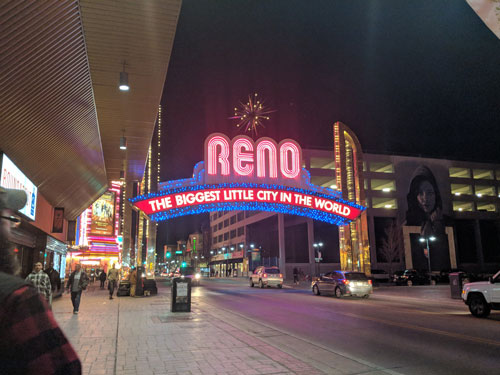 The Sands was conveniently located close to the things you want to be near in Reno. We walked around for a bit and followed a friend's tip to eat the Awful Awful burger at the Little Nugget Diner, which was just a few easy-to-walk blocks away from the Sands. This awful big and awful good burger filled us all up.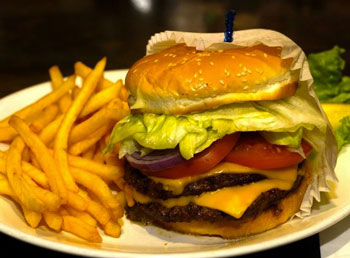 Las Vegas
We chose to stay on Fremont Street, a more family friendly version of Vegas. It was the right decision! We only had to simply walk out of our hotel room and be on the Fremont strip, where you can walk in and out of shops, find photo opportunities with Star Wars Stormtroopers, get all kinds of food and beverages, see crazy art, and take a zipline right over all the action.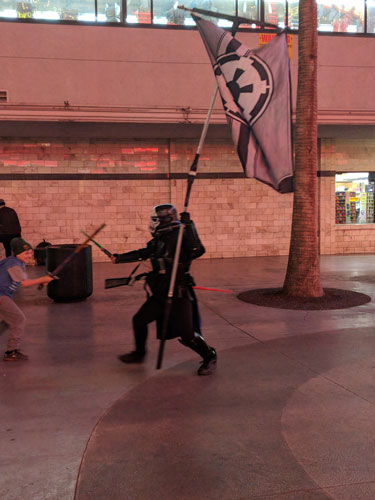 We wanted to see the actual strip, so the next day we Ubered to the strip. It only cost a few bucks and was easy and fast. Because it was daytime, the strip was more family friendly than it would normally be. We walked around until we couldn't walk anymore, ate, and Ubered back to the hotel, where we had left our car, and headed out.
Quartzsite
To be honest, we went to Quartzsite because that's where our relative lived. There are other more active destinations in Arizona, but Quartzsite still ended up being pretty cool. It's primarily a retirement town for people who worked or do still work in the rock and gem industry. There's a huge flea market set up right in town where you can find fossils, gems, and raw or finished rocks from all over the world. In fact, Quartzsite, Arizona, is the "Rock Capital of the World."
The town itself is small—only about 2,500 residents live there year round, and there are more in the winter. But it's slowness was exactly what we wanted. There's a park in town that commemorates a little-known event in military history when a Syrian named Hadji Ali drove camels in the American Southwest.
There are Native American petroglyphs in the cliffs around Quartzsite, but those require some intense hiking or off-roading to get to. Go for a drive though, because on the roads near town are cool rocks galore just laying on the side of the road, classic catci, and wildlife refuges. We saw hundreds of sandhill cranes at Cibola National Wildlife Refuge. Cibola is actually in California, but it's only 40 miles from Quartzsite.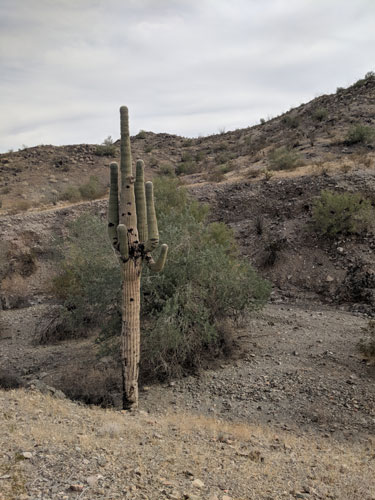 As is the case with many small towns in this area, there are remnants of mines. these are abandoned and left often just as they were when they were in use.
It actually was a lot cooler at night than we expected and we definitely needed our sweatshirts. During the day it got to about 70. Still sunny and nice, no rain, but it wasn't as warm as we thought it would be during the day. Winter time is a great time to go because the weather is much more pleasant than it is in the summer.
The Return
On the way back we stopped in Bakersfield, where the Holiday Inn's affordable rates and indoor pool promised us an evening of respite from the car. By this point, I was still happy but my family was tired of being in the car and wanted to be home. There are two In-N-Out Burgers in Bakersfield, and if you haven't eaten at one yet, it's worth the detour.
We stayed with a friend for a couple of days once we got to Oakland. There, we visited Tilden Regional Park in Berkeley, a 2,000+ acre natural area on the edge of the city with plenty to see and do. We visited the Tilden Park Merry-Go-Round ($3 per ride) and the Environmental Education Center and the Little Farm farm, where we got to see chickens, pigs, goats, ducks, geese, cows, and sheep. Others knew this but we didn't . . . be sure to bring celery and lettuce to feed the animals.
While there you can walk through a eucalyptus forest and even ride a miniature steam train. (For information, including hours and ticket prices, see the Tilden Attractions schedule above, or call 510-548-6100.)
Vanessa Salvia is a long-time freelance writer and editor. Read her journalistic work at vanessasalvia.com and learn more about her editing and content creation services at sagemediaandmarketing.com.