When it comes to winter, this Canadian gal says "if you can't beat'em, join'em!" So although winter is decidedly not my favorite season, I have taken to jumping in feet first when it comes to snowy season.
And with its 22 weeks of winter, there is arguably nowhere better to do so than in the Saguenay – Lac Saint-Jean area of Northern Quebec, Canada. While its first visitors came for the fur trade and lived an isolated existence, the region has long since become easily accessible. Offering an immersion into francophone culture, every member of your family—the history buff, artisan, foodie and nature-lover—can have their interests indulged.
Where to start
Cap au Leste is an ideal place to launch a winter wonderland adventure. I fell in love with the view, but wanted to stay for the cozy accommodations and home-style meals. Overlooking the Saguenay Fjord, a family can settle into a room with a double bed and three single beds for as little as $150/night.
To get yourself acquainted with your new surroundings, you can borrow complementary snow-shoes from the front desk and start exploring! Alternatively, you can book a guided tour ($100 for 1 hour).
Family tip: before arriving to the peaceful property at Cap au Leste, stop at a grocery store and pick up some snacks and drinks to keep in your room. This should help keep everyone happy in between meals available at the on-site restaurant.
What to do
After you've enjoyed a fresh buffet style brunch of croissants, Belgian waffles, fresh fruit and local jams at the Cap au Leste restaurant, waddle yourself on over to a dog-sledding adventure! Your children will shriek with exhilaration as they are pulled through the snow by beautiful sled dogs. If you're not used to the cold, a half day will likely be plenty ($105 per adult, $52.50 per child).
For a more calm experience, you can also try ice-fishing. From January to mid-March, signs of this popular past time are everywhere as ice-fishing huts dot the frozen lakes throughout the region. A family of four can try their luck in a rented hut with complementary fishing gear for the price of $85.
Family tip: You'll need to be dressed for the weather to enjoy these activities. Snow pants, snow jackets, hats, mitts and a good pair of boots are essentials.
Next stop
Time to move your road trip along to the town of Roberval, which is about two hours away and hosts the Village sur Glace an entire village on Lac Saint-Jean, complete with more than 300 little houses and three skating rinks! Thousands of visitors take in this unique seasonal town. And everything is free of charge—even the skate rentals.
If you and your family are feeling adventurous, you can spend the night right on the ice of Lac Saint-Jean in a heated prospector's tent. A 12×14 tent can be rented for $69/night during the week and $149/night on the weekend.  If, on the other hand, you'd prefer a heated pool over a heated tent, then jump back in your car and head to the family-friendly Hotel du Jardin in the town of St-Félicien.
Family tip: To break up the drive from Roberval to St-Félicien, plan a stop to the Musée du fromage cheddar in Saint-Prime. Located at an almost half-way point, this cheese museum offers tours and tastings for a family price of $23.95. Be sure to try the "squeaky" cheese!
Finish on a wild note
Unlike most other zoos that I've visited, the Zoo sauvage of St-Félicien prefers to keep their animal guests on the wild side. Living in wide open spaces, developed to mimic their natural habit as closely as possible, visitors meander about the zoo on pedestrian pathways. Even in the winter, you'll be able to see 33 different animal species! In fact, our guide (who clearly loved—loved!—her job), explained that in the winter it is actually easier to spot the animals against the white backdrop of the snow.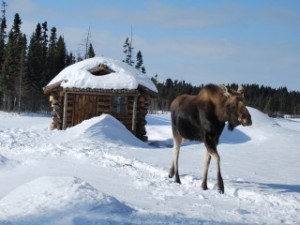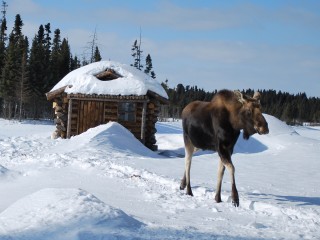 Family tip: Don't bother with a stroller in the snow! The zoo rents sleds for $2.
About the author
Thanks to Julie Harrison, Canadian travel writer extraordinaire for this winter travel post. If you love Julie's writing, grab a cup of Joe and pop on over to Coffee with Julie.