At the time of year when most travelers are packing a couple of swimsuits and heading off to a warm beach, my family was digging through our closets to find our warmest sweaters, hats, mittens, scarves and long johns. Though we did pack our swimsuits, our destination was hundreds of miles from the nearest beach: My husband, our 5-year-old son, 14-year-old daughter and myself were headed to Fairbanks, Alaska.
When I first mentioned going to Alaska in February to my husband, he raised one eyebrow and gave me a long look. "You know it's going to be cold, right?" he warned. And cold it was—mid-teens by day and up to 20-below at night. But we packed layers of clothing with jackets and hats, mittens and scarves. In fact, I didn't even wear all of the clothing I brought with me. It's cold, but for the most part, except when we were out in the field watching the northern lights, we weren't exposed to the cold for very long. Our lodge was nice and warm, and the cars had heaters. You will survive!
Our plan called for flying from Eugene into Fairbanks on Thursday, picking up a rental car, and driving about 30 miles outside of town to A Taste of Alaska Lodge. We were to be there for three nights, then take the Alaska Railroad from Fairbanks to Wasilla, staying in a hotel for three nights there, and flying out of Anchorage the following Thursday. Getting there isn't hard: an hour or so flight from Eugene to Seattle followed by a 3 1/2 hour flight to Fairbanks and a change of the clock to an hour earlier.
Where to Stay
Find family-friendly accommodations in Fairbanks, Alaska from traditional hotels to private vacation rentals through Stay22.com:
I hadn't anticipated paying for crash insurance, but when the rental car agent asked me if I wanted extra protection at $30 per day, I agreed. The roads were icy slick, and our rental car didn't come equipped with snow tires. Environmental concerns prevent Fairbanks from salting the roads, but they do use gravel. Still, deep drifts of snow on the sides of roads, ditches that you can't see, and other cars fishtailing can make driving treacherous. Thankfully we didn't use the insurance, but I felt better knowing we had it.
I chose the travel time carefully—the week of the new moon in February, to give myself the darkest skies possible. Our lodge was away from the city lights. And Fairbanks itself is a prime viewing location, being that it is situated at the edge of a ring-shaped region that circles the north magnetic pole, where auroral activity is most common. It also has less cloud cover because of its distance from the ocean. If you plan to travel in February, book your lodge as early as possible.
Tip: More things to do around Fairbanks in the winter months: 10Ways to Explore Fairbanks, Alaska in the Winter
February is among the most difficult months to get reservations for. According to Explore Fairbanks (explorefairbanks.com), if you stay a minimum of three nights and are actively out during the evening hours, your chance of seeing the aurora is more than 90%. We saw a mild display on our second night in the lodge, and it was definitely a bucket list moment!
Summertime visitors won't see the northern lights because it is daylight for nearly the entire 24-hour day, but the midnight sun would be worth visiting for. We experienced a nearly normal period of daylight, from 8 am to 5 pm, but the sun didn't rise above the 10 am position in the sky. We took advantage of the light and drove 60 miles to Chena Hot Springs Resort, where we would finally put our bathing suits to use. On the road to Chena we saw two moose, one female and one bull, fully antlered, running across the road right in front of our car. Another fun moment was seeing a sled pulled by gorgeous huskies running right alongside the road.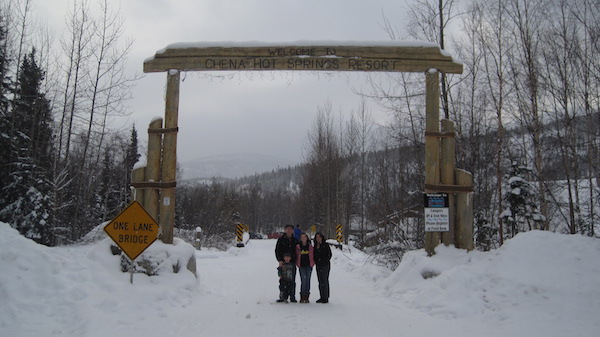 Activities at Chena include dogsled rides, snowmobiling, sightseeing flights, and, what we were there for, a tour of the ice hotel and dips in the outdoor rock-lined natural mineral hot springs, where the water is 165 degrees. Soaking while snow flakes fall on your hair in the steamy air was amazing. Unfortunately, children are not allowed in the lake but they can try the indoor pool, so we all had to take turns staying with the kids.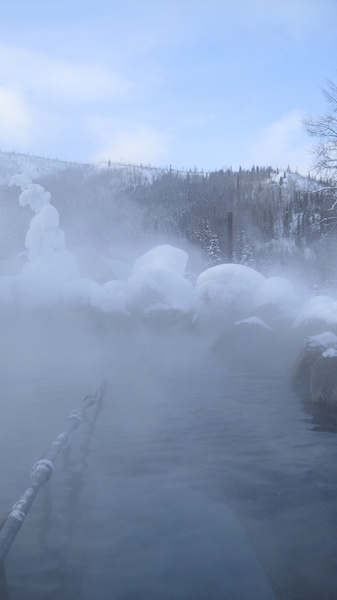 Inside the Chena ice museum, two champion ice carvers create carvings from 2-ton blocks of ice harvested on-site. Inside the balmy 20-degree building are carvings of animals, jousters on horseback, two beds carved out of ice that are available for rent, a wedding chapel and a bar caved from ice where you can purchase an appletini served in a martini glass carved from ice. The drink must be pre-purchased for $15, and the tour guides are not bartenders, so unless you really like the taste of cheap sour apple schnapps, skip it!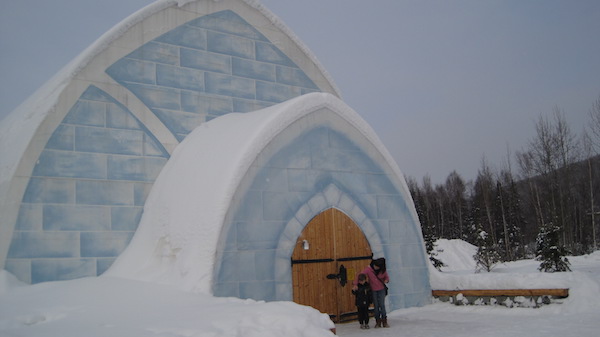 The travel literature gives the impression that the city of North Pole (not the North Pole) is decorated like Christmas all year-round. After making the short drive there, we realized that it is pretty much one building that is a gift shop, that is indeed decorated like Christmas all year-round, complete with Christmas music playing on the sound system. All day. Every day. While that "town" was disappointing, we did enjoy delicious fudge from the candy shop, purchased our gifts for friends back home, and got some Christmas ornaments to give to our family as gifts.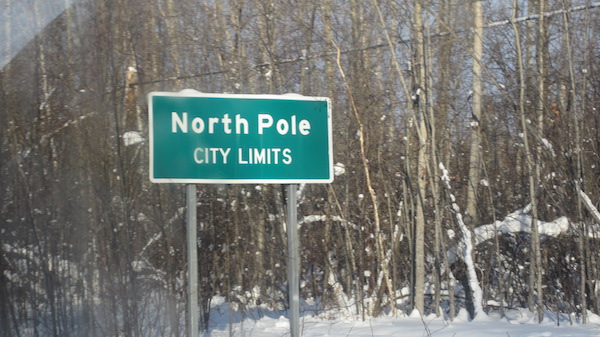 Later this day, we made a stop at the Morris Thompson Cultural and Visitors Center, where we viewed exhibits and dioramas relating the culture and lifestyle of the native Athabascans. The University of Fairbanks also has an extensive Museum of the North, but the cultural center admission is free.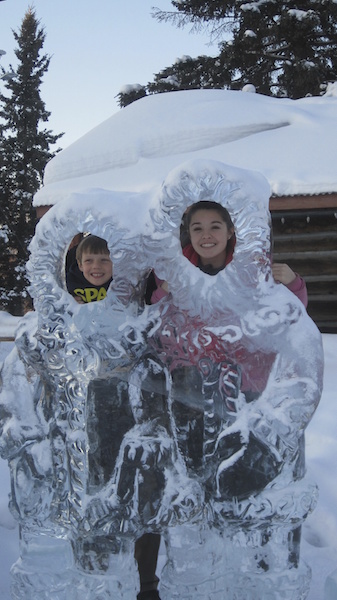 The cultural center is about eight miles from a viewing area of the Trans-Alaska Pipeline, which carries oil 800 miles from Prudhoe Bay in the north to Valdez in the south. Though all of us felt remorse for the knowledge that the beautiful landscape we were enjoying was at risk from oil leakage, sabotage or vandalism, we all marveled at the great marvel of engineering.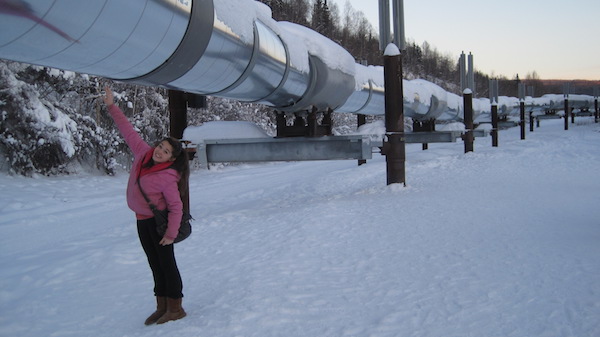 Oil was discovered in Prudhoe Bay in 1968, after the 1973 oil crisis in the United States spurred greater exploration. The pipeline is 48-inches in diameter and conveys oil across three mountain ranges, through difficult, isolated terrain, and is above ground in several places to avoid permafrost. We learned from the cultural center that the use of oil was not a modern activity. There is so much oil in that area that several natural seeps permeate the ground. The Iñupiat people on the North Slope of Alaska harvested this oil-soaked peat and had used it for fuel and heat for thousands of years.
We also made a stop at Silver Gulch Brewery, America's Northern-most brewery.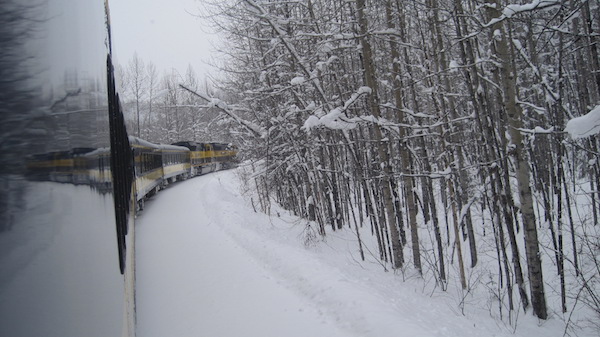 When it came time to leave Fairbanks, no one wanted to go. But anticipation of the 300-mile train ride past mountains, glaciers and frozen rivers got us moving. Though the Alaskan winter usually hides most wildlife, we did catch a glimpse of four caribou running across a frozen lake. The train stopped a couple of times in remote locations to let on some mushers and their dogs. The route skirts the eastern edge of Denali National Park, home of the highest mountain in North America, 20,320-foot tall Mount McKinley (Denali means "the high one" or "the great one" in the native Athabascan language). Clouds obscured our view, but there was plenty of other dramatic landscape to keep us entranced.
Down south
Wasilla is home to about 10,000 people. Our hotel was on the shores of 350-acre Lake Lucille, which in the summertime is a bustling place for swimming, boating, fishing or docking boatplanes.
The Iditarod Trail Sled Dog Race Headquarters are very near Lake Lucille. The 1,100 mile race to Nome has its ceremonial start in Anchorage the first Saturday in March. The race's actual start was historically in Wasilla, though because of snow conditions it has been moved to the neighboring town of Willow.
Tip: Consider some of these guidebooks on Alaska for your own road trip.
Our first full day in Wasilla, we took a drive down the Glenn Highway National Scenic Byway to Glacier View, Alaska. There we saw amazing views of the Matanuska Glacier, a 26-mile long (or so) valley glacier that feeds the Matanuska River. On Tuesday, we drove along the Turnagain Arm of Cook Inlet, where beluga whales can sometimes be seen at their namesake Beluga Point. Though we didn't see any marine life, we did see several clusters of Dall sheep that traverse the rocky outcroppings to browse alongside the highway. By this point in the trip, our oldest no longer wanted to venture far from the warmth of the car or hotel room, so she peered at the sheep through the window. And it was at this point in the trip that I realized our mistake of not packing sunglasses! The sun's glare on bright white, fresh snow was blinding!
Next, we drove through snow into the little ski-bum town of Girdwood. Skiers and snowboarders take to the slopes of the mountain year-round. We fueled up with French onion soup and grilled cheeses at a Girdwood restaurant called The Bake Shop, and watched the skiers and snowboarders heading up and down Mt. Alyeska (Alyeska was the native Aleutian name for this "great land.")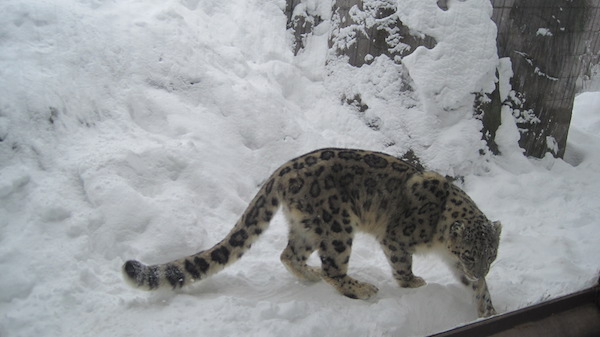 On our final day in Alaska, we drove to Anchorage and went to the Alaska Zoo. The stash of hand warmers I had packed for us really paid off this day, as we all stuffed them into our pockets as we walked around in the 10 degree or so air. Most of the animals at the zoo are orphaned or injured animals that can't survive in the wild due to various injuries.
Heading home was bittersweet. Now, having gone to Alaska, we all want to go back again. And so will you!
Vanessa Salvia is a long-time freelance writer and editor. Read her journalistic work at vanessasalvia.com and learn more about her editing and content creation services at sagemediaandmarketing.com.