Alaska has been on our bucket list for some time and we finally made it up to Fairbanks earlier this month. Spending a long weekend with friends, we bundled up and headed out in the spirit of the lucky people who call this beautiful corner of the world their home. For more tips on planning a trip to the Great North, check out these guidebooks.
Our adventures were balanced between indoor and outdoor activities and the darkness of some of these photos illustrate the short (six-hour) day. Here are ten ways you can start planning your own trip to America's Last Frontier:
Morris Thompson Visitors Center
Website: http://www.morristhompsoncenter.org/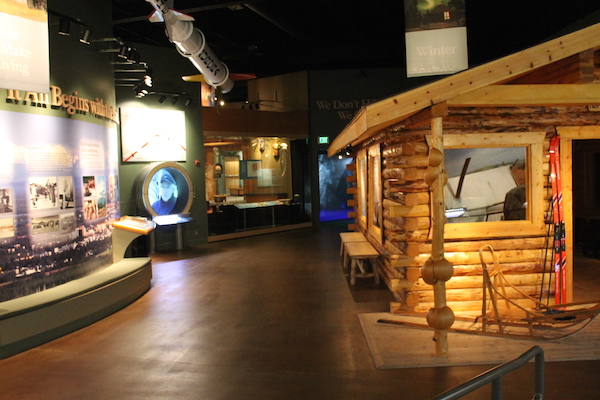 Make sure you visit the Morris Thompson Visitors Center at the start of your trip. The building is home to the Fairbanks Convention and Visitor's Bureau (Explore Fairbanks), the Alaska Public Lands Information Center, and the Alaska Geographic Store. Inside you will find an extensive and interactive flow of exhibits focused on the history, people, and land. Admission is free and the experience is quite hands-on. If you have younger kids ask for the scavenger hunt, and if you geocache ask for the sheet with letterbox/geocache hybrid.
Museum of the North
Website: http://www.uaf.edu/museum/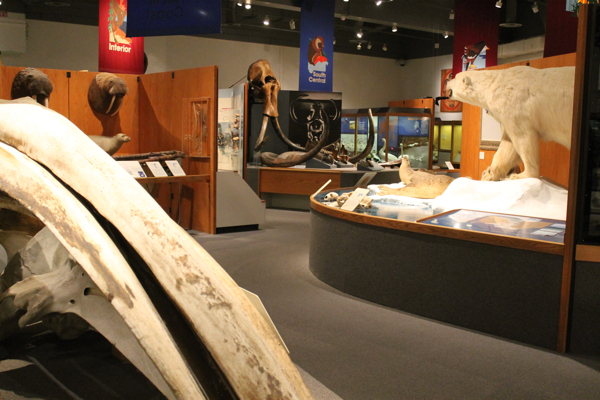 Located on the University of Alaska campus, you can't miss the magnificent building that houses the Museum of the North. Focused on natural history and art, this museum is slightly less multi-sensory than the Morris Thompson Visitor Center. Regardless, we spent about an hour touring the exhibits that are spread out over two floors. If you have younger kids make sure and seek out the family activity area located directly above the museum cafe. If you are visiting from out of state, plan to pay $12/adult and $7/youth (with additional costs for both parking and to watch the museum movie).
Book Your Stay in Fairbanks
Yukon Quest
Website: http://www.yukonquest.com/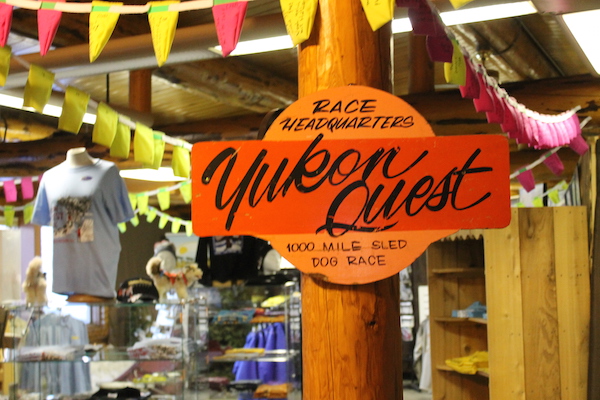 While many people know Alaska for the world-famous Iditarod dog sled race, Fairbanks is either the starting or finishing point for Yukon Quest, a 1,000 mile race between Fairbanks to Whitehorse in Canada's Yukon Territory. Yukon Quest race headquarters is located in a small cabin-like building between the Chena River and downtown Fairbanks. Quiet during our visit, Fairbanks will be bustling with activity come February (to put you in the mood for the race, read more about dog sledding in this story published on sister site Road Trips for Readers).
Chena Hot Springs Resort

Website: http://www.chenahotsprings.com/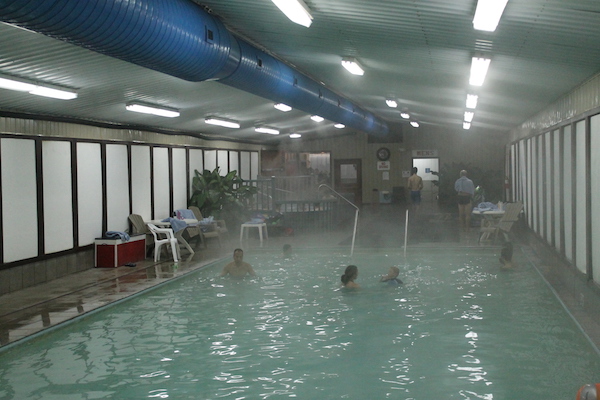 Chena Hot Springs Resort is about an hour drive Northeast of downtown Fairbanks and located at the end of Chena Hot Springs Road. Chena Hot Springs could be a side trip, as it features a resort, restaurant, gift shop, spa, and the world's largest year-round ice museum. Our visit, however, was solely focused on swimming. Three choices are available: an indoor pool (90 degrees, salt water), indoor and outdoor hot tubs (chlorinated), and the expansive rock lake hot springs (flowing freshwater hot springs with an average temperature of 106 degrees). Note that visitors of all ages can enjoy the indoor pool and indoor and outdoor hot tubs, but rock lake is reserved for guests over age 18.
Our visit was in the early evening and the outdoor experience was fairly dark. Finding the boundaries of rock lake can be an adventure; it's best to have another person with you if you can. We had fun watching our wet hair freeze into hair-cycles in the extreme air temperatures. Make sure you bring both quarters for the locker room and sandals to wear in the locker room (boots are left at the main door).
Moose Mountain Ski Resort
Website: http://www.shredthemoose.com/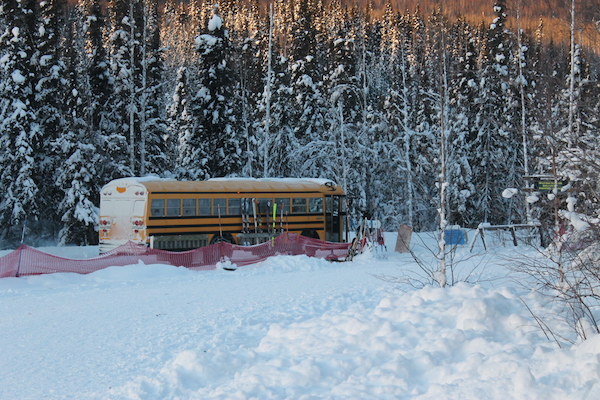 Moose Mountain Ski Resort is one of two ski resorts in the Fairbanks area. Small by destination ski vacation standards, visitors pay for passes and gear rentals in the singular lodge building and then hop aboard a heated yellow school bus for a ride to the top of the mountain (you won't find any chair lifts or lit runs, and the hours of operation are dependent on the length of the day). With a vertical drop of 1,300 feet, the majority of the runs are rated for intermediate and advanced skiers and snowboarders. Concession type food is available, but you can also pack a picnic lunch. Visitors receive a $5 discount when temperatures drop below zero.
Santa Claus House
Website: http://www.santaclaushouse.com/about.asp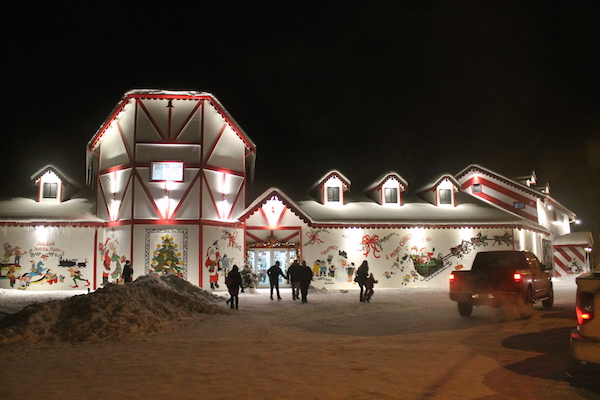 Located in the neighboring community of North Pole is (as you might suspect) a tourist attraction called the Santa Claus House. Open year-round, the house is a gift shop centered around Christmas and other Alaskan-themed souvenirs. Guest can buy ornaments, t-shirts, toys, and even mail a letter with a North Pole, AK postmark. During our visit a line of children had formed for lap time with Santa. I enjoyed seeing the many hand-written wish lists and letters taped up and along the wall to the upper level business offices.
Christmas in Ice
Website: http://www.christmasinice.org/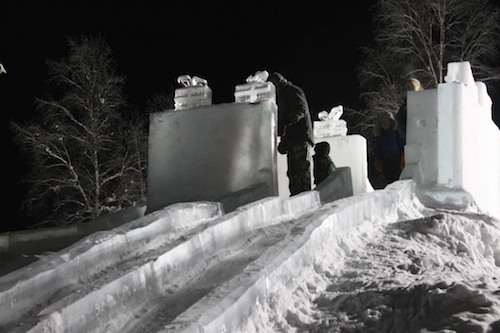 To our delight, our trip to Alaska happened during Christmas in Ice, an annual six-week winter ice park adjacent to the Santa Claus House in North Pole. The event features Christmas-themed ice art, ice slides, an ice maze, reindeer, a warming house, and (if you are lucky) an ice podium to pose for a picture with Mr. C. Kids can race plastic sleds on the on double-track ice slides and watch the sculpture artists transform thousand pound blocks of ice with saws and special carving tools.
Trans-Alaska Pipeline

Website: http://www.alyeska-pipe.com/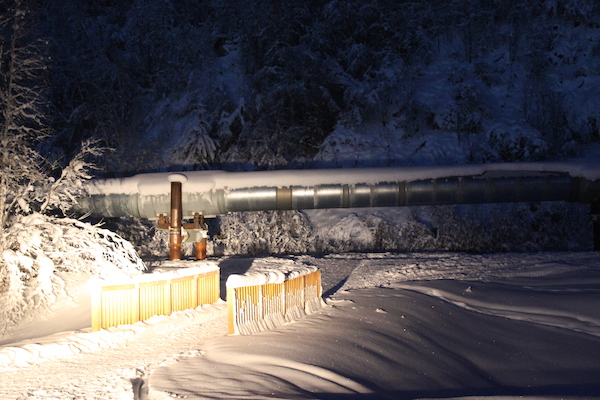 Considered an engineering marvel that many equate to one of the wonders of the world, the Trans Alaska Pipeline pipeline passes North of Fairbanks and parallel with Steese Highway/Alaska Highway 2. You are looking for a pull off with ample parking and the path/bridge shown in this photo (if you have a GPS, use these coordinates: N 64 55.771, W 147 37.741). If you visit the Morris Thompson Visitors Center, make sure and watch the short video on the construction and capability of the entire pipeline system.
Northern Lights
Website: http://www.gi.alaska.edu/AuroraForecast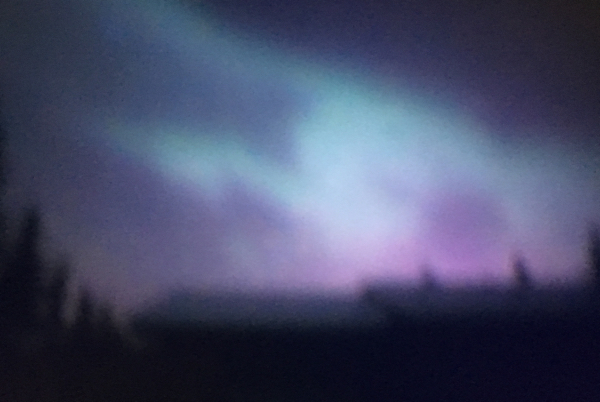 Fairbanks is one of the best places to experience the aurora borealis. A lack of light pollution and excellent geographic location create excellent odds you will see the "north wind of the dawn" on your trip to Fairbanks. I downloaded the Aurora Fcst app to my iPhone and was able to set my alarm for the best viewing conditions (3AM, but was totally worth the few extra cups of coffee the next day). I had planned to take a bunch of photos, but discovered my camera refused to work at 30 below zero (fortunately, we had a backup camera that captured this one shot). If temperatures are extreme, make sure you have fresh batteries and also keep your camera tucked into your jacket or warm blanket until you are ready to use it.
Downtown Fairbanks
Website: http://www.downtownfairbanks.com/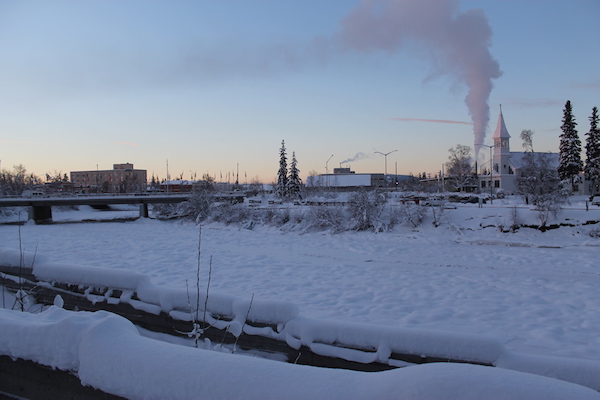 Like many towns across America, Fairbanks has a lovely shopping and dining district as well as the stores you might expect in a city supporting a metropolitan population of 100,000 individuals. The Downtown Fairbanks Associations helps to coordinate and promote several festivals and events including annual fireworks displays, dogsled races, and even a monthly First Friday art and music gathering. If you head downtown with younger kids, look for indoor glow golf as well as a small children's museum. Summertime options are also plentiful; but if there's anything we learned from our winter visit was that Alaskan citizens stay active and engaged all-year-round.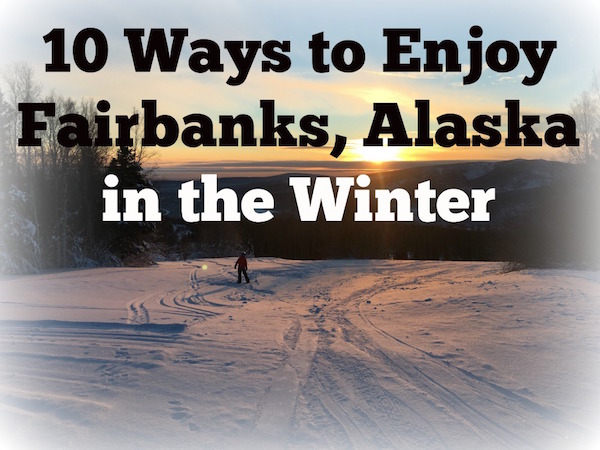 And if you're making a road trip between Fairbanks and Anchorage, be sure to read this story: https://www.roadtripsforfamilies.com/alaska-road-trip-winter-friendly-attractions-between-fairbanks-and-anchorage/
Happy trails!