Beloved by generations of families, the Black Hills has iconic scenery and wildlife. From the buffalo and rolling plains to Mount Rushmore, there's something for everyone – especially families. Depending on why you're visiting, and if this is your final destination or you're on a longer road trip of the region, you can choose to camp or stay in the budget-friendly lodging. Families will probably want to avoid the Sturgis motorcycle rally, and that will also mean reasonable pricing and lack of crowds except on other holiday weekends. For more tips on driving straight across South Dakota, check out this blog.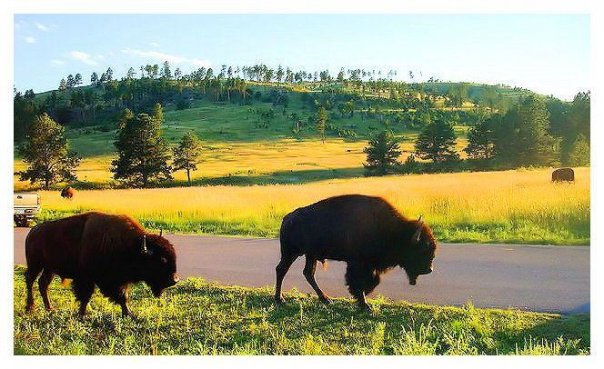 Camping in Custer State Park is plentiful and the amenities are varied. Cabins or RV sites are offered throughout the park, check reservation availability on the state park website. Rapid City is the largest city in the area and is approximately 25 miles from the park. Hot Springs is a very small town with bare bones amenities, and is approximately 50 miles south of Rapid City, with the park between the two towns. We camped at the Angostura Reservoir area south of Hot Springs and had a wonderful time. The sites are mostly large and while weekends were sold out, the rest of the week was practically empty and the water largely unused – perfect for families.
Where to Stay
Find family-friendly accommodations in Black Hills, South Dakota from traditional hotels to private vacation rentals through Stay22.com:
Road Trips: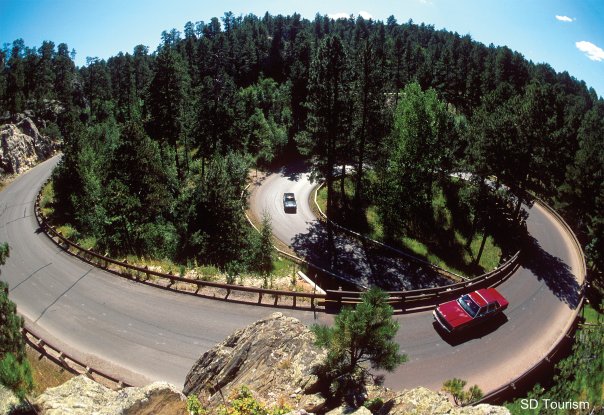 We chose to explore Custer State Park first, and then spend our remaining time at the local attractions and further reaching road trips. We explored the Peter Norbeck Scenic Byway first. Recently named one of the 10 Most Outstanding Byways in America, it is 70 miles long. The Needles Highway (SD 87), Iron Mountain Road (US 16A), Horse Thief Lake Road (SD 244), and Sylvan Lake Road (SD 89) make up the oval shaped route. This route also includes Mount Rushmore, Custer State Park, lakes, towering granite formations, and picture perfect tunnels (the tunnels literally frame Mt. Rushmore). Along the highway are tight hair-pin curves, spiral, "pigtail" bridges, and miles of wildlife viewing. Even kids will have fun on this route because of the plentiful wildlife and tunnels.
Spearfish Canyon Scenic Byway – This byway runs through the Northern Black Hills. The road twists and turns through the 19 mile gorge. Spearfish Creek lines the canyon floor while canyon waterfalls are popular roadside stops along the way. This byway is loved by hikers, bikers, motorcyclists, and more. Stop and see the waterfalls and the filming location of a portion of "Dances with Wolves."
Badlands Route 240 – Although it is not officially a scenic byway, this route leads you through some of the most dramatic rock formations in the Badlands.
Visit http://www.travelsd.com/About-SD/Request-Information or call 605-773-3301 to request a Vacation Guide. Included is a section on the "Home of the Great American Road Trip" with information about several day-long sight-seeing adventure loops. Also included is a South Dakota Highway Map and events calendar.
Custer State Park
Custer State Park is one of the nation's largest state parks with 71,000 acres.  It is famous for friendly wildlife, its bison herd, scenic drives, historic sites, visitor centers, fishing lakes, resorts, campgrounds and interpretive programs.  Take a hike on one of the many trails Custer State Park offers, all ranging in length and difficulty.  Park visitor centers provide information regarding hiking, biking, and horse trails.  The park also offers a theatre, safari, hayrides and restaurants. We also found a number of geocaches in the greater park area, so if your family enjoys geocaching, be sure to make time to take a couple of the recommended hikes to caches.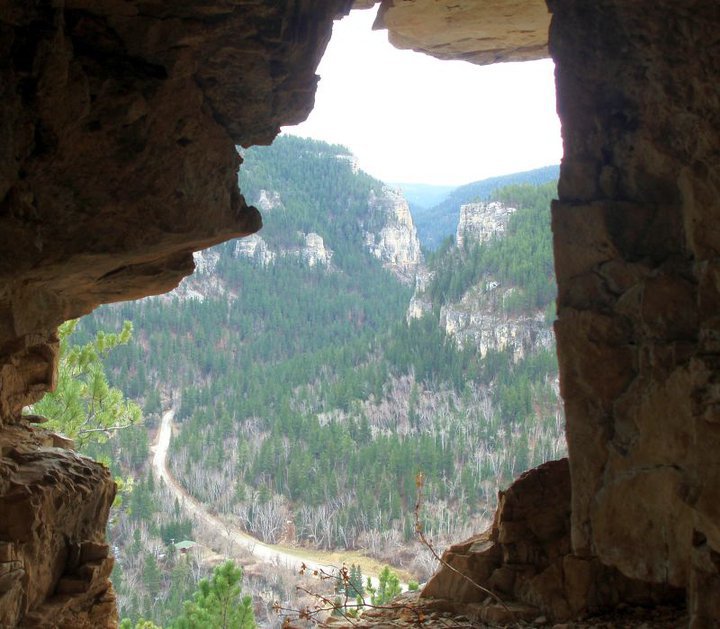 Wind Cave
Wind Cave is one of the oldest national parks and the fourth longest cave in the world.  It has the world's largest display of boxwork, a rare calcite formation resembling honeycomb, which attracts large numbers of spelunkers.  Above the cave you can explore 28,295 acres of prairie and ponderosa pine forest with an array of wildlife including bison, elk, antelope, mule, prairie dogs, etc… In the Visitor Center you can check out exhibit rooms featuring cave explorations, cave formations, cave history, park wildlife and resource management and videos with information about the park. There's also a café with a wireless hotspot if you need to check in with the outside world.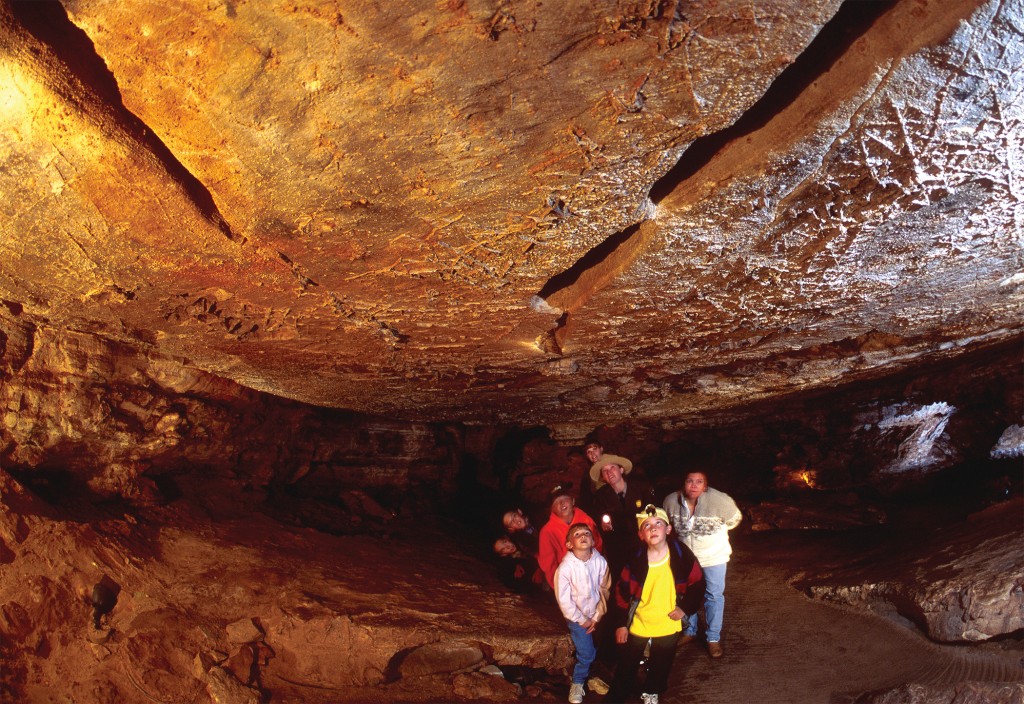 Mount Rushmore
Nearly three million visitors from all over the world come to visit Mount Rushmore National Memorial every year.  See George Washington, Thomas Jefferson, Theodore Roosevelt and Abraham Lincoln in this beautiful sculpture that took 14 years to complete.  Watch a film in the Lincoln Borglum Museum, see a number of exhibits, take a walk on the Presidential Trail, and so much more at this historic sight.  At the end of your day enjoy the evening lighting ceremony of the faces.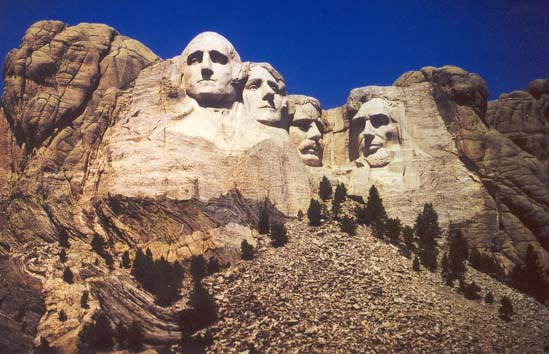 Crazy Horse Memorial
In 1948, sculptor Korczak Ziolkowski began carving Crazy Horse. He began sculpted it as a tribute to the culture, tradition and living heritage of Native Americans and the Lakota Leader, Crazy Horse.  Today, it is the world's largest mountain carving.  Ziolkowski's family continues to sculpt the mountain, and when the project is finished it will stand 641 feet long and 563 feet high.  While here you can tour Sioldowski's original log-studio home, unique Indian museums, and the Native American cultural center; the place where guest artists and artisans create their work.  There is even a nightly "Legends in Light" laser light multimedia program that runs Memorial Day weekend through Native American Day.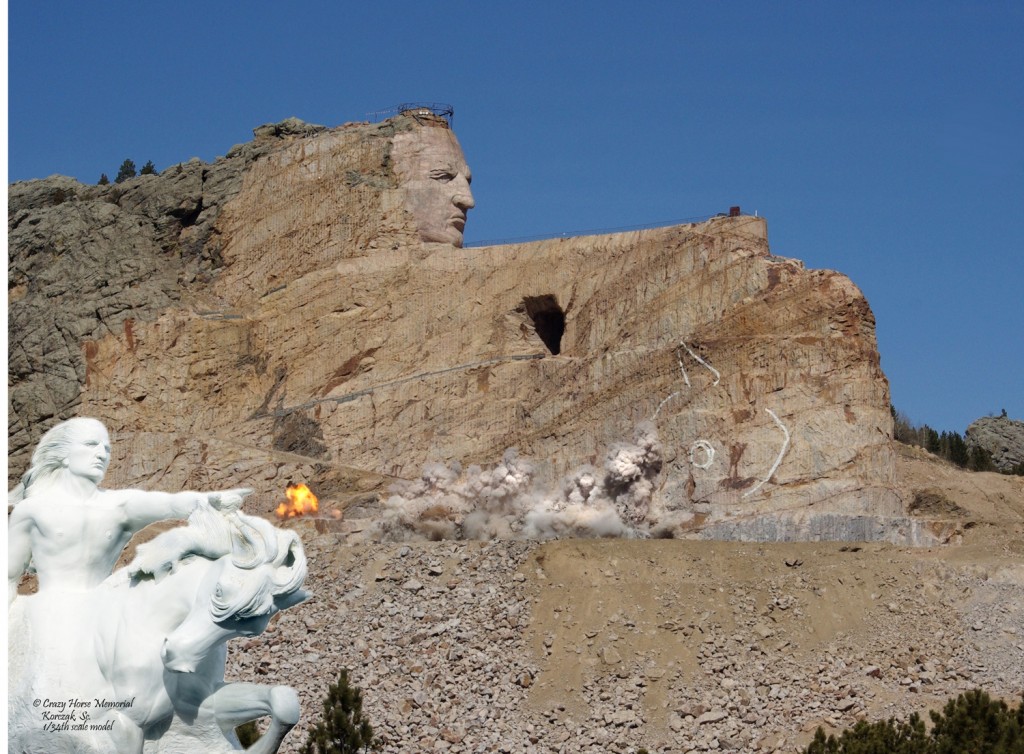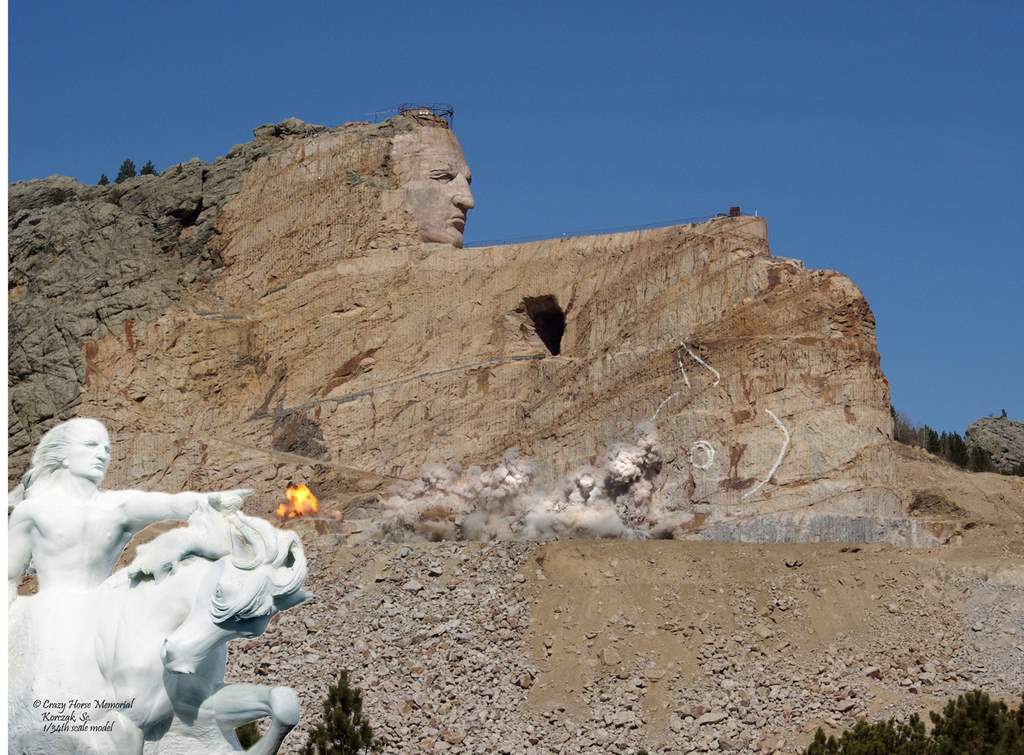 George S. Mickelson Trail
The trail was built on an abandoned railroad line. The Mickelson Trail spans 109 miles from the northern Black Hills to the southernmost point. The trails serves hikers, bikers, horseback riders, runners, and walkers with a low-grade trail through forests, granite peaks in the Deadwood Gultch, long prairie grasses, and rolling foothills. Remains of the old mines, granite tunnels, towering railroad trestles, and cold mountain creeks are all a part of the Mickelson Trail. Jump on and off throughout the trail. Local businesses rent bicycles and will pick you up at locations to bring you back to your vehicle.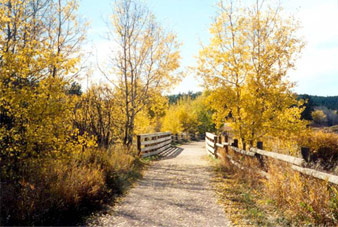 1880 Train- Hill City
The 1880 train gives you the opportunity to glide across the Black Hills in a vintage steam train; just like the ones that helped settle the West!  Take a ride on the 1880 train and see the beauty of the black hills in a new way.  The train travels through the hills from Hill City to Keystone, and then back.  It offers an educational experience to learn about steam trains and how they played a large role in developing our country. During peak travel times the wait for the train can be long, plan ahead.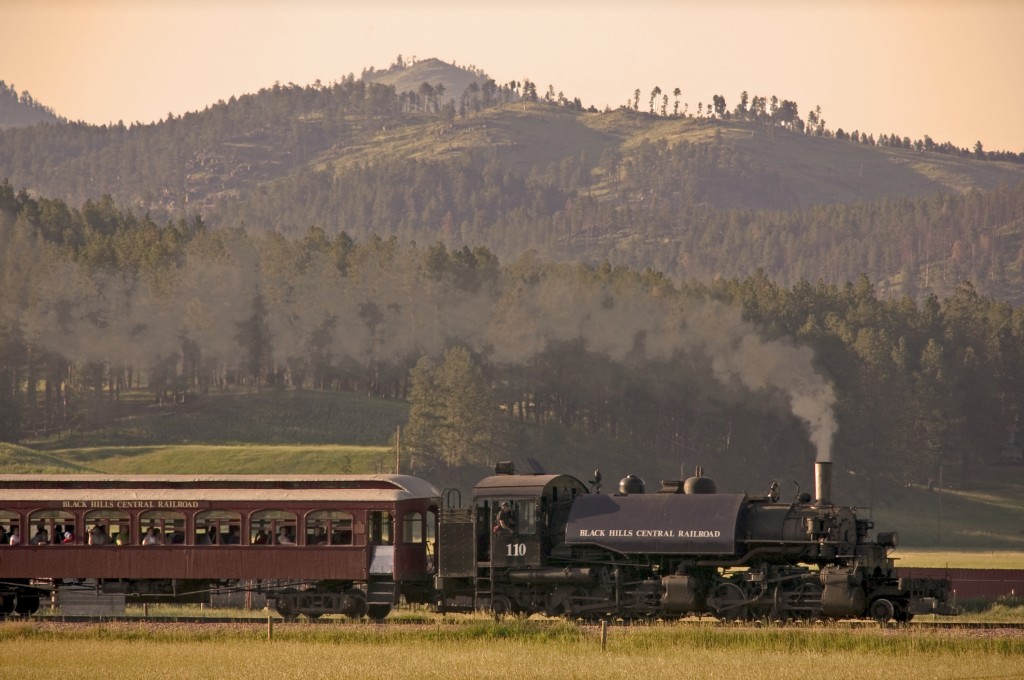 Evans Plunge — Hot Springs

Evans Plunge is the world's largest natural warm water indoor swimming pool. The spring water flows from an enormous thermal spring at the rate of 5000 gallons a minute and a balmy temperature of 87 degrees. Add outdoor swimming pool, fun tubes, water slides, Tarzan Rings, kids pools and a full-service health club and you have fun for the whole day. This was a real crowd pleaser, everyone from the adults to the teens to the little kids had a great time. It's also largely inside, so it's perfect for bad weather or hot days.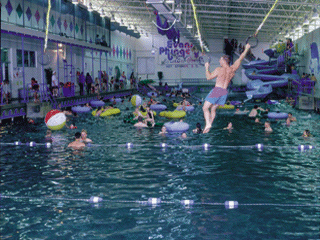 WaTiki Indoor Waterpark Resort — Rapid City
Another activity that will keep the kids busy for almost the whole day, the WaTiki Indoor WaterPark Resort is affordable and has a wide range of activities from little kids to adults. The largest indoor waterpark in the Dakotas, there is easy access from the freeway for a fun pit stop. The shower area is co-ed, so taking a complete shower is difficult. It was also very hot and humid inside so if you're just coming to "watch" bring a suit so you can take a float on the lazy river and cool off. You might even grab a ride on the slide!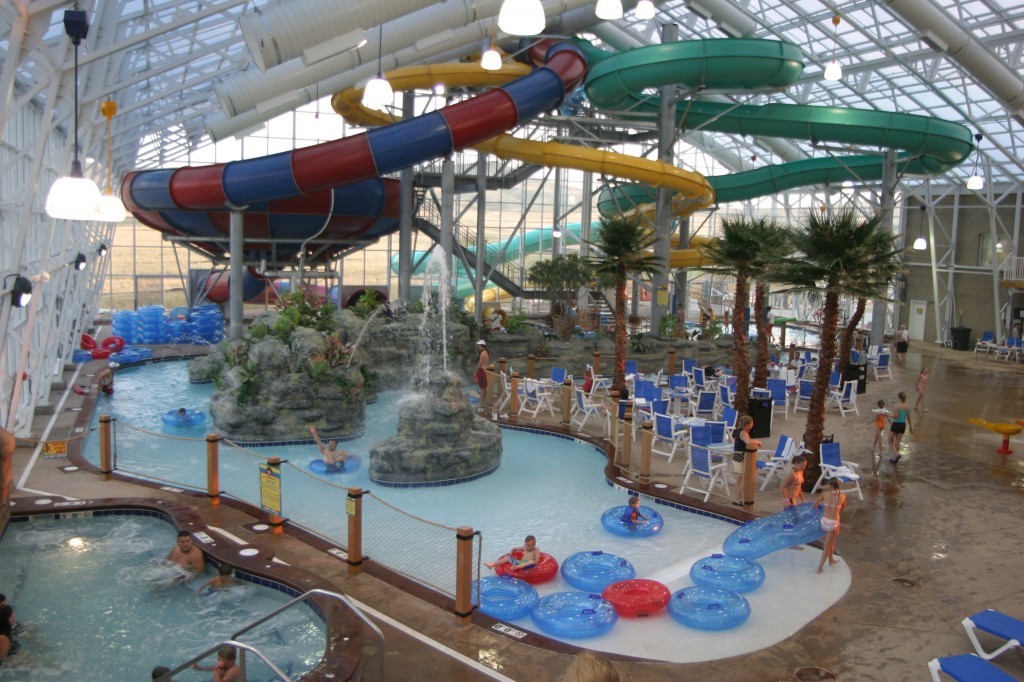 This slide has over 2,000 feet of track.  Glide down luge style and choose between faster and slower routes.  Your journey starts with a chairlift to the top where you can see a great view of Mt. Rushmore. Enjoy a meal while you are admiring Mt. Rushmore and then grab a sled and get ready for a breathtaking experience on the twisting, turning President's Slide. Or if you prefer, ride back down on the chairlift and enjoy watching the sliders and the spectacular scenery below.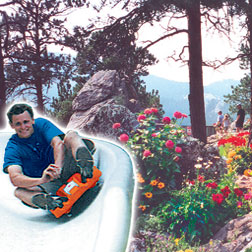 Mammoth Site- Hot Springs
The Mammoth Site is the world's largest mammoth research facility. You can tour an active paleontological dig site and view Ice Age fossils exhibited as they are found.  To date, 55 mammoths have been identified, along with the remains of a giant short-faced bear, camel, llama, prairie dog, wolf, fish, and numerous invertebrates. Visitors can take place in a scientific excavation, the ice age exhibit hall, a walk in mammoth bone hunt, a working paleontology laboratory and the junior paleontologist dig.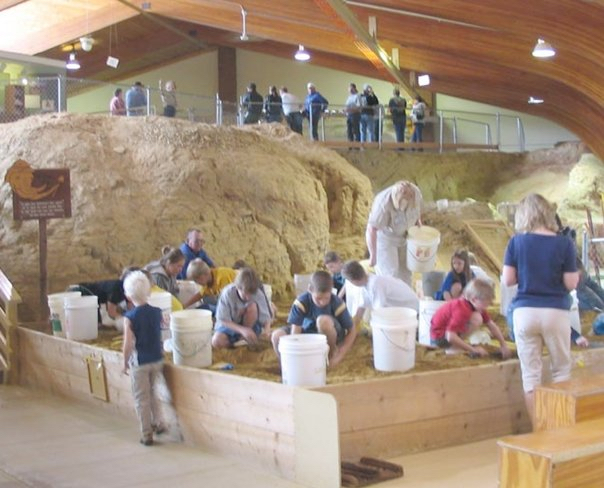 Wild Horse Sanctuary – Hot Springs
The Wild Horse Sanctuary is one of America's greatest private wilderness areas.  See hundreds of wild mustangs roaming across the prairie, and nature untouched, the same as it was 100 years ago.  There are also a variety of birds and wildlife, along with Native American ceremonial sites, weathered pioneer homesteads, a restored school house and more. This is a nice ride to combine with geocaching or take a picnic lunch. This is also recommended for older kids, they will like seeing the old school house, while small children might rather do some of the other attractions.
Black Hills Maze – Rapid City
The Black Hills Maze will be the best time you've ever had getting lost.  The maze is a life-size labyrinth of 1.2 miles of walkways, bridges and towers.  You can also enjoy Bankshot Basketball, a mix of miniature golf, billiards and basketball all in one!  Try out the batting cage, climbing wall, roller races or water balloon launch game for additional fun.
Rushmore Waterslide Park
With a variety of slides to choose from on a 17 acre park, Rushmore Waterslides is sure to be blast.  Be daring and go down the Bonzaai slide or try the flusher slide for a longer, curvier ride.  Jump on an inflatable and make your way down the river slide with some friends, or relax in the largest hot spa in South Dakota.  Hit the concessions and the mini golf course to make it a day worth remembering.
Reptile Gardens
Reptile Gardens houses more reptiles than any other zoo or park in the world and maintains a beautiful collection of tropical plants with over 50,000 flowers.  See a variety of shows including the Wings of Adventure Bird Show, Crocodilian Show and the Snake Show.  Make sure you check out their famous giant tortoises!
Bear Country USA

Bear Country USA spans 250 acres, nestled in the Black Hills, and offers intimate views of most North American animals.  It contains the largest collection of privately owned black bears in the world. Take a leisurely three-mile drive and see a variety of animals including black bear, elk, reindeer, deer, cougars, bobcats, rocky mountain goats, bighorn sheep, dall sheep and buffalo. Don't forget that after your drive there is plenty more entertainment in Babyland!  See an adorable variety of baby animals in Babyland including bears, timber wolves, arctic wolves, bobcats and mountain lions.
Storybook Island – Rapid City

Storybook Island is a free children's park created by the Rapid City Rotary Club. For its grand opening, over 10,000 people flooded the park. The park is filled with sets that portray characters form various children's stories, fables and nursery rhymes. The Storybook Island Children's Theatre is one of the largest children's theatres in a five-state region, and only costs $1 to attend. The park remains a favorite among the locals and provides a great setting for picnics and a relaxing afternoon with Rapid Creek flowing through the area.
Wall Drug Store – Wall
Wall Drug Store, the drug store known virtually all over the world and featured in major magazines, newspapers, and television shows, has something for everyone.  Wall Drug started in the 30's and offered free ice water to travelers. Today Wall Drug is known for still having the same great hospitality.  Check out the Western Art Gallery, fudge shop, or the 50 states items. Don't forget your free ice water or 5 cent cup of coffee!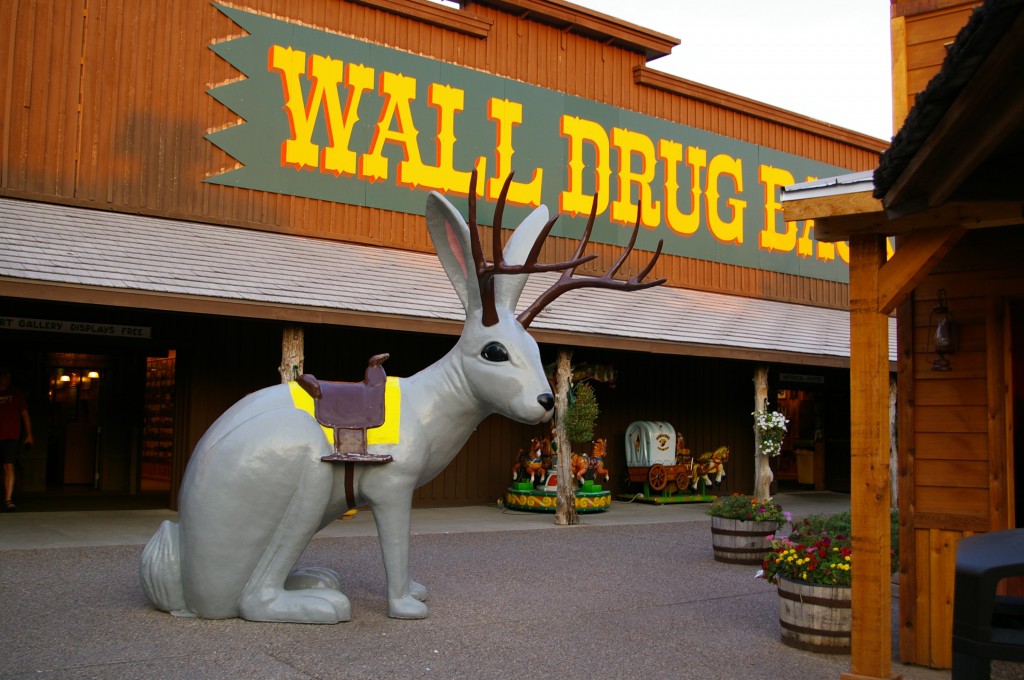 Badlands National Park – Interstate 90
The Badlands is one of the rickets Oligocence epoch fossil beds dating back 37 million years ago.  With it's moon like surface, the Lakota named it "Mako Sica", which means "Bad Land" when they first discovered it. With jagged spires, eroded buttes, and deep crevasses, the Badlands offers unique scenery you can explore on foot, horseback or by car.  There is also a variety of wildlife including buffalo, bighorn sheep, antelope and black footed ferret.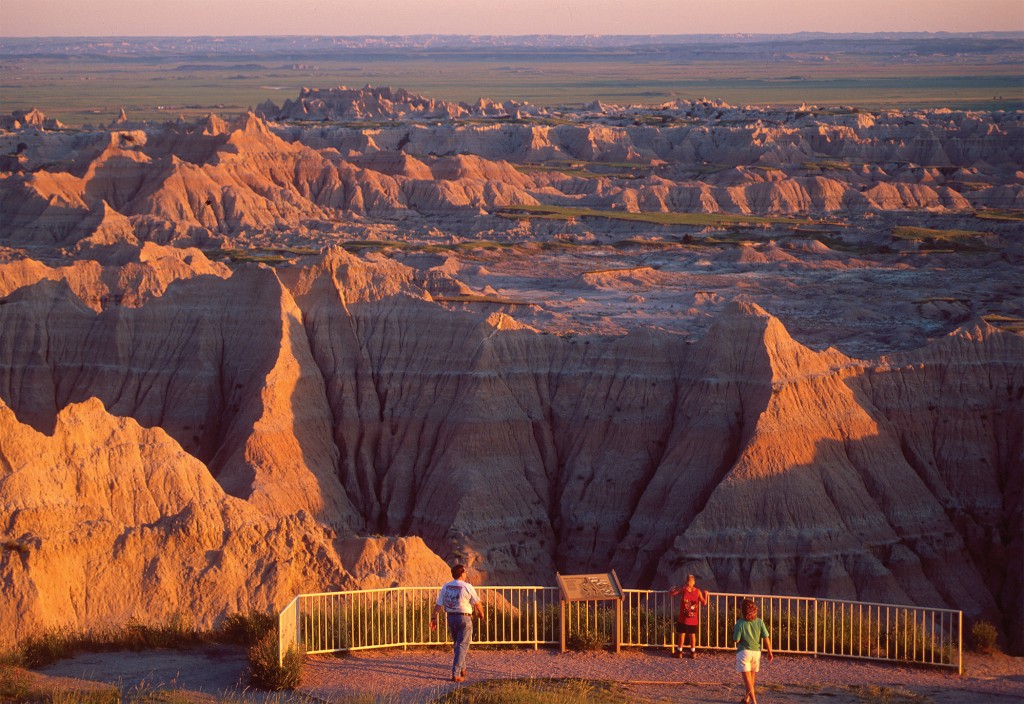 Pin this story for later! Happy trails!