It was bound to happen . . . I had to go to Las Vegas in summer. After 10 years in a row of going to Las Vegas in January for a conference, covid pushed the conference back to June. This year, I had no choice but to go. What is visiting Las Vegas in mid-June like? Well, let's just say, hellish. I did not enjoy the 105+ degree heat, which was cool compared to the 113+ that was expected just a couple of days after we left. I also was unsure of what Las Vegas would be like while the pandemic was still going on. We didn't take our kids with us, but we did discover some fun things to do (and eat!) that the kids would like next time they are there with us.
Las Vegas Covid Restrictions?
There didn't seem to be any Las Vegas covid restrictions at this time. We had no trouble flying out of our home town or into the Las Vegas airport. That part of the trip seemed totally normal—no covid test required or anything, except that we still had to wear masks in the airport and on the plane. My work put us up in the Westgate, which is a Las Vegas Strip casino I had not stayed at before. Once we got to the Westgate, the employees were wearing masks but nearly all the guests were mask-free, although there were signs everywhere saying that masks were strongly encouraged.
Staying at the Westgate in Las Vegas
Workwise, staying at the Westgate was great because I didn't have to take a shuttle or Uber to the Las Vegas Convention Center to get around like I usually do. It was just a (relatively) short walk through the casino and across a connecting walkway.
Myself and my traveling companion went a couple of days early so we could have some personal time before the work days started. We anticipated that we would be at the pool A LOT on our free days. One of the advantages of going in June is that the outdoor pools are open — during my normal Las Vegas visit in January, all the pools are closed. However, the sun was so bright and the temperature was so hot that we didn't stay at the pool for very long. There was no shade, unless you paid for the expensive cabanas, which we just weren't willing to do. We stayed long enough to get a drink — my favorite was the Dole Whip, which is like a pineapple soft serve, with the rum float, of course, but for kids or anyone who doesn't want the alcohol it's just as delicious without it.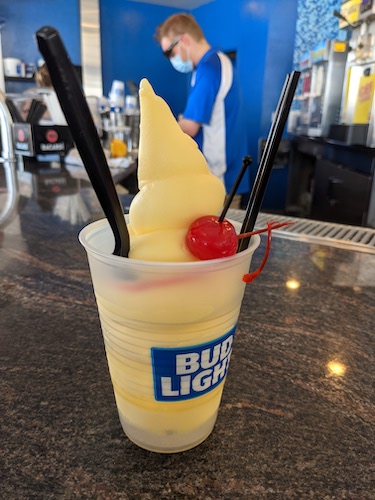 Bellagio Atrium Decorations
One of my favorite things to do is to walk through the Bellagio. I enjoy this for a few reasons . . . one is that it is a beautiful casino, another is that I enjoy visiting the Bellagio Gallery of Fine Arts (this month they are showing an exhibit of art related to boxing — think Basquiat and Warhol). Yet another reason is that the Bellagio Atrium always features the most beautiful decorations. Because I'm always there in January (have I mentioned that here, or in other articles about Las Vegas? the decorations are always related to Chinese New Year and whatever animal the new year is. But this time they were gorgeously devoted to the wonder of spring. There were flowers everywhere and the air smelled like flowers.
Eating in Las Vegas
So, I'm a Food Network fan. As soon as I get to a hotel I turn on Food Network. I happened to catch an episode of Diners, Drive-Ins and Dives that featured some spots in Las Vegas. We decided to go check out Fat Choy's, which is located in the Eureka Casino (off strip). It's an odd but endearing combination of '60s diner and Chinese food. We thoroughly enjoyed the bao (we got tofu and pork belly, and the tofu was the clear winner, surprisingly). We also got the shortrib grilled cheese, which is what we had seen Guy Fieri eating, and the pork belly BLT. Both were good.
If you go with kids, save room for dessert. We didn't order any but people seated near us did and the floats and the molten chocolate cake with ice cream looked large and delicious!
The Westgate has a Benihana and a sushi place called Rikki Tikki that looked really nice. We made some dinner reservations ahead of time (more on that next!) but we didn't have anything for Saturday night when we arrived. Luckily for is, the Fresco Italiano Italian place had an open spot. We loved it! We got the bruschetta trio and chicken alfredo and pasta with a pistachio pesto. Delicious! We would definitely go back there again.
The two spots we had reservations for were the Voodoo Steakhouse at the top of the Rio casino, and Marrakech. We made reservations at Voodoo months in advance, knowing that we wanted a spot with sunset views. Being on the 50th floor of the Rio with an expansive deck and large windows, we knew that would be a good place to go (take the glass elevator up to the 50th floor for an extra fun ride!). The steaks were delicious, but the most fun was the Witch Doctor cocktail and the amazing views from the patio.
The Witch Doctor is big enough for two, and is fruity and sweet. It sets you back $45, but hey, it has a light-up color-changing ice cube and it has dry ice so it smokes!
Marrakech I just stumbled on while searching on Open Table for restaurants to make reservations at. I would recommend this for anybody, especially those traveling to Las Vegas with kids. It's not far from the strip, and you can get their famous six-course feast, which includes shrimp scampi, lentil soup, hummus and baba ghanouj sampler, kabobs (stuck inside a real pineapple!), a chicken and couscous platter, and b'stilla dessert for only $50 per person. It was so much food we had leftovers. The service was quick and pleasant, and we really enjoyed the hourly belly dancing show.
What's Changed in Las Vegas Due to the Pandemic
We were there in June, nearly towards the end of the pandemic. In years past, I've been able to count on a 5-minute or so wait for an Uber car just about anywhere in Las Vegas. But this time, it was a 15-20 minute wait on the average. I asked drivers and they all said there was a shortage of drivers who never returned to work during the pandemic.
Another thing is that buffets in Las Vegas have not returned to their pre-pandemic levels, and to be honest, they may not.
The Tesla Tunnel – Convention Center Loop
If you happen to have a reason to be at the Las Vegas Convention Center, make sure to take a ride on Elon Musk's Tesla tunnel. In December, the Las Vegas Convention Center completed a huge expansion that added the West Hall to the already-huge campus. This new meeting space connects to the existing convention center via the Convention Center Loop, a $52.5-million underground tunnel system designed and built by The Boring Co., one of the many business entities owned by billionaire Elon Musk.
The tunnel allows walk-up pedestrians with no ticket or reservation required to jump into a waiting Tesla, and the driver will whisk convention attendees from one facility to the other in two one-way tunnels 40 feet beneath the ground. The city has approved plans to expand the Loop around the convention center and (better yet!) connect the convention center with Strip resorts and the airport, although no timeline has been announced for that yet.