I traveled to Melbourne, Australia with my fourteen-year-old daughter this past August. Winter in the Southern Hemisphere, we enjoyed a respite from what is otherwise the hottest and driest time of year in the Pacific Northwest. Beyond exploring the city (look for our family-friendly recommendations in an upcoming post) we ventured out to the Healesville Sanctuary, one of three zoos in greater Victoria.
Located in the town of Healesville approximately a one hour drive northeast of downtown Melbourne, the Healesville Sanctuary is very different than what you would expect from a zoo in the U.S. With more open-range, barrier-free, exhibits and a terrain built into the native bushland environment, you'll feel more like you're on a nature hike than moving from enclosure-to-enclosure or visiting distinct "zones."
Housing species of mammals, reptiles, and birds native to Australia expect to see koalas, platypus, Tasmanian devils, echidnas, wombats, wallabies, dingoes, and kangaroos. I paid an extra $20 for the kangaroo close-up encounter for my daughter (book ahead online as these spots fill up ahead of time).
Worth scheduling into your day is any of the keeper talks included in the price of admission. We greatly enjoyed the Spirits of the Sky show, which was both interactive and educational. Another highlight of our visit was feeding different types of birds in an enclosed aviary.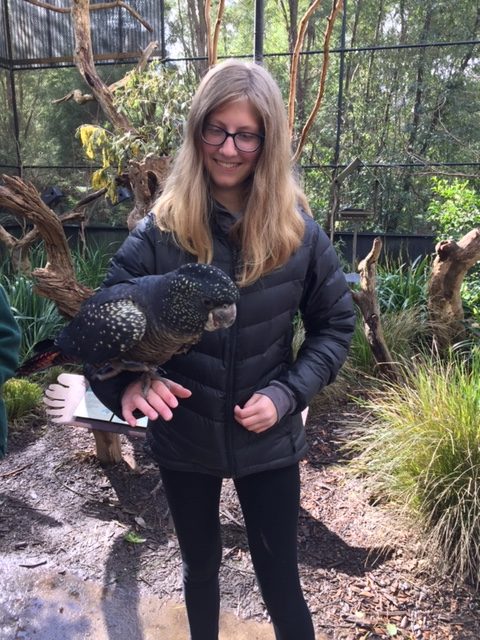 We also loved seeing platypus (Healesville Sanctuary is one of two locations in Australia with a successful platypus breeding program) and hearing the distinct growling noises made by the Tasmanian devil (take a listen in this video; I've never heard anything like it).
Visiting the sanctuary in the "off-season" we enjoyed fewer crowds. The weather was a bit cold and rainy (and it hailed for a bit) but we warmed up and enjoyed a lovely meal of soup and hot coffee in the cafe. Families with younger children will enjoy the playground spaces and interactive semi-enclosed exhibits. Plan to spend at least half a day or more at this fantastic destination.
Happy trails!