Time seems to pass slower when you're in Taos, New Mexico, and it's not just your imagination. Locals run on what is known as "Taos Time," meaning that no one's ever in a hurry. Open skies and sweeping vistas accompany the slow pace of Taos.
The sleepy little town, a two-hour scenic drive from Santa Fe, is the hub of Taos County, population 32,795. Taos has plenty to offer a road-tripping family, including breathtaking scenery, an interactive toy store, and seasonal festivals in the town square. Here are five places you won't want to miss while visiting Northern New Mexico.
Twirl Toy Store
Located just off the historic Taos Plaza, Twirl is much more than a toy store. It's also home to a free community playground and playroom, featuring a kid-size pirate ship and bounce house. Kids of all ages can get creative in Twirl's upstairs crafting room, which is stocked with paints, glitter, construction paper, and numerous other art supplies. At Twirl, your kids can let their imagination run wild while you sit back and relax.
Rio Grande Gorge Bridge
A rest area seems an unlikely site for hiking and checking out awesome panoramic views, but
this Taos County rest area delivers. From downtown Taos, head north on Paseo del Pueblo (the town's main drag) and turn left on Highway 64. Less than 10 minutes later, you'll reach the Rio Grande Gorge Bridge and its attached rest area.
Built in 1965, the massive structure spans 1,280 feet and is the fifth highest bridge in the U.S. There is a hiking trail next to the rest area, and several viewing platforms on the bridge itself. Local vendors flank both sides of the "Gorge Bridge," as it's known in Taos County. Those vendors sell locally made items, including dried chiles, a staple item in New Mexico. Generally, chile peppers are dried in the sun and either ground into a fine powder to be used as a spice, or made into a ristra, which is a decorative arrangement of dried chile pepper pods. Ristras and dried chiles make for a great souvenir from your family' Taos County road trip.
Taos Ski Valley
Taos is nestled in the shadow of the Sangre de Cristos, home to a world-class ski resort. Taos Ski Valley opened in 1955, introduced snowboarding in 2008, and is still run by its founding family, the Blakes. Boasting more than 1,200 skiable acres, TSV is also home to the highest triple chairlift in North America. The Kachina lift has a peak elevation of 12,481 feet. If you're visiting during the warmer months, the Village of Taos Ski Valley still has plenty to offer the road-tripping family. Mountain biking, hiking, and horseback riding are just some of the activities offered in the Village of TSV.
Taos Pueblo
The Taos Indians have lived in the region for more than 1,000 years. Visitors of all ages can tour the historic Taos Pueblo, located at the base of Taos Mountain. Children under 10 are admitted free, and the Pueblo is open to visitors seven days a week. A Pueblo tour allows
families to learn how adobe structures were built as well as experience the culture of native Taoseños. Several annual events are held at Taos Pueblo, including San Geronimo Day, held at the end of September, and Santa Cruz Feast Day in early May.
Where to Stay
Find family-friendly accommodations in Taos, New Mexico, from traditional hotels to private Air B&B homes through Stay22.com:
Red River Fish Hatchery
Open year-round, the Red River Fish Hatchery provides a unique opportunity for families to learn about local wildlife. Located about 20 miles north of Taos on the Enchanted Circle scenic byway, the hatchery produces about 1.7 million rainbow trout annually, used for stocking rivers across the state.
Families can tour the facility, which is the largest of its kind in New Mexico, and watch the process from egg to hatchling to adult fish first-hand. For interactive fun, kids under 12 can catch their very own trout in the hatchery pond.
Live as Taoseños Do
One of the biggest mistakes people make when traveling with young kids is sticking to a planned itinerary. In Taos, spontaneity is part of life. Use these five suggestions as a guide, but some of the best spots in Taos County are the ones you discover on your own.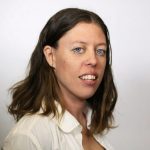 Leah D. Nelson writes about music, sustainability, and traveling. She loves thrift shops, dogs, live music, and riding her bike. After spending several memorable years immersed in the New Orleans music scene, she is now comfortably settled in Boise, Idaho.