I've been wanting to visit an ancient Pueblo village since I first saw a photo of a wooden ladder leaning into the entrance of a cave dwelling in one of my middle school social studies text books. I wondered what it would be like to sit inside the side of a cliff overlooking a vast expanse of juniper and sage brush and imagine women stone grinding corn for flatbread, men plucking feathers from the breasts of freshly-killed turkey, and with children splashing wildly in a nearby creek.
Presented with the opportunity to spend a long weekend in Santa Fe, New Mexico, Bandelier National Monument was (as you can imagine) high on my list of places to visit.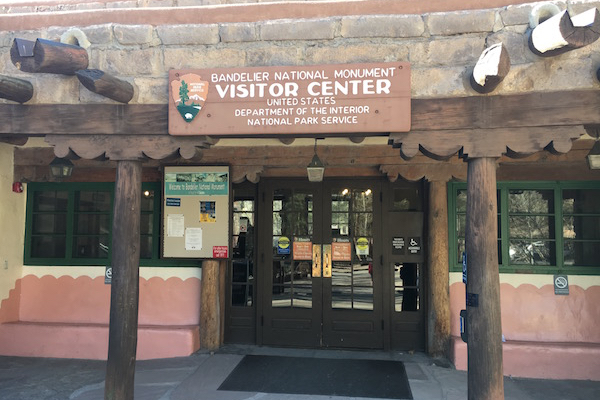 Start at the Visitor Center. Time permitting, watch the fourteen-minute movie "This Place Knows Us" and loop through the exhibit floor (this pre-emptive tour will give you an idea of the culture, traditions, and lifestyle of the Pueblo people then and today). Purchase the Main Loop Trail Guide for a dollar or borrow a used copy from a park ranger.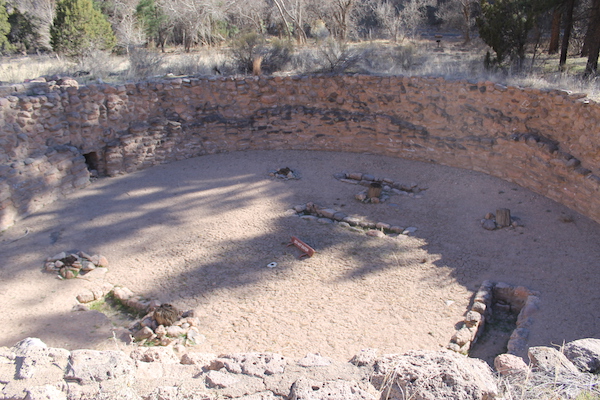 As you walk along the one and a quarter mile trail leading out to the cliff dwellings, follow twenty-one designated points of interest. Leave at least an hour to make this trip and bring plenty of water with you (you'll find drinking fountains just outside the exterior restrooms at the visitor center). Above, this photo shows an underground structure called a kiva. Kivas were centers of community, education, and religious activity (this kiva would have once been covered by a wood and earth roof with a ladder leading down to the lower level).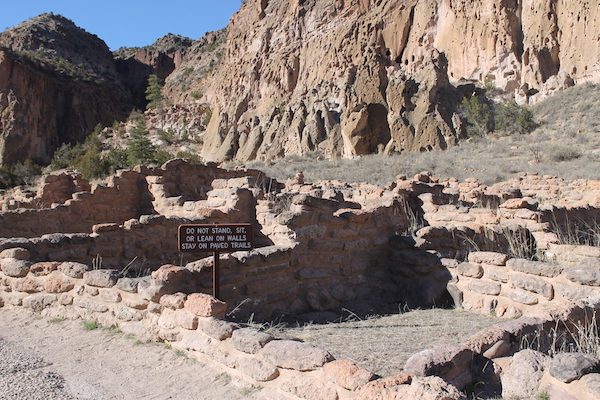 This photo shows the remains of an ancient village  known as Tyuonyi Pueblo. Residents either lived in the village or in cavates carved into the walls of malleable volcanic tuff. These cavates once had stone rooms; if you look carefully at this photo you can see stone walls and smaller holes in the tuff which would have supported wooden roof beams.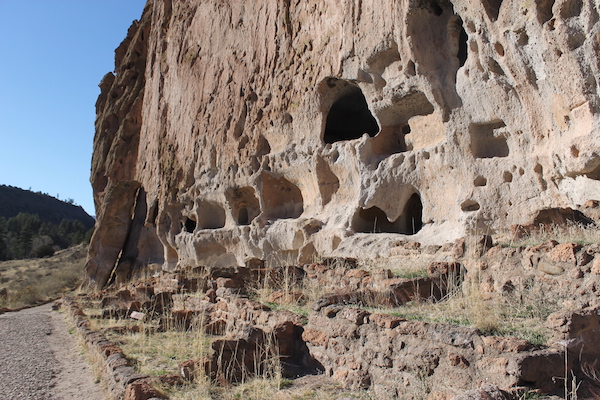 My favorite part of the experience began at the bend in the trail leading up to the cave dwellings. The trail narrows here and requires visitors to go up and down staircases. If you have a stroller or limited mobility, it looks like there's a branch in the trail between points ten and seventeen.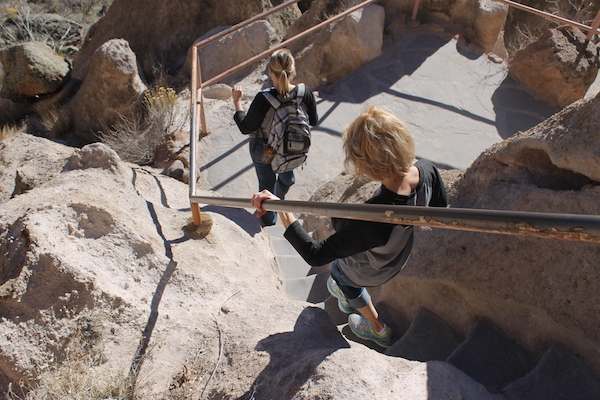 Several of the cavates are designated as okay to explore. Apparently climbing up and down the ladder (back facing out) is easier than exiting face first. Here's a view of a multi-room cavate, which didn't feel as claustrophobic as an efficiency apartment, so to speak.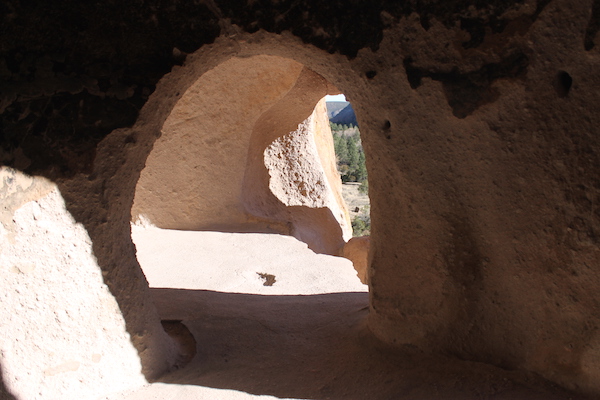 We also noticed several recognizable and unrecognizable petroglyphs carved into the side of the rock; many turkeys and deer and people of varying rectangular shapes. A section of the wall is preserved with protective plexiglass to mark a pictograph which would have been the back wall of a second-story dwelling.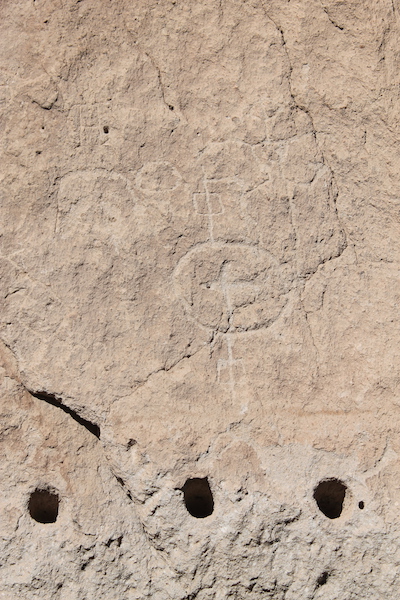 Unfortunately, completely missed the opportunity turn right and visit Alcove House (a one-mile round trip detour/addition to the overall main trail loop). Visiting this ceremonial cave would have involved four long wooden ladders and steep stairs and the photos look amazing. While I'm bummed we dropped the ball on climbing into this expansive alcove-shaped community dwelling located 140-feet above the Frijoles Canyon floor, we did absolutely love hiking the Tsankawi Village Trail as we made our way back to Santa Fe.
If you are road tripping and roughing it, note the campground entrance turnoff just beyond the main entrance to the park.
Happy Trails!