Are you planning a spring break family trip to Florida? After baking in the sun on a beach in Daytona or Clearwater, turn inland, then drive a couple of hours north for a family road trip to Gainesville – home to the University of Florida, butterflies and alligators.
Butterflies At Your Fingertips

A visit to Great House Butterfly Farm in Earlton (update: we believe this attraction may now be closed), just a few miles down the road from Gainesville, will convince you that there's something magical about butterflies. After all, they start out as fuzzy caterpillars, live in a crusty chrysalis, before emerging, cloaked in intricate designs, to float gracefully through the sky.
Great House is a working farm specializing in raising butterflies native to Florida. The tour begins with an entertaining indoor presentation on "Butterflies 101," where a guide uses props to explain a butterfly's anatomy. Beware. Someone in the group is going to end up looking like a butterfly. Did you know that a butterfly's proboscis works like a child's party favor, only backwards?
The tour continues with a walk through the garden to learn which plants attract caterpillars and which ones are for grown-up butterflies. Throw away that weed killer when you return home because butterflies need weeds to survive.
But you'll have the most fun at the butterfly barn. Sponge paintbrushes and containers of Gatorade solution (invented at the University of Florida) are available as you walk through the door. Dip your paintbrush into the solution then hold it still to watch the butterflies land to feed. A giggle or, at least a smile, is guaranteed.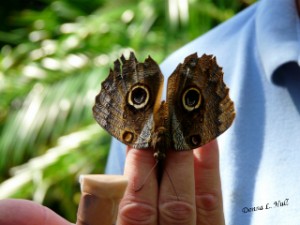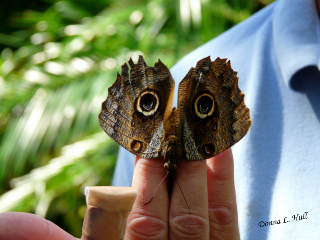 Continuing on the butterfly theme, drive to the Florida Museum of Natural History, located on the University of Florida campus in Gainesville. Observe scientists as they work at the McGuire Center for Lepidoptera and Biodiversity on a butterfly collection that spans three floors.
A walk through the Butterfly Rainforest (or Vivarium in scientist speak) provides another interactive butterfly opportunity. The screened enclosure houses hundreds of butterflies flitting around the tropical landscaping. When you stop to rest on a bench by the man-made waterfall, a butterfly just might land on your shoulder.
While visiting the Florida Museum of Natural History, stop by other exhibits for a look at Florida fossils, the living creatures of a northwest Florida waterway or displays of Native American life in South Florida.
At Paynes Prairie Preserve State Park, 22,000-acres of prairie wilderness stretches from Gainesville to Micanopy. On this road trip, walk the La Chua Trail, (3 miles round-trip) located at the North Rim of the preserve, on the outskirts of Gainesville. Look for alligators as they sun themselves on the muddy banks of Alachua Sink. An observation tower is located at the end of the trail. What do you see? Is that a herd of bison resting under the trees? A word of caution – alligators are king here so keep a close eye out on small children. The park's main entrance is located ten miles south at Micanopy, were a visitor's center introduces guests to the history, geology and biology of the preserve. Climb up the 50-foot-high observation tower to see if you can catch a glimpse of the wild horses that roam the prairie.
If you go:
Families will find a variety of budget and mid-range lodging in the Gainesville area, including Country Inn & Suites By Carlson Gainesville, Gainesville, Florida, United States and Holiday Inn Express at Exit #384 on I-75. Gainesville boasts a number of restaurants focused on sustainable agriculture. A dinner at Mildred's Big City Food, where Chef Bret Gill makes the most of locally produced vegetables and meats, is worth the splurge.
Tucson-based writer, Donna L. Hull, specializes in writing travel and human interest content for online and print publications. Her popular blog, My Itchy Travel Feet, explores the world of active travel for baby boomers.