Meet Dominique King, the voice behind the Midwest Guest, the travel blog about mostly Midwestern meanderings. But in the world of Geocaching, she's better known as Grover Z.
With nine years as a journalist in Oakland County, Michigan, Dominique's feature stories on business and regional travel topics have appeared in Hour Detroit Magazine, Entrepreneur's Start Ups, The Daily (Royal Oak, MI) Tribune, The Long Trip Home and The Urbane Life.
She also likes geocaching! A fan of travel bugs, cemetery caches, and unique finds, Dominique answered a few questions about her geocaching experiences for Road Trips for Families. Consider Grover Z our first Thanks for the Conversation (TFTC) interview…
As you travel, what is your goal for geocaching?
I love interesting stories and learning about the history of places we visit. I suspect that is why we particularly like geocaches placed near cemeteries and historical markers. We also try to find at least a couple of caches when we visit a state where we haven't previously cached.
How many travel bugs do you have out there in the world? Do they each have unique missions?
I released a set of five travel bugs (individual plastic keys from a baby key chain toy), dropping them in different states as I traveled a couple of years ago and giving them no specific mission.
I dropped one of those keys in South Dakota in September of 2007, and it last checked in from the UK on November 22, 2010. It's traveled 22,609 miles with stops in Wisconsin, Washington State, British Columbia and Ontario in Canada, Hong Kong, the Netherlands, Greece, and the United Kingdom. It landed in London in August of this year, traveling around England (with a quick detour to Scotland) since then. Watching the travels of this bug makes up a bit for bugs that went missing.
I dropped another travel bug (a small metal trumpet) in Rhode Island in September of 2008 with the goal of visiting music venues and concerts. This one stopped in Texas for a marching band contest, a high school football game, and a flash mob event before following me back to Michigan. It also stopped in Mississippi and Ohio, logging stops at a .38 Special concert and a visit with a trumpeter and his full-size trumpet.
Do you participate in any caching events?
We've gone to a few local meet ups and a caching picnic where I won one of the 15-minute head starts to look for caches newly placed for the event (we logged our first first-to-find cache here).
Do you have a favorite story or two to share about cemetery caches?
One of my favorite cemetery caches is here in the Detroit area. It is a memorial for veterans of the legendary African-American Buffalo Soldiers who served during Spanish-American War during the late 1800s.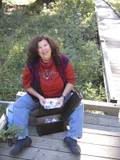 What is your favorite geocaching memory to date?
I love caches with clever or unusual "containers".
We searched for a two-stage cache hidden in small-town park in northern Michigan where the first stage was a puzzle using information on a historical marker to learn the true cache coordinates. The coordinates led us to a tall, straight tree in the middle of the lawn that wasn't near anything else. I looked, and looked…until…I saw something that didn't quite look right. The cache was a micro hidden on the underside of a piece of tree bark (about 3/4 by 1-1/2 inches in size) tacked back on the tree with a small hook!
We found another cool cache container in the far southeast corner of Michigan on a sign in a park and away from any obvious hiding places. I saw a light bulb in the middle of the back of sign, but there were no cords, wires, switches, or reason to light the back of this sign. A closer look revealed that the cache was a small roll of paper placed inside of the glass bulb. You had to unscrew the bulb and remove the paper in order to sign the log and record the find!