When my daughter was ten, I decided to get ahead of the tween years and begin a new tradition. At the end of each summer, my daughter and I would go on a small-scale, overnight girls' trip to a new place within a couple hours' drive. The first destination we chose was Asheville, North Carolina.
I had been to Asheville on several occasions, even taking my daughter to Biltmore House, but she was too young to remember. So we went into the trip as newbies, and man, did we find a gem of a family destination that can be explored on a dime.
Lodging in a perfect location
You can really break the bank when choosing accommodations in Asheville. But you don't have to do that to get a friendly atmosphere, a good night's rest, and some perks. We stayed at Best Western Asheville-Tunnel Road. It's an older establishment that is beautifully updated and maintained by the proprietors. And imagine my daughter's excitement when we walked into our room to find complimentary bottled water and mints on the pillows! The hotel also has an outdoor pool. We felt completely safe and perfectly located–just minutes from downtown or Biltmore, but tucked away in a quiet area of town. We couldn't have been more pleased!
Exploring a downtown bookstore
On the day of our arrival, we drove downtown to explore. Now, there are a few things my daughter and I love: bookstores, antiques, and roadside attractions. Asheville has it all. The grand treasure of our bookstore tour was Battery Park Book Exchange. I can't imagine a more charming bookstore. Bring in your dog, purchase a glass a champagne, and wander around the maze of books. You're likely to stumble upon a comfy armchair or a table and chairs fashioned from a vintage canopy bed frame. I sat in front of the glass cased specialty books for a solid half hour, poring over signed copies by Tennessee Williams and Eudora Welty. A reader's paradise!
Biltmore Antiques District
We later strolled the Biltmore Antiques District, including Antique Tobacco Barn, where I fawned over old desks and library card catalogues while my daughter chose a new Beanie Baby and books. Repurposed wood, vintage vinyls, and all kinds of knicknacks are up for grabs in this warehouse.
Perhaps our favorite time in Asheville was spent strolling the downtown sidewalks, peering into stores and shops filled with clothes, toys, and art. Everywhere we went, people were kind to us and welcomed us warmly, even if we had no intention of purchasing anything. We found a giant flat iron next to which we took a photograph, and we watched people loll about the green spaces, throwing frisbees to dogs.
The food of Asheville
But no girls' trip would be complete without food. Besides our ritual indulgence in gas station snacks as we curl up in our hotel room watching HGTV, we do try to branch out and explore new restaurants and foods. We had amazing fries with our hamburgers at Burgerworx. Here's a tip: the small order of fries will feed an army. Even I could not eat the entire bag!
Later, we had dinner at Moe's Original BBQ near Biltmore Village. We parked at the village and walked to Moe's–I love trying BBQ wherever I go–and it was a treat!  I had the pulled pork sandwich with the two best sides a girl could ask for: corn bread and banana pudding. My daughter opted for mac and cheese, baked beans, and banana pudding. The BBQ sauce was perfectly sweet and tangy, and that cornbread—YUM. And since banana pudding counts as a vegetable in the South, we ended our day at Well Bred Bakery at Biltmore Village. We couldn't decide from amongst all of the fine sweets, and so when we finally selected a coconut macaroon and a chocolate chip cookie, the kind woman at the counter threw in a meringue on the house.
If you're interested in a truly Southern mother-daughter event, drive just south of Asheville to A Southern Cup Fine Teas in Hendersonville, North Carolina. For a low price you can walk in an enjoy a cream tea or call ahead for afternoon tea. This little shop is located in a cottage near downtown, and is run by a warm, welcoming proprietor. Each guest receives a pot of individualized tea (I enjoyed a sweet strawberry tea) and scones. Desserts are made by the local bakery Gateau. A great way to spend a couple of hours together.
We had girls weekend on a dime, and we loved every minute of it.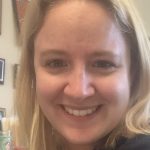 Megan Prewitt Koon is a freelance writer, novelist, and high school English teacher in Greenville, South Carolina. In addition to traveling with her husband and two children, she enjoys reading, hiking, and exploring new food scenes. You can read more of her work at meganprewittkoon.blogspot.com or on Instagram @meganprewittkoon.