In my previous article, I shared the thrills of seeing Cañon City's biggest draw, the Royal Gorge, by Jeep tour, whitewater rafting, and train. But there's plenty more to discover in this Old West city. 
Winery and Tasting 
After our jeep trip, we emerged thirsty and dusty, and more than ready for our jeep tour add-on to the Winery at Holy Cross Abbey. The Abbey, on the National Registry of Historic Places, is around 120 years old and was originally built as a summer place for the Pope, although he never actually visited.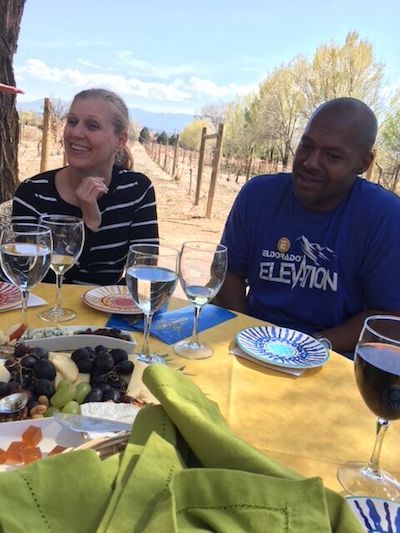 The winery produces nothing but medal- and award-winning wines and is from a region that geographically compares to California's Napa Valley. We opted to buy a bottle of Wild Cañon Harvest which is made from 30 different types of grapes from more than 100 different local growers.  
Where to Stay
Find family-friendly accommodations in Colorado from traditional hotels to private vacation rentals through Stay22.com:
The winery tasting experiences don't have to be for adults only, or even humans only, as the winery is dog-friendly. Kids are offered grape juice or soda and treats.  
Pizza Madness
We enjoyed dinner at Pizza Madness located on Main Street. This is a fun family spot with some of the best pizza in all of Colorado. The restaurant was bustling with locals as well as newbies like us, and we couldn't stop staring at all the funky sculptures, murals, and art of things like giant insects, pop culture figures, and pizza-infused scenes, then popping some quarters into the old-school video games.  
We were absolutely mesmerized by Friday night's regular entertainment, Marty Wayne, a magician who will leave you speechless, yet giggling. Owner Beth Katchmar is almost always zipping back and forth, serving drinks, helping in the kitchen, and chatting with guests. 
Dinosaur Experience
We couldn't wait to check out the Dinosaur Experience! This is a new museum with an emphasis on interactivity. We tried out the ropes course which is set outside near the Dinosaur Trail and were amused at the tiny rope course for little folks. Yes, our height-fearing family, emboldened from our earlier adventures on the Jeep tour, gave the rope course a try!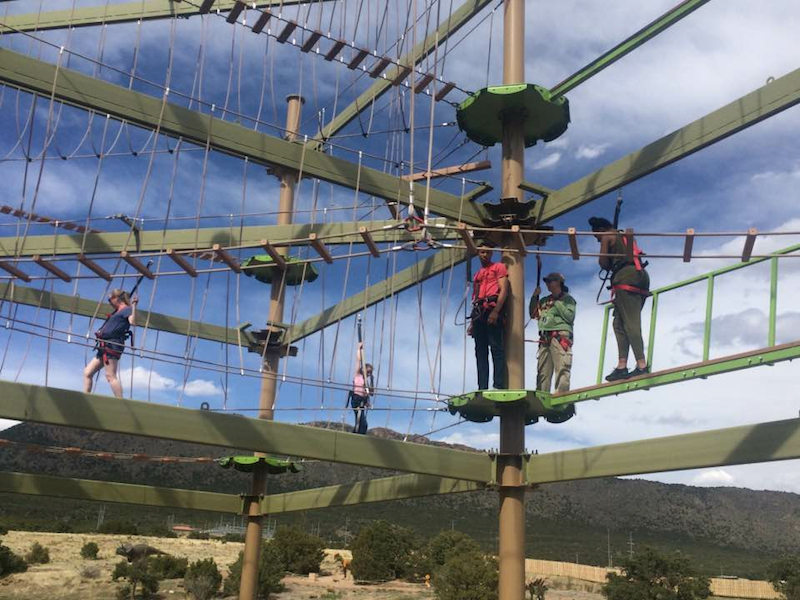 Then we enjoyed a golf-cart tour of the Trail, complete with audio-animatronics. The beasts are quite cool, and will thrill the younger set. But for the older ones, the guided tour to learn fascinating facts will be more on target.  
We went through the actual museum with our paleontologist student guide who regaled us with stories of the dinosaurs in the collection, where and how they were found, (most not far away) and an incredible array of facts. Our nerdy group peppered her with questions, and she never failed to know the answers. The individual attention and in-depth knowledge made this tour a big plus on our trip.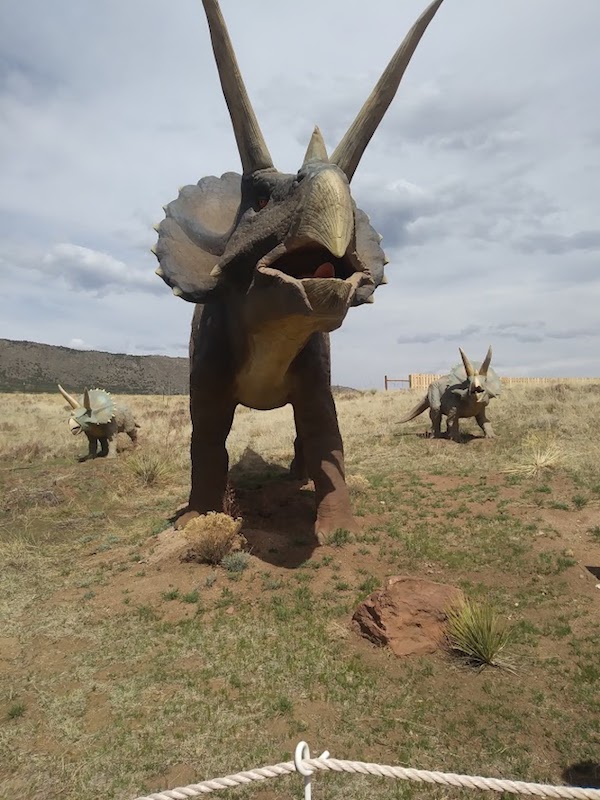 We all managed to snag souvenirs from the well-stocked gift shop. Rob brought home a fish fossil and trilobite, while others got t-shirts or necklaces. But we all made plans to shop the website later! 
Other Attractions
After that we wanted to do so much more, the Prison Museum, the shops on the Main Street, and gem and mineral stores, the Mansion…but it was Sunday and late afternoon, and everything was closed. Which means we have an excuse to return and do everything we missed and repeat all the stuff we loved.   
Lodging: We stayed at the Quality Inn and found it to be perfectly located for our adventures. We enjoyed free breakfast, the pool, and hot tub, as well as the quirky history. Over the years, this hotel has hosted many celebrities filming movies, like John Wayne, Jane Fonda, John Belushi and Goldie Hawn. Names remain on room doors in case you want to check them out. 3075 E. US 50, Cañon City, CO 81212 (719) 275-8676 
Pizza Madness: 509 Main St., Cañon City, CO 81212 http://www.mypizzamadness.com/ (719) 276-3088 
Chicago Bob's BBQ: 523 Main St., Cañon City, CO 81212 (719) 275-4226 
Royal Gorge Dinosaur Experience: 44895 W. US 50, Cañon City, CO 81212 https://dinoxp.com/ (719) 275-2726 
The Winery at Holy Cross Abbey: 3011 E. Hwy. 50, Cañon City, CO 81212 www.AbbeyWinery.com (719)276-5191 
*If planning a trip to the area, check out the app RoyalGorge.Info. It has everything in one place, including river water levels and weather updates. 
About the Author
Katrina Wharton has a MA in writing and has been a freelance journalist since high school. In addition to travel, she is passionate about social justice, history, and literature. She and her husband Rob enjoy adventuring with their seven children, two stepchildren, and grandchildren.
"I grew up spoiled by beauty, born in southeastern Ohio's rolling hills, living next door to Cantwell
Cliffs State Park. My parents loved road trips and I caught the bug from them. When my oldest
children were little, we camped at Disney's Fort Wilderness every year, and loads of other
places. Today, I'm remarried with just one kid left in the nest. We love traveling as often as
possible, especially on road trips. We enjoy nature, historical sites and (mild!) adventures. When
not on-the-go, I enjoy poetry, documentaries and watching NBA games."