Cañon City (pronounced 'canyon') is more than the Royal Gorge, but if that was the only attraction in the area, it would still be worth the trip for that alone. Once nicknamed "The Grand Canyon of the Arkansas," for the river it dwarfs, the cañon is more accurately called a gorge.  
The Royal Gorge is best explored in as many ways as you can. Our family was lucky enough to view it from a train, whitewater raft, and a jeep. And we loved them all equally. 
Note-this is part one of two articles. Stay tuned for the next one to publish in a couple days.
Jeep Tour
Our fascinating 3-hour Jeep tour via Colorado Jeep Tours with our guide Steve Kaverman held our family's interest through the entire trip, with his exhaustive knowledge of area history, flora and fauna. We were enthralled with the tale of a kidnapped Choctaw chief's daughter and the love triangle that resulted in a battle along the edge of a canyon while we peered down on the scene as if it had just occurred.  
We put our hands along dinosaur footprints on Skyline Drive, once the shores of a giant sea, now a steep, narrow road along a razorback that rewards the brave with outstanding vistas of Cañon City, the Arkansas River Valley and surrounding mountain ranges. 
Our Jeep tour took us over the Royal Gorge Bridge. Passenger vehicles are allowed to cross the bridge only at certain times, and oversize vehicles like RVs are not allowed. We were glad for the chaperone, because everyone in our family has a fear of heights and walking across was not a popular option.
The bridge crosses the gorge 955 feet above the Arkansas River, and pedestrians have to cross 1,260 feet over an 18-feet-wide bridge. Steve paused at various points, accompanied by our sweating brows and swirling tummies, to tell us facts and figures about the Gorge. We had the chance to walk around once crossing, and visitors can enjoy thrill rides plus a children's play area. Biggest attractions include the gondola ride and zipline across the Gorge. 
Raft
Our second day we did the most adventuresome activity our family has ever attempted: We went whitewater rafting on the Arkansas River. Our guide, Chuck Wilt, managed to calm my nervous 11-year-old before we even got to the river. He was full of jokes and had an easy way about him. We got our safety talk during the ride to the river, already wearing our wetsuits, lifejackets ,and water shoes, as well as helmets, all provided by the company. He was also roughly the size of a linebacker and managed to pull both my son and husband back into the boat during one rough patch. 
A high point was when a few bighorn sheep showed up on the bank of the river, close enough for us to see their eyeballs. But of course, no cameras in the raft, so no photographic evidence. 
Train
We were riding in the Vista Dome cars, so we got incredible views of the Gorge and river. Their menu is surprisingly big and the food quite good. The servers were attentive, polite and helpful and the intercom was used to point out area attractions and history, along with plenty of humor. 
We also took advantage of the opportunity to go out onto the open-air cars connected to Dome class, take pictures, and just gaze at all the scenery.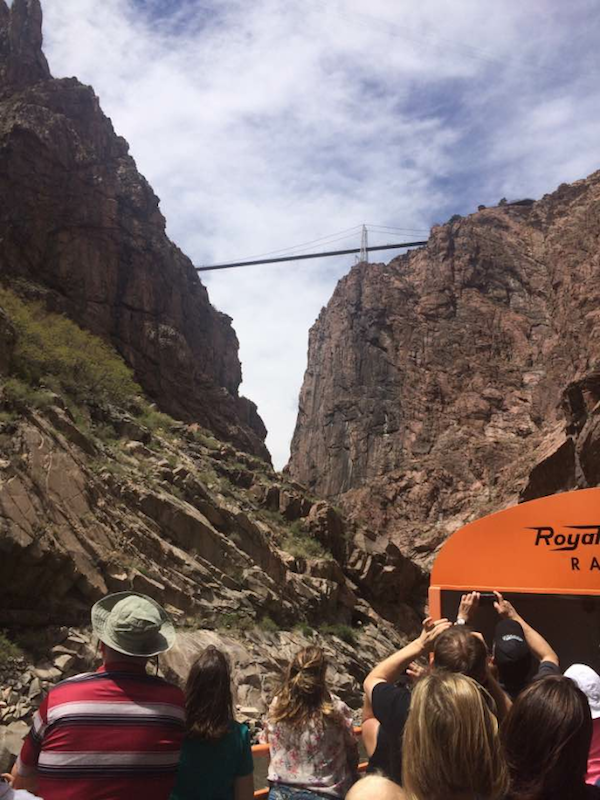 Cañon City has more than enough to keep a family busy for days on end, and different seasons bring different reasons for a visit. We are already planning a fall trip when the leaves change to take another route on a jeep tour! 
Raft Masters and Colorado Jeep Tours: Contact Susie Atherton—she can set up all kinds of tour add-ons and give you all the info you need for your trip, customized to your interests and needs! 2315 E. Main St., Cañon City, CO 81212 (719) 275-6645 coloradojeeptours.com or raftmasters.com. 
Royal Gorge Bridge and Park: 4218 Co Rd 3A, Cañon City, CO 81212 
https://royalgorgebridge.com  (888) 333- 5597 
Royal Gorge Route Railroad: Santa Fe Depot (located one block south of Hwy. 50 & 3rd St.) Cañon City, CO 8121. [email protected] (888)-724-5748 or (719) 276-4000  
*If planning a trip to the area, check out the app RoyalGorge.Info. It has everything in one place, including river water levels and weather updates. 
Lodging: While in Cañon City we stayed at the Quality Inn and found it to be perfectly located for our adventures. We enjoyed free breakfast, the pool, and hot tub, as well as the quirky history. Over the years, this hotel has hosted many celebrities filming movies, like John Wayne, Jane Fonda, John Belushi and Goldie Hawn. Names remain on room doors in case you want to check them out. 3075 E. US 50, Cañon City, CO 81212 (719) 275-8676 
About the Author
Katrina Wharton has a MA in writing and has been a freelance journalist since high school. In addition to travel, she is passionate about social justice, history, and literature. She and her husband Rob enjoy adventuring with their seven children, two stepchildren, and grandchildren.
"I grew up spoiled by beauty, born in southeastern Ohio's rolling hills, living next door to Cantwell
Cliffs State Park. My parents loved road trips and I caught the bug from them. When my oldest
children were little, we camped at Disney's Fort Wilderness every year, and loads of other
places. Today, I'm remarried with just one kid left in the nest. We love traveling as often as
possible, especially on road trips. We enjoy nature, historical sites and (mild!) adventures. When
not on-the-go, I enjoy poetry, documentaries and watching NBA games."