Craig, Colorado, is a cool, slow-paced escape from the heat of summer and is situated between two family-friendly vacation destinations: Steamboat Springs and Dinosaur National Monument. Our family's fun began in Steamboat Springs.
Small, yellow signs dot all roads leading to Steamboat Springs, advertising cowboy hats, Levi jeans, and overalls. They lured us right in to F. M. Light and Sons. Moments after entering the store, our kids were offered yellow sheriff's badges by a friendly gent in a cowboy hat. We had a blast looking around and ended up purchasing a handheld brain teaser for the kids to figure out along the journey.
Outside the store stands a life-size fiberglass horse. At the encouragement of the store, we put the kids in the saddle for photos. After a quick duck into a nearby candy store (treat shops line Highway 40 through town), we were back on the road to Craig.
The Yampa Valley
The Yampa Valley west of Steamboat Springs inspires a relaxing sigh. The blue sky is intoxicating. The winding Yampa River encourages a slower pace. When we arrived at the Hampton Inn and Suites in Craig, Michelle greeted us warmly at the front desk with a smile and a delicious selection of cookies—a great start to our stay there.
Our time in Craig was the perfect opportunity to do some fishing with our kids. My husband purchased a fishing license at Murdoch's. The gentlemen in the sporting goods section were not only friendly, but a gold mine of insider tips about fishing regulations, lures to use, and where to fish. During our time in Craig, we fished at Loudy Simpson Park (be sure to look for the gigantic mining bucket in the park if you visit) and along the Yampa River southeast of Craig. Our 4-year-old daughter was not as enthusiastic about fishing as her older brothers, but those were great times for her and I to hike or just sit and watch the golden "mermaid" tails splash out of the water.
Dinosaur National Monument
On the third day of our trip, we headed for Dinosaur National Monument (DNM). Things you should know when preparing for a day at DNM: Pack a cooler of food as there is no place to purchase food or a meal between Craig and DNM. You will want a hat, sunscreen, and closed-toed shoes if you intend to hike or look at petroglyphs at DNM, along with a backpack supplied with water and snacks. Stopping at the Utah Welcome Center in Jensen is also advisable. The knowledgeable staff there gave the kids crayons and activity books and provided us with a map of DNM that proved to be very helpful.
One of our sons is a fourth grader, so we arrived at the entrance of DNM with his printed form from Every Kid Outdoors. They gave him his official pass and he thereby got the whole family into the park for free.
Park rangers instructed us to park at the visitors center and take the tram from there to the Quarry Exhibit Hall. The Hall is composed of the stuff of childhood dreams: dinosaur bones, exposed but still lodged, in a two story wall of rock. As if this were not treat enough, there is also a Camarasaurus femur children may touch, some fantastic casts of dinosaur skeletons, and a complete Allosaurus skull.
A tram is available to take guests back to the visitors center, but we hiked the Fossil Discovery Trail instead which also leads back to the visitors center. (Look for the small sign along the guardrail in the parking lot which will direct you to the trail.) The great thing about this trail is that it gradually winds downhill past interesting formations and three fossil areas, and then is basically flat for the last half of the trail, making it a feasible 1.2 mile
hike for children five and up.
We cooled down in the gift shop and theater before hopping in our car to go see the petroglyphs and pictographs of the Fremont people. This ancient art gallery along Cub Creek Road is well worth your time, and the scenery is amazing.
We thought our fossil adventures were over when we left DNM, but the adventure continued in Craig. On our last day we stopped at a snow cone stand parked at the library. The owners of this stand are dinosaur hunters. When we purchased an enormous strawberry snow cone, they gave each of the kids a piece of rib bone from a Camarasaurus! An unbelievably cool ending to a great time in Craig.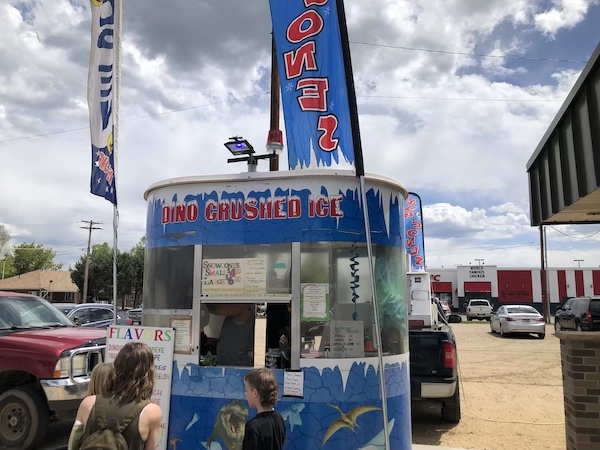 Kendra Hicks is an expert at making sandwiches in the car and leaving at least one important piece of luggage on the couch at home. Check out the Hicks family's budget Skoolie project at Hicks11.