After a late night watching fireworks, we slept in a bit and packed up to hit the road. It's only a short drive to West Yellowstone from Jackson Hole, Wyoming if you look at the map. But, the map lies. I think the map for the whole area that surrounds Yellowstone National Park is deceptive. It might say 50 miles and look like an easy little trip, but the reality is that traffic (who doesn't want to pull over and take pictures of all the great wildlife??) and winding roads and frequent stops to see some of the world's most amazing sights makes for a much longer drive. Not overscheduling and taking time to just let the trip unfold is a great strategy here.
Our daughter has been doing some Junior Ranger programs on the trip so far, so we stopped at the Colter Bay Visitor's Center and met with a ranger to fulfill the remaining criteria. The chat with the ranger was about the beetles that are plaguing so much of this area, and we all learned a lot about how different types of land (state park, national park, BLM, etc.) are choosing to deal with the beetles and why their population exploded so rapidly. Driving from Arizona, we've seen many areas completely devastated by the beetles, so we had lots of questions and the ranger had great answers. These ranger talks are high on our list of recommendations for getting more out of your visit to the Tetons and Yellowstone. Each visitor center has its own personality and educational opportunities as well, they are definitely not one-stop-fits-all.
Where to Stay
Find family-friendly accommodations in West Yellowstone from traditional hotels to private vacation rentals through Stay22.com:
And, we saw a bear! We'd been wondering if it would happen, and bears are certainly pretty common in the area, but we've been to the park several times before and never seen a bear. As we were driving down the road we saw her (we decided it was a girl!) amble through the trees and almost disappear. We turned around and came back and had to really look to see her, she had laid down in the woods. You can barely see her in the pictures, but she's there! Definitely a huge bonus for our Wildlife Game!
Next, we headed to Old Faithful. Probably the most recognized sight in Yellowstone, Old Faithful is something we try not to miss each time we visit the park. We'd made reservations to have dinner at the Old Faithful Inn, something I'd always wanted to do. I also want to spend at least one night at the Inn, but that didn't happen on this trip. We had an early dinner and it was fabulous. The atmosphere is old-school resort, with great food. Reservations are required, so make sure to book at least a day ahead. The famous prime rib buffet doesn't disappoint. The restaurant is also very family friendly, and the prices are reasonable considering the location.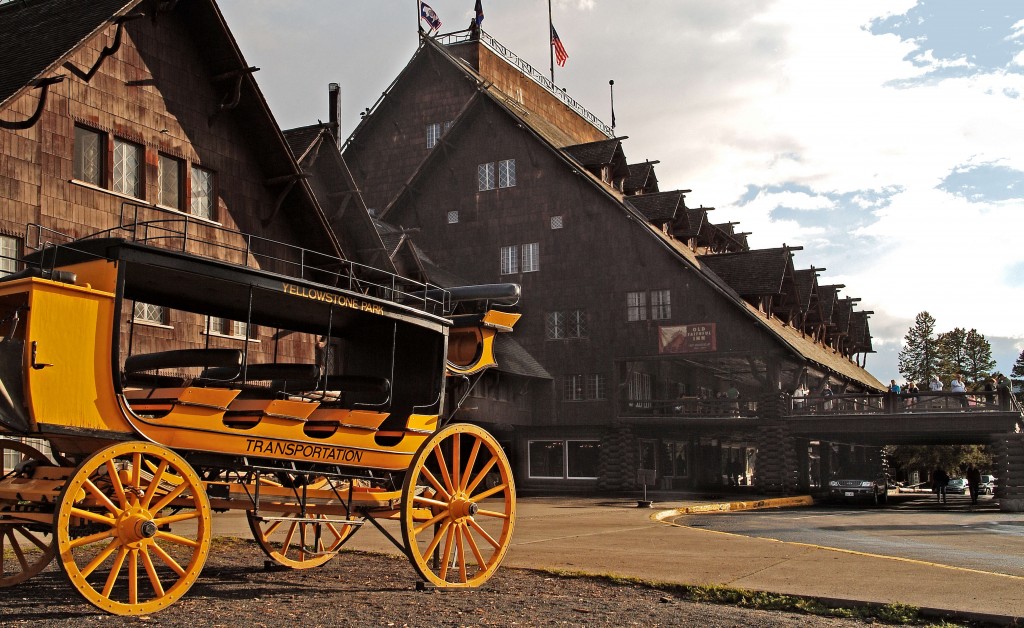 We stopped to take a couple of scenic drives inside the park and did some fishing. Just as the sun set, an elk came out and drank just feet from our fishing spot. We didn't get any pictures but we could see her from the campfire at the ranger's station area and it was magical.
We checked in at the Yellowstone Lodge and were pleasantly surprised by the fantastic high-speed internet and camper-friendly parking and other amenities. Family friendly rooms and great breakfast along with really great location for seeing West Yellowstone in the morning were extra bonuses.