A bit like taking a trip down the rabbit hole, some of our best vacation photos were spent in the most random, eclectic, wonderful places. Inspired by artists, scientists, and authors, here are some of our favorite whimsical travel finds in the Midwest:
Missouri: Laumeier Sculpture Park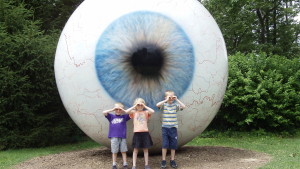 An open-air sculpture park and museum located on the outskirts of St. Louis, Missouri Laumeier Sculpture Park is fantastic reason to get off the highway. Visitors can walk along paved or gravel paths what wind and weave through the one hundred plus acres that house eclectic works of art in varying sizes, shapes, and mediums. The St. Louis County Parks and Recreation Department manage the grounds and admission is free and open to the general public.
http://laumeiersculpturepark.org
12580 Rott Road
St. Louis, MO 63127
Minnesota: Bigstone Minigolf and Sculpture Garden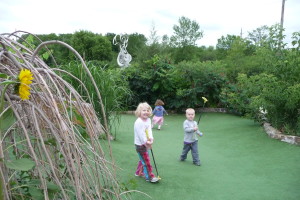 Located in the far western suburbs of Minneapolis/St. Paul, Bigstone Minigolf is one of our favorite places to spend a random Sunday afternoon. A beautiful 18-hole miniature golf course that winds and weaves through gardens, prairie grass, across babbling streams, the owners have interwoven their original pieces of art. Adding to the experience, chickens wander the grounds and visitors can purchase food for the goats.
7110 County Road 110 W
Minnetrista, MN 55364
Michigan: Raven Hill Discovery Center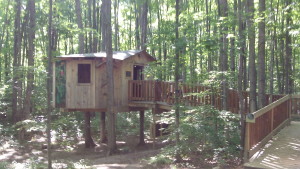 If you make the drive to the Raven Hill Discovery Center in East Jordan, Michigan leave a good chunk of time to fully explore the indoor and outdoor areas that incorporate science, history, and art along the one hundred and fifty acre complex. From live animals to a woodland tree house to an archeologically significant "ancient world," Raven Hill Discovery Center caters to the educational element of your family vacation.
http://www.ravenhilldiscoverycenter.org/
4737 Fuller Road
East Jordan, MI 49727
Wisconsin: Bookworm Gardens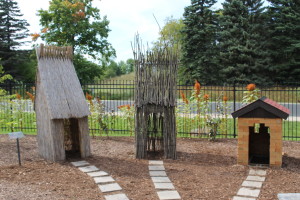 Hands down our favorite Eastern Wisconsin hideaway, Bookworm Gardens is a wonderful venue for the young readers in your life. Five unique gardens—Woodlands, Farm, Memory, Pond, and Animal—feature interactive exhibits inspired by classic works of children's literature. A popular spot for field trips and family outings, Bookworm Gardens is free (donations accepted) and open seasonally May-October.
http://www.bookwormgardens.org
1415 Campus Drive
Sheboygan, WI 53081